'Fiddler' lyricist brings remodeled 'Rothschild' show to town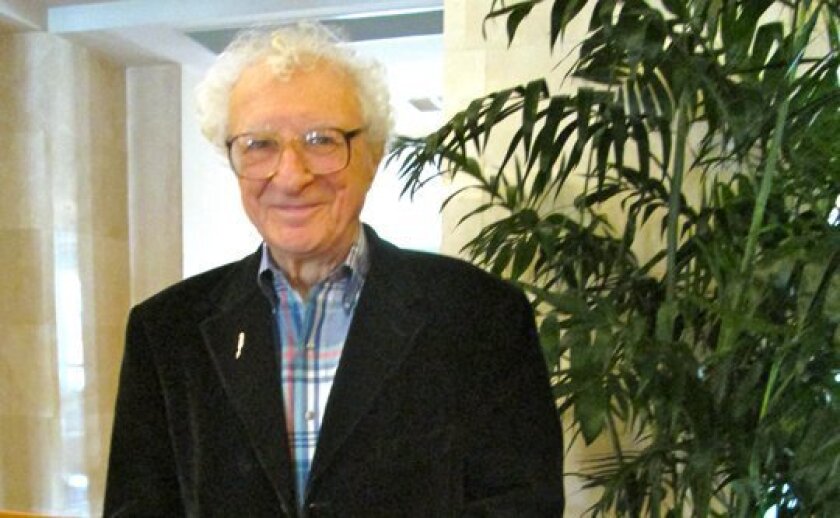 Multi-award-winning lyricist Sheldon Harnick has been writing songs for more than 70 of his 90 years — and he's still going strong. Harnick was at North Coast Repertory Theatre Sept. 22-23 for a two- night staged reading of "Rothschild & Sons," a newly revamped version of his 1970 Broadway show, "The Rothschilds."
This first public viewing of the work-in- progress was preceded on Sept. 21 by a celebration of Harnick's career that included a conversation with Arnold Mittelman, director of the National Jewish Theater, who presented Harnick with a Lifetime Achievement Award at the Lawrence Family JCC's Garfield Theatre. Mittelman, a Miami-based producer who presented "The Rothschilds" at the Coconut Grove Playhouse two decades ago, is the power behind "Rothschild & Sons," which he hopes to bring to Broadway.
Harnick, best-known as the lyricist for "Fiddler on the Roof," started out as a violinist, studying chamber music at Northwestern University, while indulging his love of wordplay by contributing songs to the school's annual musical revues.
"My original ambition was to be second violin in a second-rate symphony," he said. "But then, in my third year at Northwestern, a friend went to New York and brought back an LP of 'Finian's Rainbow.' When I first heard those Yip Harburg songs, I said: That's what I want to do!"
So he set his sights on Broadway, and first hit the big time with "The Boston Beguine," a comic number you can still see on YouTube that was featured in "New Faces of 1952," a musical revue that gave a head-start to a handful of stars-to-be, including Eartha Kitt and Mel Brooks.
In 1958, after years of writing for revues, Harnick teamed up with composer Jerry Bock for a full-length musical called "The Body Beautiful." It wasn't exactly a hit, but it proved to be a good showcase for their talents, and their next venture, "Fiorello," about NYC mayor Fiorello La Guardia, was a smash. Besides winning the Tony for best musical, it also snagged the 1960 Pulitzer Prize for Drama.
The peak of Harnick's career was surely the 1964 mega-hit "Fiddler," though he did several other shows with Bock afterwards, virtually all of them Tony- winners or nominees. Sadly, "The Rothschilds" turned out to be their last collaboration; they had a falling out and never worked together again. Bock died in 2010, but Harnick has never stopped working with other collaborators, including Sesame Street music man Joe Raposo and film-score composer Michel Legrand, and even with a couple of musicals of his own.
But right now, there's "Rothschild & Sons," for which he has written one new song, and polished some of the old ones. Along with "Rothschilds" librettist Sherman Yellen and Jeffrey B. Moss, director of the 1995 Coconut Grove production, he is broadening the show's appeal. "We're making it more universal, more applicable to ghettos everywhere," he said.
At NCRT, he said he was thrilled with the performers, and audiences responded to both performances with standing ovations. From here, "Rothschild" goes on to a November reading in New York, but that's not the only item on Harnick's calendar. This is the 50th anniversary of "Fiddler," now heading for its fifth Broadway revival, with UC San Diego acting alum and five-time Tony winner Danny Burstein playing Tevye. And there's a book of NYC photographs by his wife of 50 years, actress Margery Gray (she was in the 1960 Bock-Harnick musical "Tenderloin"), to which he's contributing a series of poems. And as always, he's got a few other projects in the works.
Not long ago, Harnick revised the lyrics of "Sunrise, Sunset," a hugely popular song at wedding ceremonies, to fit same-sex couples. The years may fly swiftly, but Sheldon Harnick goes on creating and re- creating, keeping in step with the times.
---