Feinstein and Boxer decline to help save Wall Street post office, deadline for public comment is May 26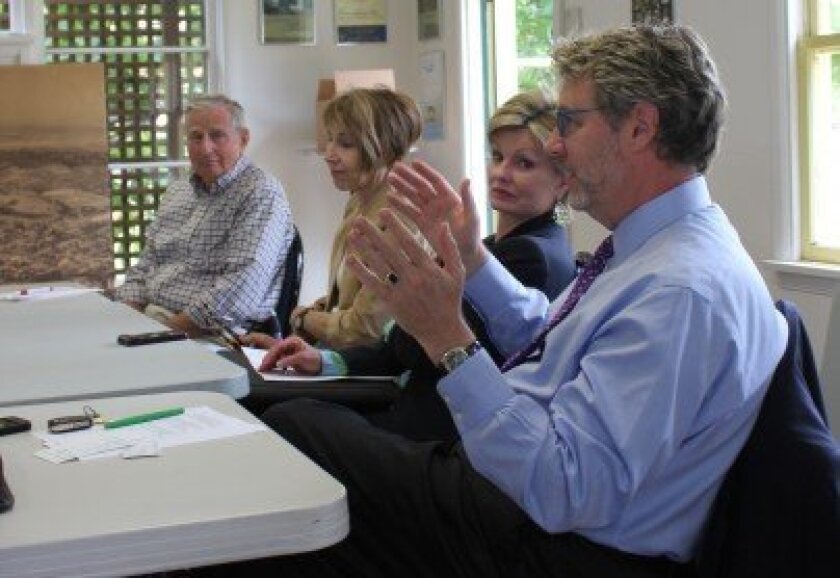 Get involved
For more info on the task force's efforts, visit
savelajollapostoffice.org
or for info about efforts to preserve post offices nationwide, visit
savethepostoffice.com
The deadline for USPS to receive comments on the proposed sale of the Wall Street post office building and relocation of its services is May 26.
Write to:
USPS Diana Alvarado c/o USPS Pacific Facilities Services Office, 1300 Evans Avenue, Ste. 200. South San Francisco, CA 94188-8200
By Pat Sherman
Though members of the Save the La Jolla Post Office Task Force have received letters of support from a handfull of public officials, including, most recently, state Sen. Christine Kehoe (D), the group wasn't quite as auspicious in engaging Democratic U.S. Senators Barbara Boxer and Dianne Feinstein.
At its May 18 meeting, Task Force Chair Leslie Davis said Boxer's office sent what she considers "a negative response" to the office of Dist. 1 City Councilwoman Sherri Lightner, stating Boxer's preference not to get involved.
Feinstein's office would only say they were "monitoring the situation," Davis said.
La Jolla Music Society board member Katherine Kennedy, who was in attendance, noted two prominent La Jolla philanthropists and music society supporters who have a personal relationship with the senators and could possibly help persuade them.
"They could pick up the phone and talk to both of those people — and would," said Kennedy, who also said she would reach out to former Congresswoman Lynn Schenk on the issue. "We need to buy time and they've both donated to and been involved in (the senators') campaigns heavily. … We might as well use their influence."
Task force member Joe LaCava hand-delivered letters to the offices of local congressional representatives Brian Bilbray (R-50th), Susan Davis (D-53rd) and Bob Filner (D-51st), asking them to insert language into the 21st Century Postal Service Act of 2012 (S.B. 1789), which would allow the La Jolla Historical Society right of first refusal to purchase the post office building with a leaseback provision of 10 years. USPS would then become a paying tenant, providing a revenue stream for the society to pay off the Wall Street building and potentially fund the activities of other nonprofits using the space. The letter also asks that the legislative amendment afford the building historic designation.
"It's certainly aggressive," Davis said, "but I think at the least we will get in a good conversation, based on those requests — and with conversation, usually that's where solutions are found."
Government lobbyist and task force member Jim Lantry said Bilbray's office was "still debating internally what they want to do and how far they're willing to go."
Davis noted the "happy coincidence" that Bilbray's cousin, James Bilbray, is a member of the USPS board of governors.
"We will see if it's happy or not," Lantry said.
Conversations with representatives in the offices of Filner and Davis produced less substantive results, Lantry said.
"We need at least one of them to put that (amendment) in writing," he said, noting that the most likely suspects would be Filner, who is running for mayor, and Bilbray, who is seeking an additional term in Congress.
Barring a legislative act of Congress, the fate of the Wall Street post office rests in the hands of the Postal Regulatory Commission, an independent agency whose five members are appointed to six-year terms by the office of the President and confirmed by the Senate.
"The bill (S.B. 1789) is going through Congress right now," Lantry said, noting that a portion of it seeks to take $8.1 out of USPS's reserves to offset postal service loses. "If I'm the Postal Regulatory Commission and I get $8.1 billion to go along with what Congress says … I'm going to go for it."
Davis added, "Congress can put pressure on the Postal Regulatory Commission, which can put pressure on the U.S. Postal Service."
La Jolla Music Society's president and artistic director, Christopher Beach, who also was in attendance, noted that the society has maintained an office a half a block from the post office for the past three decades.
"It seems to me an appropriate and laudable effort to try and exert pressure from all of these different angles," said Beach, a native of Massachusetts who noted his love of historic preservation.
La Jolla architect Jim Alcorn addressed how to best utilize the Wall Street building if the community were to partner with USPS on a leaseback, or with a sympathetic developer who agrees to retain the building's historic character.
Alcorn said apartments could possibly be added to a new second story. He also suggested that the task force work with USPS to see if the postal service could use less than its stated need for 6,000 feet, thus providing more workable space for potential community partners on the ground level.
Kennedy said it may be inevitable that USPS will have to vacate the Wall Street building, given the postal service's waning customer base and $250,000 in deferred HVAC building maintenance the USPS said is needed.
"They may have to move the post office anyway because it will become a factor of obsolescence at some time — and it wouldn't make sense to even lease 5,000 square feet," Kennedy said, adding that the task force and community members should be concerned overall that the building doesn't become a t-shirt shop or outlet for a series of rotating businesses.
"I think what this community wants is a sense of history, a sense of class and a sense of staying as village-like as we possibly can," she said. "We can't control the federal government. Obviously, they've got plenty of games to play, but we can come up with a plan to look at what we want overall. If we lose the post office, do we really want to just let this (building) go to anything? I don't. There's no accounting for the bad taste money can buy. We've seen it happen."
Davis said the task force had likely bought the community 60 to 90 days in which to form a plan to save the Wall Street post office from relocation and sale by engaging proactively with the United States Postal Service (USPS).
"This is an extraordinary task force," she said of the group, which is comprised of historians, architects, developers and concerned citizens. "Most communities couldn't get these people to all show up on a Friday because they're doing stuff. … La Jolla is lucky for lots of reasons."
---