One Dig, No Bridge: Faulconer talks infrastructure at La Jolla UTC meeting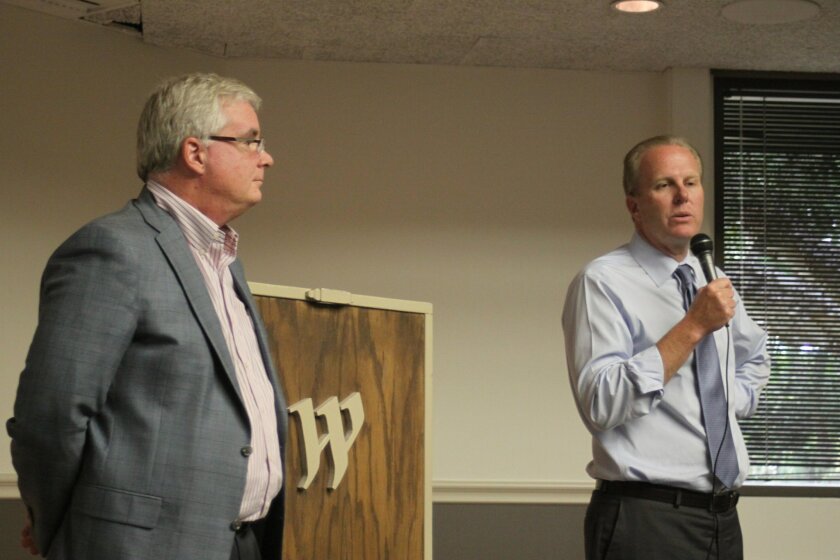 As part of his ongoing community forums, San Diego Mayor Kevin Faulconer stopped by UTC Oct. 6 to discuss infrastructure in District 1. The mayor's focus was on his new policies and University City issues, such as traffic and the Regents Road Bridge.
Introducing the mayor, District 1 City Councilmember Sherri Lightner, said "The topic this evening is something that is near and dear to all of our hearts, and tires, and that's infrastructure. This is our opportunity to hear from the city's mayor about his top infrastructure priorities, as well as for you to let Mayor Faulconer know what matters to you."
Lightner said she sat with Faulconer for six years on the San Diego City Council, and can attest to his awareness of neighborhood issues. While on the Council, Faulconer said he spent "a number of years trying to turn this ship around so we have the dollars we need and put them where they are going to get the most use."
During his 2013 mayoral campaign, Faulconer proposed the "Neighborhoods First" program, recommending that 50 percent of new General Fund revenue go toward street and neighborhood improvements.
In implementing the program, Faulconer launched new policies for filling potholes, utility repair and street repaving.
"How we deliver our services is important to me, as is being more efficient with the dollars you are sending to City Hall," he said. Addressing the new way the city is repairing potholes, he said, "Before, it used to be that crews would come out and fix the ones on the complaint list, and perhaps drive by ones that were not on the complaint list. Now crews can fix the pothole on the list and fix the ones they happen to see in the neighborhood. That does not cost us a dollar more, but we are filling more potholes than we ever have."
Further, he discussed his One Dig policy of completing multiple utility repair projects in the same area at once. "It used to be that a city department would come in and fix something (under the street) and then another department would come in and tear is back up again," he said. "Let's get everyone in one room – sewer, water, utilities, storm-water, sidewalks – and dig up the street once and apply a moratorium after where you cannot come back in there and tear up that street or sidewalk."
He also said with all new jobs, once the repairs are done, the street would be completely repaved "curb to curb."
Attendees were encouraged to write questions for the mayor, and many opted to comment on the city's decision to cancel construction of the proposed Regents Road Bridge. The bridge, planned since the 1980s, would have crossed Rose Canyon Open Space Park to fill a break in Regents Road. Faulconer announced in late September that the city would no longer pursue the idea. Instead, he said additional effort would go toward traffic studies and better Fire Department response times, including plans to build a new fire station in University City, covering the southern area of UTC. The station currently serving the area is Station 35, at Genesee Avenue and Eastgate Mall, whose engine conducted more than 3,700 runs in 2014.
Per a request from the audience, the traffic study would be conducted during peak hours with real data instead of projections.
---