Election 2012: Who will be San Diego's next mayor?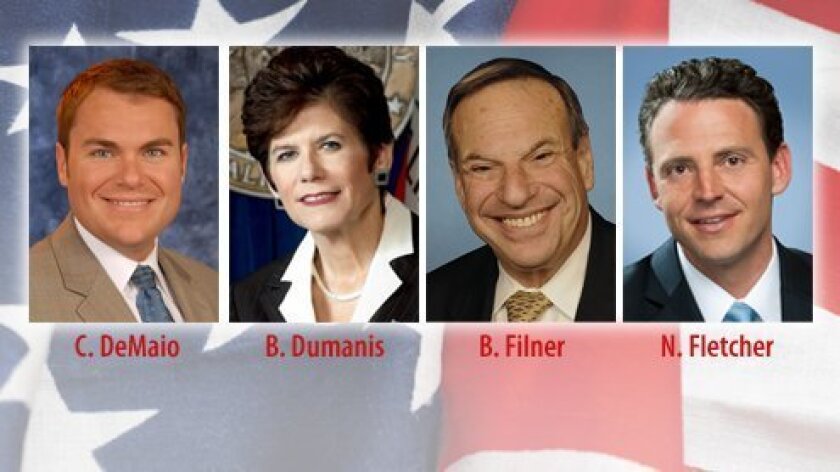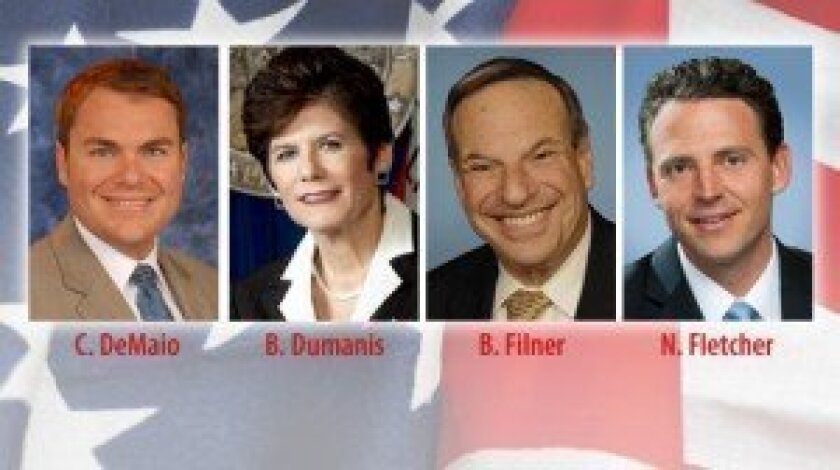 Compiled by Pat Sherman
(Main image by Melissa Macis)
To provide readers with some 11th-hour inspiration prior to the June 5 Presidential Primary Election (at least those who didn't vote absentee), the
La Jolla Light
posed five questions to the candidates running for mayor of San Diego. We hope their responses offer an informative, final glimpse at the platforms and personalities of those running to represent La Jolla.
The 5 key questions
1) What three specific La Jolla issues do you believe to be the most pressing, and how would you address each?
2) Do you believe it is in the best interest of La Jolla to secede from the city of San Diego? Why or why not?
3) Name a dream or aspiration you've had to set aside for your career?
4) Name the historical figure you most identify with and what inspires you about that person.
5) What do you despise most?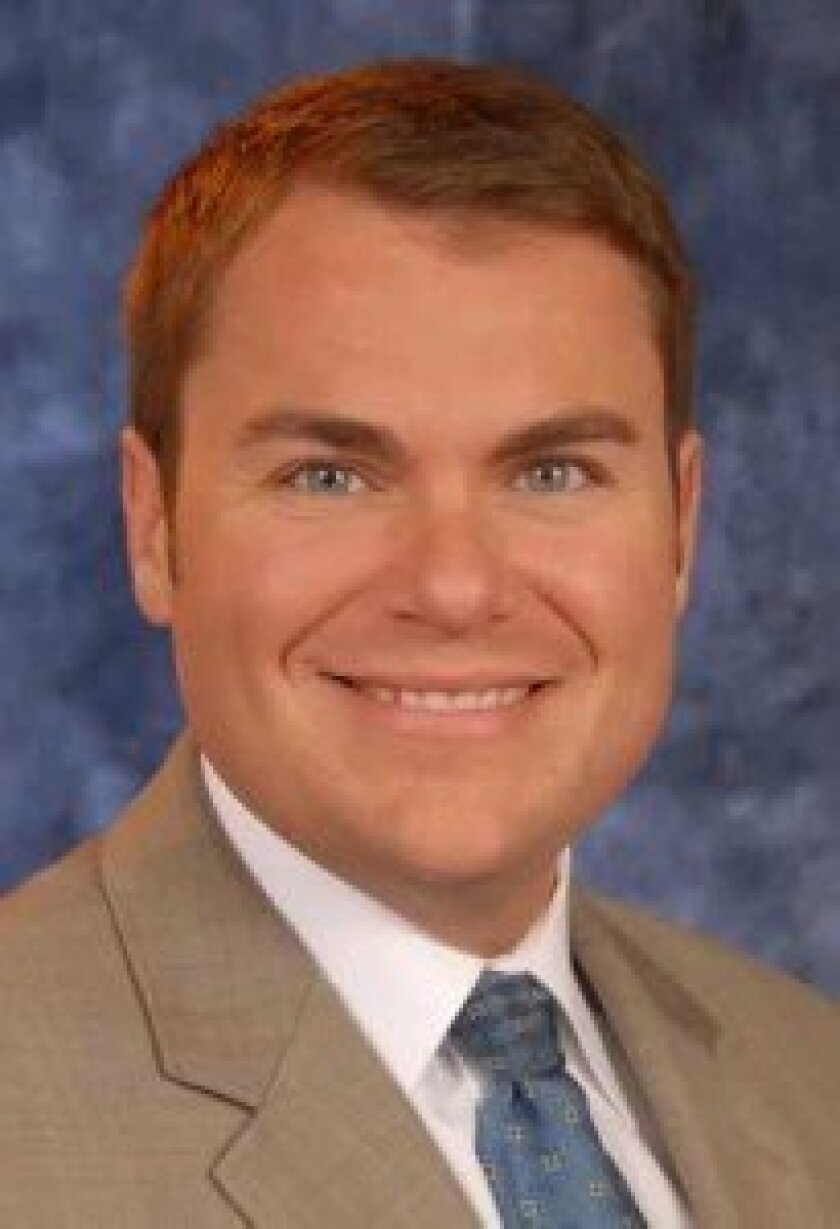 Carl DeMaio, Republican, City Councilman (District 5)
1
) A. Fix our roads: La Jolla, like the rest of San Diego has been hit hard by the intentional and indefensible underfunding of San Diego's street repair funds. And the city's own forecast shows the roads will get worse, not better, under the current policies.
That's why as mayor I will aggressively implement my SOS Save Our Streets Plan to fully fund road repairs and hold city work crews accountable for getting the job done.
B. Save the La Jolla Post Office: The historic La Jolla post office is a key part of our community. The best way to save it is through my economic revitalization program in my Pathway to Prosperity Jobs Plan.
C. Traffic: La Jolla traffic is awful. Traffic calming measures are necessary in La Jolla, and traffic mitigation measures are necessary north and south of La Jolla to lighten traffic there.
2)
I completely understand why La Jollans are frustrated. The roads are crumbling and infrastructure is dilapidated. Recreation and library hours have been drastically reduced, public safety coverage is down, and the politicians at City Hall ignore their concerns.
La Jolla is a vibrant community that contributes an immense amount to San Diego, both culturally and fiscally, and they deserve their fair share. We need to address the fiscal issues facing our city and restore the services that our citizens want and deserve. We need to create a city that people demand to be a part of, not a city people are desperately trying to leave.
3)
First and foremost I am a businessman. I had to set aside my business career to focus on fixing the financial crisis in San Diego. It was a hard decision to make. I started my own business after college and through a lot of hard work, was able to turn into a success. I will not seek higher office. I have decided that after Mayor, I will return to the business world.
4)
Teddy Roosevelt. He was a great President who fought large special interests groups to better the lives of Americans.
5)
Government waste! I am really frustrated by the significant amount of wasteful spending still going on at City Hall. Every single dollar of waste could be put to better use for taxpayers, like paving a road or adding an hour to libraries or hiring a police officer.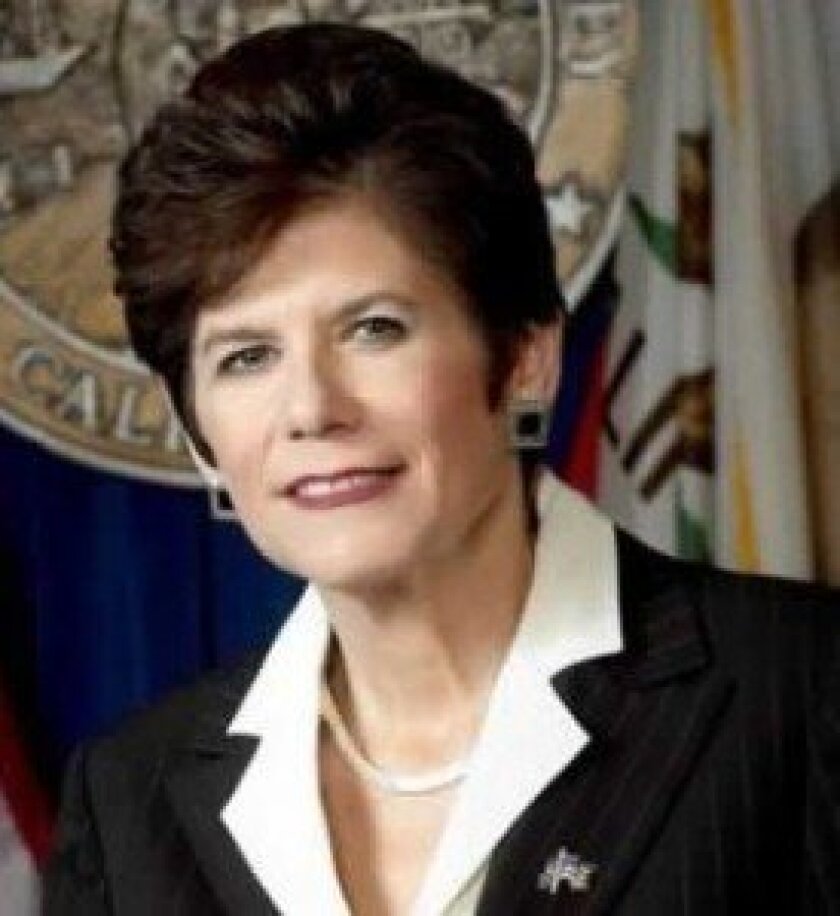 Bonnie Dumanis, Republican, District Attorney
1)
A. Infrastructure maintenance and improvement: La Jolla is a beautiful part of our city that struggles with the same infrastructure problems we have citywide, such as roads that need to be paved, sidewalks that need repair, and sewer and water systems that require upgrading. We must make these vital services a priority in the budget.
B. Form more public-private partnerships to complete important projects: The mayor's office could play an important role in projects like the Torrey Pines Corridor Project to revitalize the entrance to La Jolla. This is a project that the community and businesses in La Jolla want to see completed and I would provide more mayoral leadership to make that happen.
C. Revitalize the economy to get the Village back on track: We need to solve our pension and other financial problems at City Hall so that we have funds to help places like the Village.
2)
No. La Jolla is part of our city's culture and identity. As mayor I would work with the community to provide the services this unique community needs. I believe the process of secession could harm the community.
3)
At one point I wanted to be a rabbi. However, my career has been my dream and I don't regret the decisions I made to get here, from working as a clerk typist to seeking my law degree at night.
4)
I greatly admired Midge Costanza, who passed away in 2010 at the age of 77. Midge was the first woman assistant to a president, serving under President Jimmy Carter. She was a champion for women's rights and gay rights. She was the first woman elected to the Rochester, New York, City Council. She was on the cover of Newsweek, which called her "The Woman in the White House."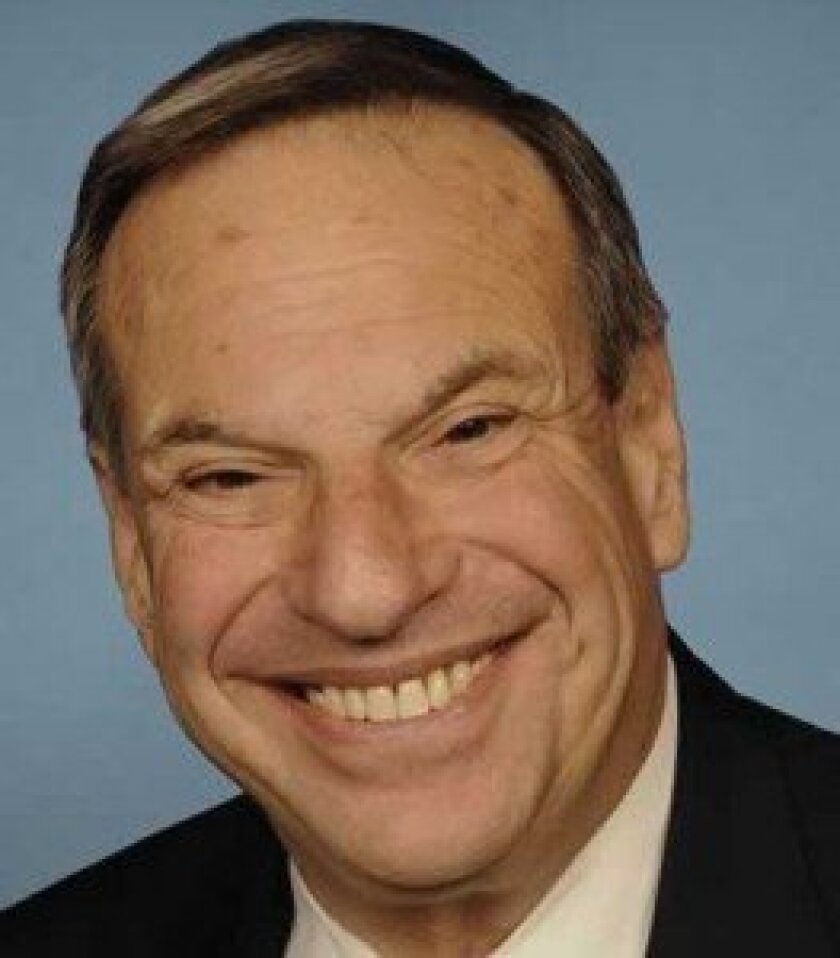 5)
Divisiveness. I believe we have spent countless dollars and hours of our time in San Diego focused on what divides us, rather than what unites us. It is time for a new era of better communication and working together.
Bob Filner, Democrat, Congressman (51st District)
1)
A. Teacher layoffs: Recently, I rallied with students, parents, and teachers from La Jolla community schools in protest of the over 1,500 pink slips San Diego Unified has proposed to issue this year. Our children are our future and we cannot skip on the responsibility of providing them with the quality education they deserve. A classroom of up to 50 students, as may be the case with these layoffs, is not an environment where effective teaching or learning can take place. As mayor, I would join leaders from other cities and counties in California to turn around the priorities of our state leadership. Funding for our children's schools must be seen as a priority once again.
B.
Infrastructure:
The failings of our city's infrastructure financing are seen throughout all communities in San Diego, La Jolla included. Potholes, pipe leakages, and staffing for community resources like parks and the Riford Library directly affect the quality of life in our neighborhoods. Redevelopment funding has done wonders for downtown and the Gaslamp District. It is now time for our attention and spending to be turned back onto our communities, like La Jolla, that have been neglected in previous administrations.
C. Public Transportation: Many La Jollans rely on public transportation for their commute. Imagine what we could accomplish if we placed an emphasis on improving the reliability and timeliness of our public transport systems? People from all over the city would be able to explore the natural resources that La Jolla has to offer — a thriving downtown area, great public beaches, and academic resources — and be able to fully utilize public transit for their own travels, saving resources and helping to protect the environment.
2)
No, the people of La Jolla have opinions and ideas that could contribute to the betterment of the entire city.
3)
Declined to answer.
4)
Bobby Kennedy: "Some men see things as they are and say 'Why?' I dream things that never were and say, 'Why not?' "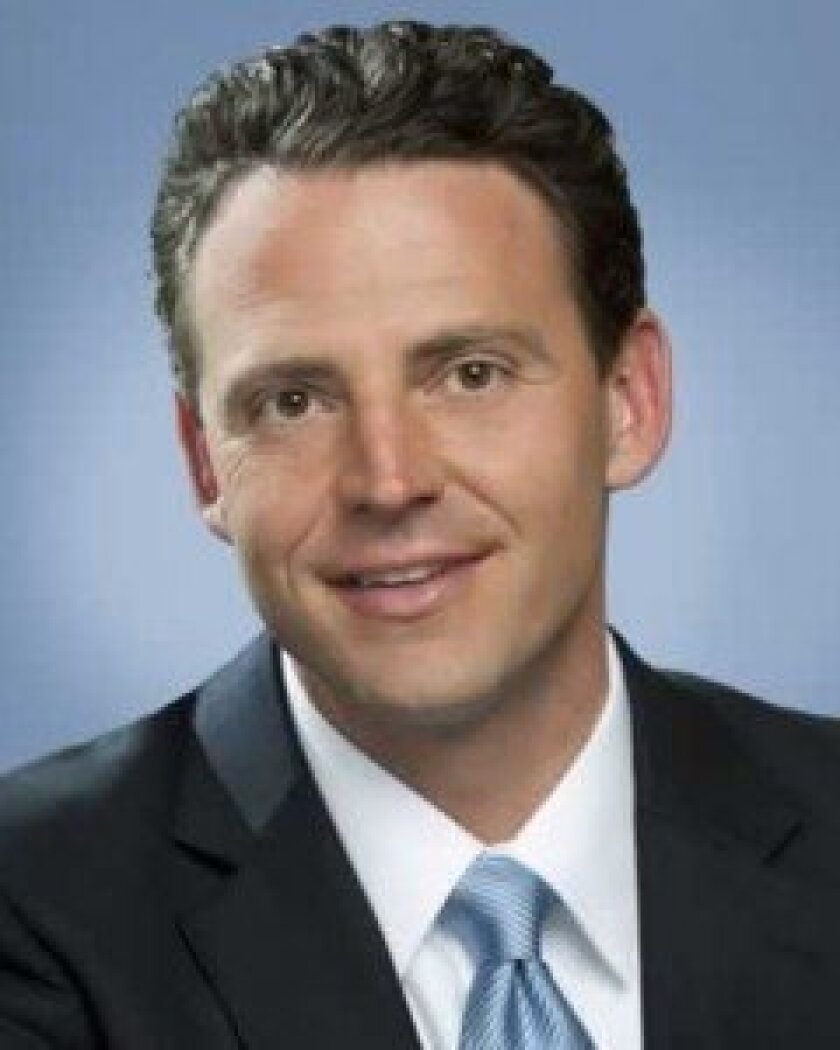 5)
Declined to answer.
Nathan Fletcher, Independent, State Assemblyman (75th District)
1)
A. Job Creation: La Jolla is home to some of the world's most recognized technology clusters, including clean-tech, biotech and information technology. I want to ensure, not only that these companies get what they need from government to succeed and grow, but that we can get other companies to invest here to create more good-paying, local jobs for San Diegans.
B. Education: Education is an economic issue. Countless CEOs have told me they can't hire or expand due to a workforce that doesn't have the skills for the jobs of today. Unlike one of my opponents, I don't propose a city takeover of the school district — I don't think that is the right role for the mayor, and our kids can't afford to wait years while we battle over another divisive ballot initiative.
Instead, I will bring together a group of stakeholders — business leaders, teachers, administrators, parents, and create an Education Foundation to encourage replication of programs that are already working, to end the digital divide and to match training programs to industry needs. I have two young children, so my interest in improving our schools goes beyond public policy imperatives.
C. Infrastructure: La Jolla's municipal infrastructure has been poorly served by City Hall. Infrastructure is a core service the city must provide. It has a huge impact, not only on our quality of life, but on our economic competitiveness as well. I have a detailed plan for prioritizing, coordinating and funding major infrastructure improvements, which you can review at nathanfletcher.com
2)
I do not support secession. As mayor, I will view residents in every neighborhood as customers who deserve the highest quality municipal services and an accountable, responsive local government. My goal will be to convince La Jollans that it's in their interest to remain as a vital and unique part of our city.
3)
I aspire to be the mayor of San Diego that defines an era where we turn the page on the problems of the past and move forward into a better future. I believe my experience is my greatest asset and the reason why I am best suited for the position. From serving as a combat Marine to my work in the Assembly, I have demonstrated an ability to navigate difficult environments and make tough decisions.
4)
Teddy Roosevelt was someone not afraid to take on difficult tasks and challenge the status quo. He lived life to its fullest and was always "in the arena."
5)
Politics as usual — preserving a problem to campaign on, rather than building a coalition to solve it. There are candidates in the mayor's race who thrive on crisis and controversy. They focus more on enemies and personalities instead of tacking the tough issues, getting things done and moving the city forward. I believe it is possible to be principled without being polarizing. We can disagree without being divisive. That is how progress is made, and exactly how I plan to lead as mayor.
---