Ease on down to Fat Fish Cantina in Pacific Beach for good grub in a pub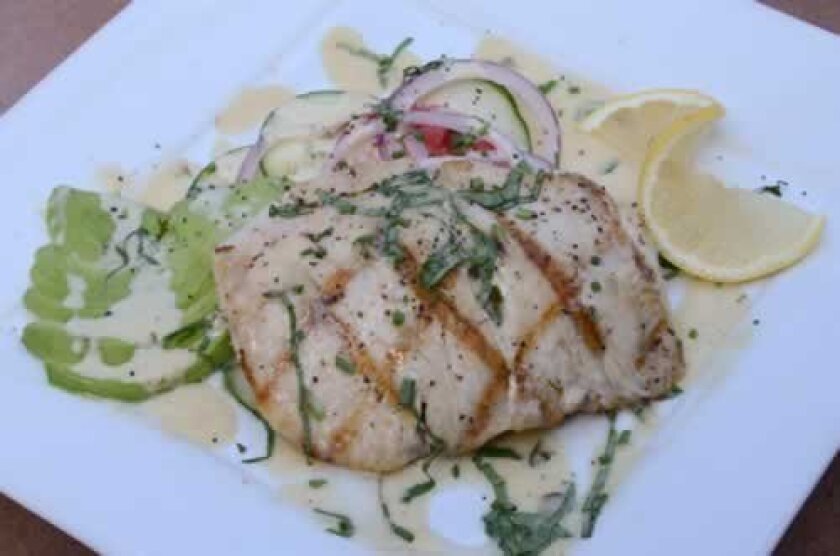 By Kelley Carlson
Here's the skinny on Fat Fish Cantina Grill: It has an upscale menu, yet it maintains that casual Pacific Beach vibe. Located within walking distance from the sand and the Crystal Pier, it's almost customary for flip-flops to part of guests' garb at this restaurant, which offers "SoCal dining with a Latin flair." But the fare leans toward contemporary Baja California cuisine rather than typical tacos from shops often found along the shore.
By day, Fat Fish is often laid back and mellow, although Sundays during football season can be an exception, as fans cluster around the flat-screen TVs in the sunlit cantina. During fair weather, patrons often sit on the wrap-around patio and sip Blood Orange Margaritas and other similar libations while relaxing to the sounds of artists like Jack Johnson.
But the tempo picks up in the evening with Latin fusion tunes, and the festive nighttime atmosphere tends to draw more of a crowd, Chef Chris Bates noted. From 6 to 9 p.m. Thursdays on the patio, a band plays melodies reminiscent of the styles of Santana and the Gipsy Kings. In the dining room —which features a high-beam ceiling and skylight — the booths and tables are filled, especially on Friday and Saturday nights, when reservations are highly recommended. And likely contributing to the restaurant's popularity are the weekday specials in the cantina, which begin at 4 p.m. and continue through close. There's the $5 Maine lobster tail on Mondays; Taco Tuesdays; half off all appetizers on Wednesdays; reduced prices on fish tacos and Pacificos on Thursdays; and $3 Tecates on Fridays.
To get a true taste of the Fat Fish experience, Bates suggests pulling up a seat at the bar and selecting a starter such as the Lobster Stuffed Mushrooms, which are oven-roasted in a white wine garlic butter sauce, or the Fresh Corvina Ceviche, consisting of fresh white fish marinated in squeezed lime juice with serrano chiles, sweet onion, cilantro, tomato and fried corn. To accompany the appetizers, try one of the cocktails — one possibility is the Drunken Mermaid, a sweet yet spicy concoction of pear vodka, fresh cucumber, serrano chiles, lime juice, agave nectar and elderflower liquor.
For entrees, diners may consider the Spicy Carnitas Lettuce Wrap — slow-roasted pork wrapped in romaine lettuce leaf with roasted pumpkin seeds, habañero pickled red onions and fresh lime garnish. There is also the Potato Wrapped White Sea Bass, which is oven-roasted with a sun-dried tomato chile champagne sauce and served over a sweet corn cake and steamed asparagus; and the Shrimp Pozole, composed of Mexican black tiger shrimp poached in a dried red chile broth with hominy, oregano, shredded green cabbage and pork belly chicharron.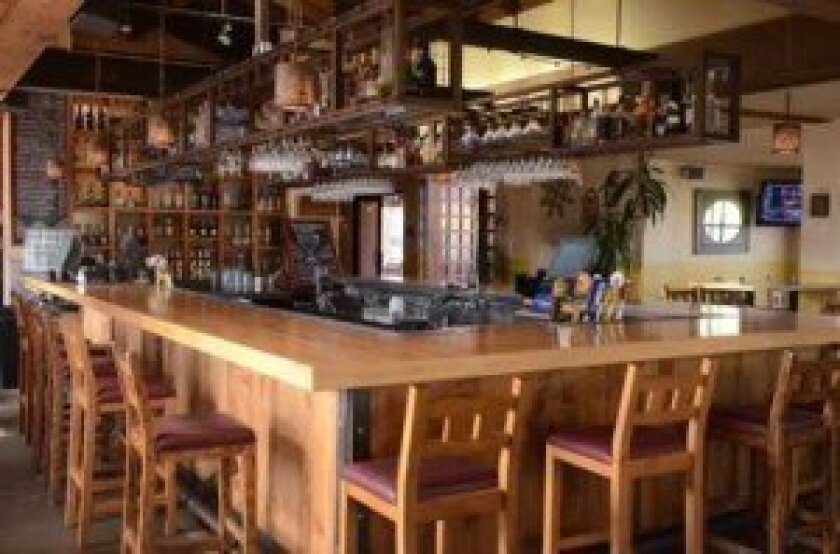 Along with lunch and dinner, Fat Fish also serves breakfast, with items ranging from omelettes, house Benedicts and hash with steak or pork, to pancakes, French toast and "Baja breakfasts" that include a side of refried beans and tortillas.
For those who want to celebrate special occasions with Fat Fish food, the patio with a fire pit is popular. "We give a great product for a very decent price, especially at the beach," Bates summarized.
Fat Fish Cantina Grill
Address: 4474 Mission Blvd., Pacific Beach
The Vibe: Beach Casual, Relaxed
Signature Dishes: Classic Copper Pot Carnitas, Spicy Tequila Ribs, Shrimp Pozole, Fat Fish Burrito On Fire, fresh fish entrees
Open Since: 2011
Hours: 11:30 a.m. to 11 p.m. Monday-Saturday, 10 a.m. to 11 p.m. Sunday
Web:
fatfishcantinagrill.com
Phone:
(858) 490-2877
Reservations: Recommended
Patio Seating: Yes
Take Out: Yes
Happy Hour: 4 p.m. to close daily
On The Menu Recipe
Each week you'll find a recipe from the featured restaurant online at lajollalight.com. Just click Get The Recipe at the bottom of the story.
This week: Fat Fish Cantina's Shrimp Pozole

---