Dragon the Line: La Jolla Community Foundation unveils newest public art installation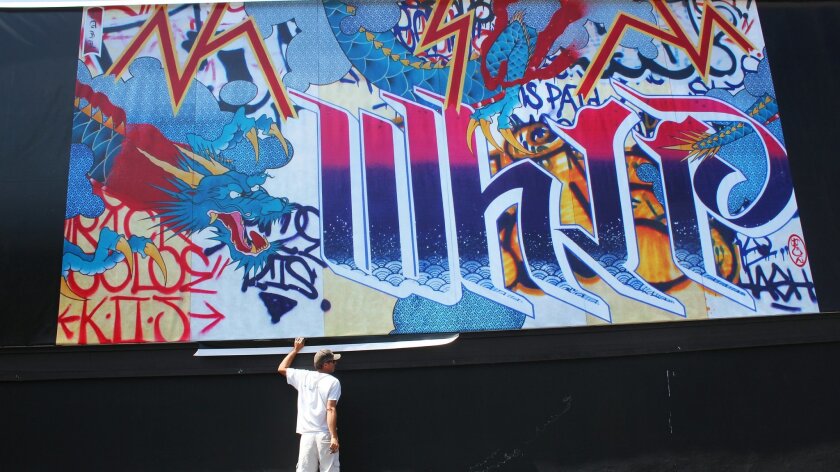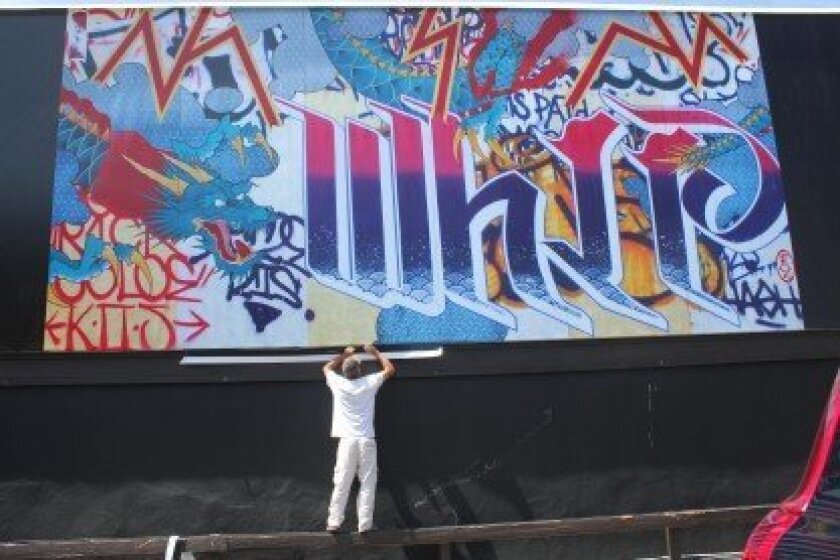 More murals:
muralsoflajolla.com
By Pat Sherman
The La Jolla Community Foundation's latest addition to the Murals of La Jolla public art project went up Wednesday, May 15 on the building at 7540 Fay Avenue, near Rubio's restaurant and La Jolla Brew House (closed through August during a remodel and change of ownership).
The boldly colored mural, "Tail Whip," by Silver Lake graffiti artist Gajin Fujita, is No. 11 in the project.
Fujita blends Eastern techniques (anime, partitioned screens) and mythology (geishas, warriors) with Western, urban imagery (Latino graffiti, U.S. pop culture).
Speaking with the
La Jolla Light
last month, Fujita said he hopes his "urban dragon" will serve as a bridge between old and new, east and west for La Jolla viewers.
"I think public art really breaks (down) stereotypes and stigmas," said Fujita, noting negative connotations often associated with graffiti art.
"Even when people tell me something about graffiti, I don't right away think of something positive, but I think when it becomes a mural it breaks those boundaries," he said.
"Tail Whip" replaces Anya Callaccio's "Surf's Up," a photographic image of a grain of sand from the California coast that was produced with an electron microscope. It is the first of the murals to be rotated out since the project's inception three years ago.
"They're temporary artworks — and that's sort of the beauty of it; it's always changing," La Jolla Community Foundation selection committee member Lynda Forsha said of the murals, which are intended to be up a minimum two years each.
Most of the mural art will be digitally printed on Panaflex, a durable, flexible material similar to vinyl that that is dirt resistant, with a semi-glossy surface.
A representative from West Coast Signs said the installation of "Tail Whip" took only a few hours, since the frame had already been installed. Subsequent mural installations will be less expensive and take less time.
The Murals of La Jolla was conceived three years ago by a group of arts professionals and patrons who aspire to enhance the civic character of the community by commissioning public art projects on private property throughout La Jolla. The selection committee is composed of the heads of major visual arts organizations in La Jolla.
To read about murals installed last month on La Jolla Boulevard and near the intersection of Girard Avenue and Torrey Pines Road, click
here
.
---