Downhill biking now prohibited at Torrey Pines State Reserve in La Jolla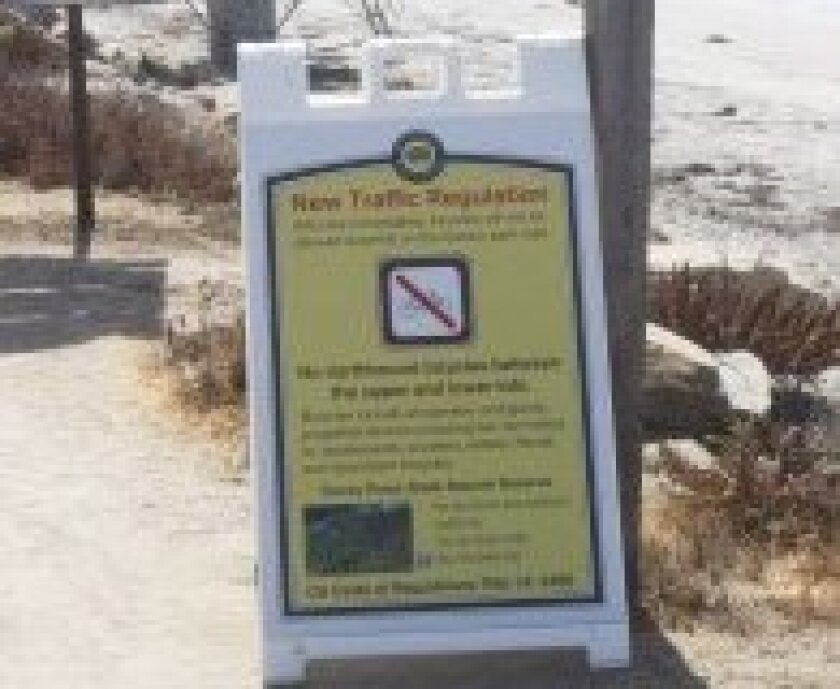 By Ashley Mackin
Biking downhill on the paths of the Torrey Pines State Reserve, above Torrey Pines State Beach, has been prohibited as of Oct. 1, with officials citing safety concerns.
The California Department of Parks and Recreation issued a statement indicating the route is shared by hikers, runners, parents with baby strollers, bicyclists and vehicles. "The great popularity of the park has caused many potential conflicts among these different users as they travel up and down the hill," the statement read. "To reduce the potential for these conflicts, California State Parks has implemented a variety of measures that will help keep hikers, bikers and vehicles separate from each other."
These new measures include: A prohibition against riding bicycles down the hill (the steep hill promotes excessive speed); trail improvements immediately adjacent to the paved road; signage to direct pedestrians to stay off the road and stay on hiking paths; and fencing to clearly delineate appropriate routes of travel.
Acknowledging that downhill speeds are often faster than uphill speeds, San Diego County Bicycle Coalition Executive Director Andy Hanshaw said if their concern is for safety, there needs to be consideration for all users. "We've asked to continue to be involved and monitor (the measures) and what the eventual outcome will be, and how we can be a part of that dialogue, and they have been very responsive to that," he said. "Obviously we'd like to maintain bicycle access though there are much as possible."
The Bicycle Coalition met with the Department of Parks and Recreation so members could be informed about the new measures and, in turn, inform the cycling community. Hanshaw said the prohibition is a temporary measure until a more permanent decision is made.
The Park and Recreation statement said, "Over the next year, we will be working with a consultant to explore other long-term options but, for now, this is the best approach for the sake of visitor safety."
---