Don't miss the train heading to The Scottsboro Boys at the Old Globe
By Diana Saenger
A story about boys sentenced to die for something they never did is compelling enough, but mixing it up minstrel-style in the way "The Scottsboro Boys" is told, is a tour de force not to be missed.
An incredible group of male actors pay homage to John Kander and Fred Ebb's musical talents as they sing and dance up a storm in the Old Globe's West Coast premiere of "The Scottsboro Boys."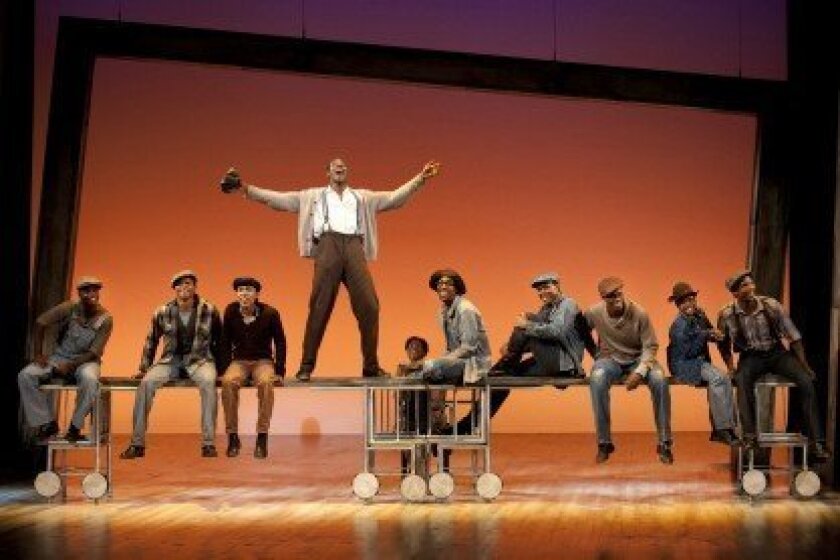 The brilliant story, from a book by David Thompson, swings from a minstrel parody to a heartfelt true story of the tragedy that happened to nine African-American boys in 1931.
When the song "Minstrel March" begins, it's an intro into a shocking tale told through humor and historical revelation. Mr. Tambo (JC Montgomery) and Mr. Bones (Jared Joseph) dressed in 1930's pointy collars, coattails and hats, look like ringmasters in a circus — just what the Scottsboro boys' trials become. Tambo and Bones are part of a trio that includes the jolly barker, The Interlocutor, (Ron Holgate) – a master of ceremonies in a minstrel troupe.
The stage is soon full of a lively ensemble springing up and down on a board simulating the train that nine youths set out on to find jobs. Instead, they are charged with the rape of two white girls on the train. Only Kander and Ebb could create tunes, such as "Electric Chair" and "Chair Gang," that are both entertaining and gut wrenching, as they take the audience through the many trials the boys endured.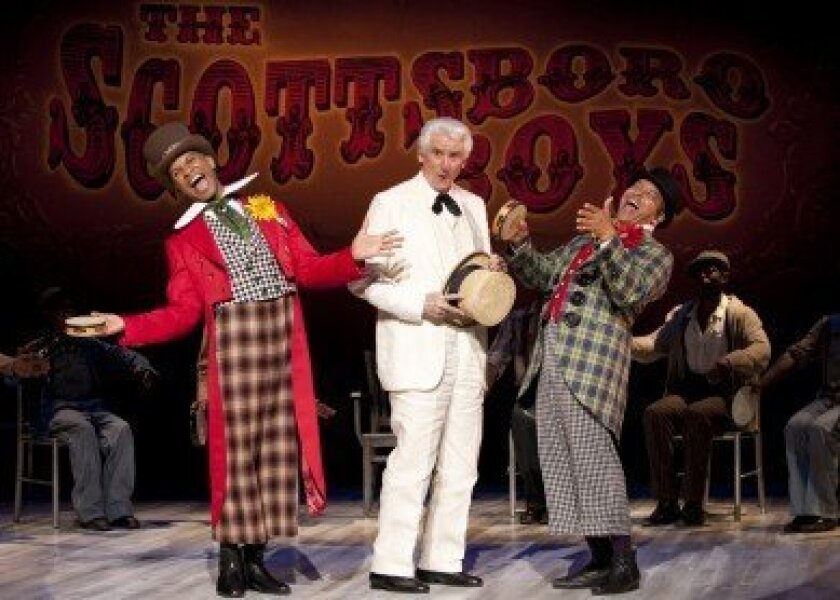 The direction and choreography by five-time Tony Award-winner Susan Stroman is superb. Every minute on stage there's something exciting happening, and the minimal scenic design by Beowulf Boritt works to move the story forward without hesitation.
Each actor excels in song and amazing dance numbers. Clifton Duncan as Haywood Patterson, one of the boys who went through trial after trial — even after one of the girls admits she lied about the rape — is still unable to get a not-guilty verdict. Duncan's powerful voice drives home his horror throughout the show.
Clifton Oliver as Victoria Price and James T. Lane as Ruby Bates, are hilarious as the white girls who falsely accuse the boys to cover up their own misdeeds.
There's a lot of talent in young actor Nile Bullock, who plays the youngest Scottsboro boy, Eugene Williams. The scene where he wallows on the floor in a dream sequence that takes place in a hypothetical death-row brings every word of the song "Electric Chair" to a bone-chilling reality.
If you go
What: 'The Scottsboro Boys'
When: Matinees, evenings through June10
Where: 1363 Old Globe Way, Balboa Park
Tickets: From $39
Box Office: (619) 234-5623
Web:
TheOldGlobe.org
Related event: 6:30 p.m. Monday, June 4 Carrol Waymon and John Warren lead a discussion of the civil rights movement in San Diego.
---