Dog Day Afternoon: Parks and Beaches hears three reports on canine capers
By Ashley Mackin
The La Jolla Parks and Beaches committee heard a three-pronged presentation about dog issues in La Jolla at its Sept. 23 meeting.
1) Joe Parker, former president of the Bird Rock Community Council, addressed the problem of dogs running off leash at Calumet Park (an issue also observed on the Fay Avenue Bike Path).
2) San Diego County Department of Animal Services officer Glen Cartwright explained the issue from his perspective.
3) Resident Rob Whittemore outlined his proposal for an off-leash dog park near Black's Beach in La Jolla Shores, similar to the ones in Ocean Beach and at the base of Soledad Mountain Road.
Leash-free liabilities
"We have a serious public safety issue with unleashed dogs at Calumet Park," Parker opened. "There are a lot of larger dogs that are off leash chasing balls and having a good time with other dogs, but the concern we have is that people are there for another purpose, to enjoy the park.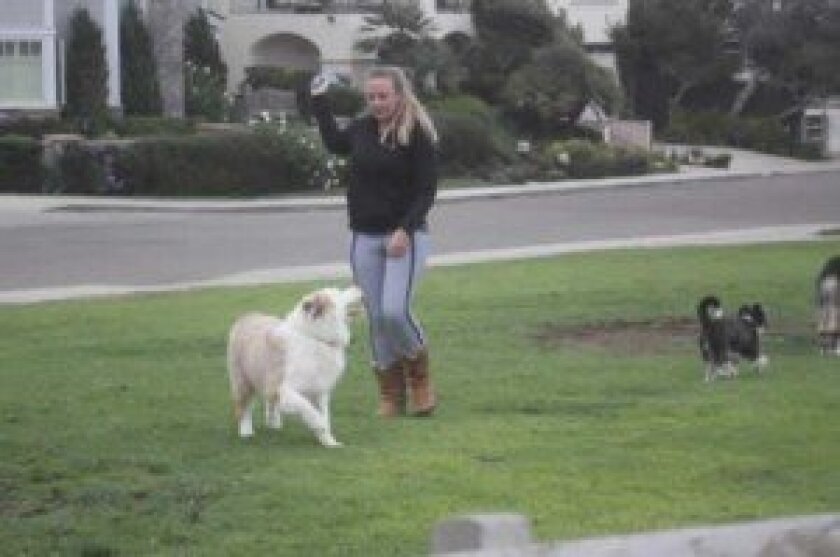 "The dogs are overrunning people, getting in fights with other dogs, and the dog owners are getting in fights with each other."
Parker said he is a dog owner, and has, on occasion, let his dog run off leash, but as soon as he sees someone coming, the dog goes back on a leash.
Noting that the problems occur with some, not all, dog owners, Parker added, "The big issue we have down there is owners who are not cognizant or respectful of other people, and that's how problems begin."
Parks and Beaches member Esther Viti confirmed she has seen large dogs run around the park off leash for years and suggested not allowing the dogs in the park at all.
Member Melinda Merryweather reported she has had two accidents involving her bicycle and a dog.
Parker requested that those who see dogs running off leash call Animal Services at (619) 767-2675 because the increased volume of complaints would suggest Animal Services direct personnel to that area. Officer Cartwright agreed.
Leash-free tickets $400
"It boils down to a numbers game," he said. "There isn't a ratio of officers per area for the monies involved, it's simply a call volume system ... The squeaky wheel gets the grease."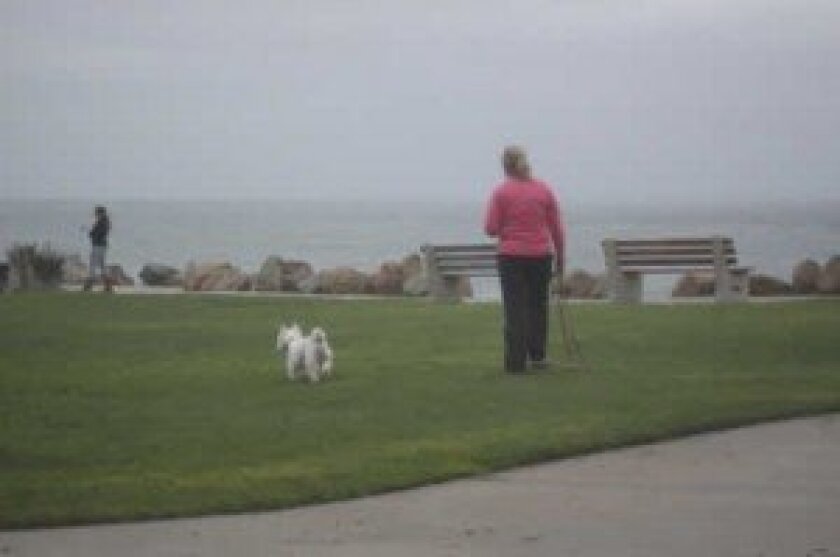 However, calls to parks are considered low-priority and just one of hundreds in the volume the department receives. Cartwright said when he reported for duty that morning at 6 a.m., there were 241 pending calls in the City of San Diego and its suburbs. Then the radio calls started coming in, he said. These range from cruelty cases that require investigating to off-leash dogs in the park, dog bites, licensing and stray dogs.
When he is able to get to a park, Cartwright said he will ticket anyone he sees in violation of the leash laws — a fine that can run up to $400.
However, he said he thinks repeat offenders (and those who understand the leash laws), simply don't care about the ticket cost. He compared those who constantly have their dog off leash at a public park to those who speed, even after getting a speeding ticket.
He said when Animal Services gets word to heavily patrol a park, they will for a few days. But because the people frequenting these parks are locals, all they have to do is walk or drive by to see the Animal Services truck isn't there, and they come back.
"These are our neighbors, and that is the problem," Cartwright said. He estimated that 99 out of 100 times he tickets someone, he or she is a local resident. He said he's even written a ticket to his own neighbor.
On a personal note, Cartwright said he would like to see more off- leash dog parks in San Diego. So would Whittemore, which was why he was in attendance.
Leash-free in La Jolla
Whittemore suggested that an area in La Jolla Shores could be reserved — during certain hours, days or times of the year — as a leash-free zone. He said this could be similar to other dog parks, such as the one in Del Mar, which is off leash after Labor Day until June 14.
He said his first suggestion would be the beach area north of the Scripps Pier; " beaches are ideal because they are self-cleaning in the event someone forgets to pick up after their dog."
Member Anne Podney suggested Whittemore take his idea to the La Jolla Shores Association before the Parks & Beaches board offers input, because if the Shores Association were completely in favor or against the idea, LJP&B would not want to go against the other board's views.
Whittemore said he would bring his idea to the next La Jolla Shores Association meeting, 6:30 p.m. Oct. 9 at the Martin-Johnson House of Scripps, 8840 Biological Grade.
---