Diavolo Dance Theater leaps into La Jolla this weekend
By Lonnie Burstein Hewitt
Diavolo — the name, a mix of Spanish, Greek and Latin roughly meaning "I will fly through the day" — sounds about right for Diavolo Dance Theater, coming to La Jolla's Jewish Community Center May 18 and 19. The company has been hailed by reviewers around the world for "leaping, flying, and spinning ... with astounding athleticism and infinite grace."
Here's how Diavolo defines itself: "An internationally renowned dance company that reinvents dance, re-imagines theater, and redefines thrills, Diavolo takes movement, athletics, and daring to the extreme, creating abstract narratives about the human experience through surreal tableaux."
The company was founded in 1992 by French-born Jacques Heim, shortly after he received his MFA in choreography from the California Institute for the Arts. Heim's work has been varied and global, including BBC America's "Dancing with the Stars," the opening ceremony of the 16th Asian Games in Guangzhou, China, and "KA," the permanent Cirque du Soleil show at the MGM Grand in Las Vegas.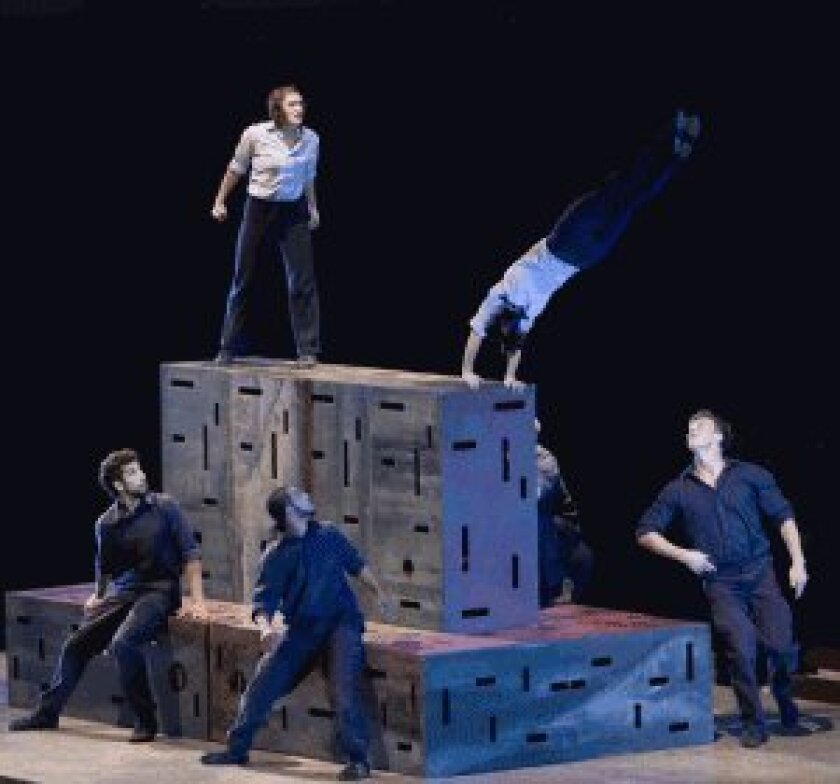 But Diavolo, based in L.A., is his multi-award- winning baby, officially recognized as a "cultural treasure" by the City of Los Angeles. For 21 years now, he has been its artistic director, although he confesses that he is "pretty much the most unathletic person you could imagine," and dance was something he fell into by accident.
"When I was young, I was a rebel," he said. "After I was kicked out of six different schools in Paris, I decided to get my education by forming a street theater group. My parents thought I'd do better in the U.S, the land of opportunity, so they sent me to Middlebury College in Vermont. I started out in the theater department, studying acting, but I had such a heavy French accent, no one could understand me. Finally, a friend of mine suggested: 'Why don't you take some dance classes? At least you won't have to speak!'"
What Heim was really interested in was architecture. "I'm not a dancer," he said. "And I consider myself more an architect of motion than a choreographer. I see movement, patterns, connections and disconnections in architecture. I see people in the streets moving around buildings, and I want to explore that, the relation between structures and movement. My work is inspired by architects like Santiago Calatrava and Frank Gehry."
A new piece always begins with a large-scale structure — a set of stairs, perhaps, or a door, or a cube."IfIhad to start out on a bare stage, I wouldn't know what to do," Heim said. "I take a piece of architecture and tweak it with a fusion of everyday movements, ballet, modern dance, gymnastics, acrobatics, martial arts, hip- hop, and there you have it. That's Diavolo!"
There are underlying themes to all the pieces: Human struggle and the human condition, fear, survival, danger, order, deconstruction, reconstruction, destiny and destination, faith and love.
Heim relies on his dancers to help him discover the movement. "They're teammates, gladiators, pushing every aspect of mind and body. It's very exhilarating," he said.
Diavolo's program at the JCC promises to be exhila- rating, too. They'll start with one of their most recent works, "Fearful Symmetry," with music by John Adams; it's Part Two of a trilogy commissioned by the L.A. Philharmonic. Then there are two short, amusing piec- es, "Bench" and "Knock- turne," and they'll end with one of their earliest works, "Tete en l'Air," which Heim calls "a collage of surreal scenes that don't seem to make any sense."
"That's what life is like sometimes," he said. "You have to make sense out of things when you don't know what's happening. What Diavolo does is create a live abstract painting. You have to create your own meaning."
If you go
■ What: Diavolo Dance Theater
■ When: 8 p.m. May 18; 2 p.m. May 19
■ Where: Jewish Community Center, 4126 Executive Drive, La Jolla
■ Tickets: $28-$75 (VIP tickets include a reception)
■ Box Office: (858) 362- 1348
■ Website:
lfjcc.org
---