Del Mar wraps up race season today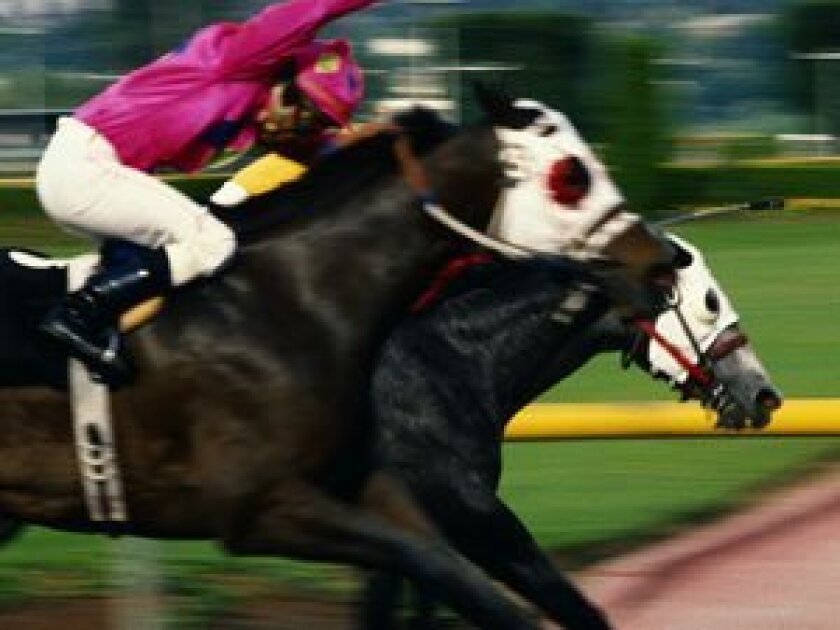 City News Service
The 72nd season of racing at the Del Mar Racetrack ends today (Wednesday). The 37-day season is winding up with both good and bad news.
Track officials say horse owners will receive more than $1 million on top of their regular overnight purse earnings thanks to record purses, good field size and solid wagering numbers.
We had real concerns coming into this meet regarding both our horse inventory and the economics we all are facing these days but the response by our horsemen and our fans has turned a difficult scenario into one of the most positive in Del Mar's history,'' said Tom Robbins, the track's vice president for racing and racing secretary.
Track attendance throughout California has dipped in recent years because of the poor economy and increased competition from satellite wagering facilities. This summer, however, Del Mar has had an average of about $11 million wagered each day, just a little short of last year but better than
expected, according to Robbins.
He said track officials and horse owners will meet once the final numbers are in to divvy up the extra income, and checks will be cut in November.
On a down note, 10 horses have had to be euthanized over the last three weeks, compared to just two in the first month of racing. The latest was named Burns, a 3-year-old colt that fractured his right foreleg at the start of the Del Mar Derby on Sunday.
Half the horses suffered catastrophic injuries during morning workouts, not during a race, according to The San Diego Union-Tribune.
Four horses, including Burns, have been put down after racing on the turf track this year, although one accident occurred when two horses clipped heels, the newspaper reported. The fatality count on the turf track was one last year and none in 2009.
---