Customize your fragrance at new La Jolla perfume shop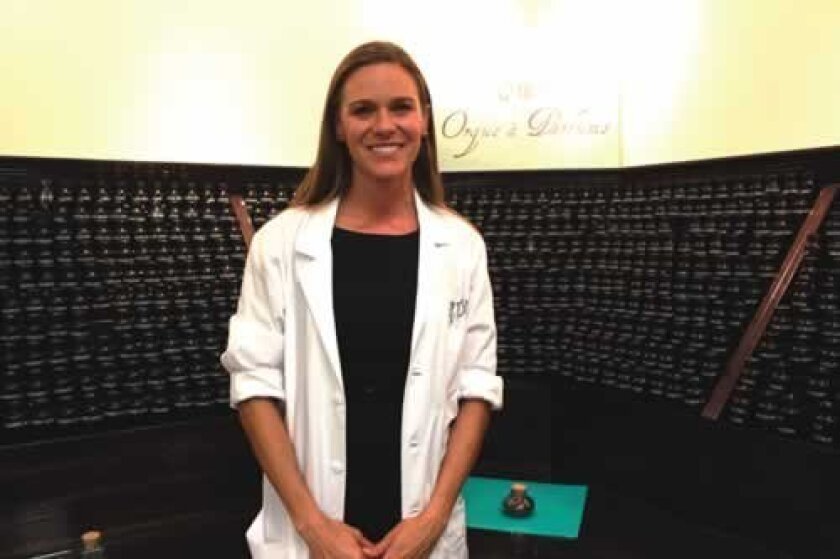 By Ashley Mackin
At the opening of its first store in the United States on Dec. 5, the Parfumerie, 7853 Herschel Ave., hosted a party to find La Jolla's signature fragrance.
Voters sampled different fragrances – and sniffed coffee beans in between to clear their noses and prevent the smells from blending together. The results of their choices will be announced in January. Those interested can still cast a vote through December by visiting the store.
The only other Parfumerie location is in St. Martin in the Caribbean.
Managing director Rachelle Crumrine said when coming up with La Jolla's signature scent, "I was looking for something that represented La Jolla's 'sunshiny' days and basically the fresh coast that's right down the street; just a kind of whiff of the coastal ocean breeze along with the sunshine — something light and refreshing."
Addressing the stereotype that beach fragrances smell like the ocean, she said, "there are certain notes in it, it's not all ocean."
She explained that when sampling different scents (a process that is more psychological than physical), the testor needs to clear his or her nose in between the different scents to get an accurate "reading."
Crumrine said that smelling something new creates a memory, and so by smelling something familiar, this resets the brain by referring it to another memory.
Crumrine's father, John, owns the St. Martin location and was on hand to help her with the La Jolla opening. On how a signature La Jolla fragrance would be chosen, he explained that Tijon, which makes the fragrances for the Parfumerie, created 20 that were narrowed down to eight before Rachelle and her friends narrowed it down to three.
When it comes to the rights to produce La Jolla's scent, John Crumrine jokingly said, "We're just going to do it. If we get in trouble, we'll change the name."
In addition to voting for the scent, which will be called, "La Jolla," grand-opening guests got to experiment with making their own perfumes by combin- ing oils and working with perfume specialists.
The Perfume Lab is in the back of the store, where Rachelle Crumrine said, "the magic happens."
In the French tradition, the Parfumerie offers classes in making-your-own fragrances, in addition to selling pre-mixed perfumes and body products.
There are more than 300 oils to choose from — ranging from traditional perfume scents, such as flower fragrances, to more thematic scents, like Amber Rain.
One of the more popular oils, Rachelle said, is tomato. She said it adds freshness to the perfume.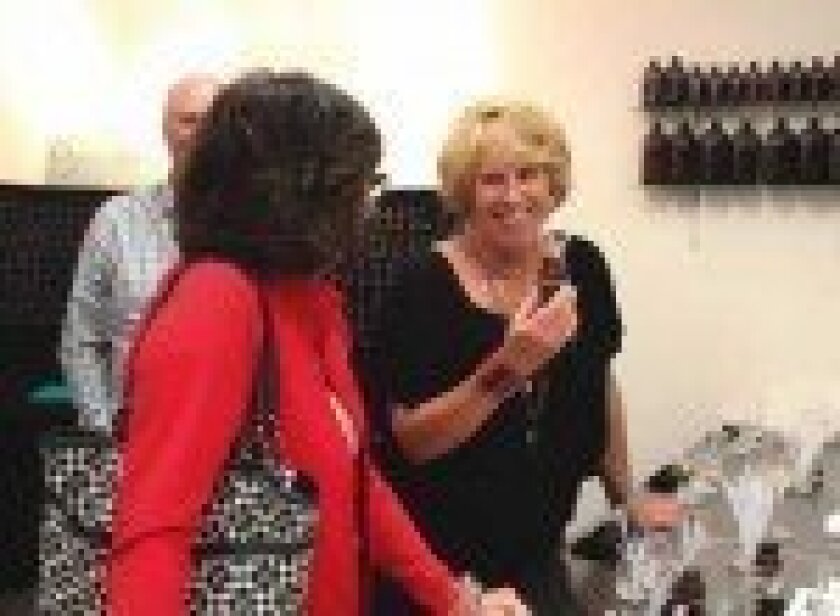 Trish Getch, who participated in the voting, said the Parfumerie is a "great addition to the town."
John Crumrine agreed. "We always loved La Jolla and my daughter has been living and working in San Diego ... so we thought if we'd expand, we'd want our daughter to run it. La Jolla was obviously the first choice. It's an incredible village (and) we love the peo- ple ..."
The Parfumerie is closed Mondays, open 10 a.m. to 6 p.m. Tuesdays and Wednesdays, noon to 8 p.m. Thursdays-Saturdays, and noon to 6 p.m. Sundays.
For classes and pricing, visit tijon.com
---