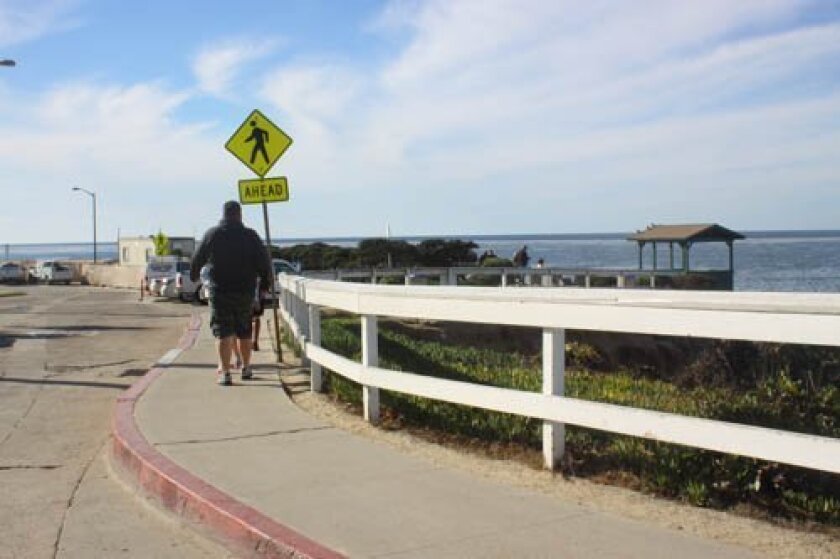 By Ashley Mackin
The Children's Pool Walk project overcame a huge finance hurdle last week thanks to a $200,000 donation to fund the project by La Jollan Tom Morgan. Organizers now have just over $250,000 with which to widen the walkway to a minimum of eight feet, add an overlook at the gazebo, build new seating, and replace old planters with new ones to cover crumbling walls, using historically accurate plants and fences.
However, the amount organizers have in the bank is just about the only thing they know for sure. The contractor, total cost, start date and plaque design still must be determined.
But they know where to start. Phyllis Minick and the La Jolla Parks and Beaches, Inc. city advisory committee said with $250,000 in the bank, they can now begin searching for a contractor.
"The day I had that check, I was in touch with (design architect) Jim Neri and said 'go!" Minick joked. Neri will assist in finding a contractor to bid on the project.
"Jim will get prices from several contractors and we can only hope for bids that are equitable to choose from," Minick said.
Neri provided the $250,000 estimate three years ago, which covers permits, likely contractor's costs and construction, however, the committee does not know what the ultimate cost will be, and won't know until a contractor is chosen.
Neri said processing construction documents, selecting a contractor and construction would likely take six months. "The wild card is city review and plan processing, which could add another three to 12 months to the schedule," he said. Minick told
La Jolla Light
that organizers hope to piggyback the beautification project to the ongoing construction of the Children's Pool lifeguard tower. "If we coordinate with city engineers, we would be able to take advantage of their (construction workers)," she said. "There would be one closure here instead of two, and the project cost would be roughly half of what it would be if we do the sidewalk separately."
The lifeguard tower construction is on pause for the harbor seals puppingseason, Dec. 15–May 15, but they are exempt from, and will work through, the summer moratorium, during which construction is typically suspended. Civil Engineer Elif Cetin reports that construction of the tower should be complete in winter 2014, so construction on the Children's Pool Walk must begin by that time, or it becomes its own project, requiring new and different permits — possibly doubling the cost.
Finally here
Three years in the making, Minick said she is "blown away" by the fact that the project committee can move forward. She explained that La Jolla Parks and Beaches, Inc. wanted to make the pedestrian traffic flow better and the wall safer.
"At that time, we (former LJP&B president Patrick Ahern and I) sat down with (City of San Diego Project Manager) Jihad Sleiman, who offered us a $10,000 credit if we did this at the same time as the new lifeguard tower construction because their plan includes a small amount of sidewalk just in front of the lifeguard stations." Unsure if the offer is still on the table, Minick said she is proceeding as if they will not receive the credit. (La Jolla Light's calls to the city to determine whether they will receive the $10,000 credit were not returned.)
With agreement from Sleiman, Parks and Beaches held a community workshop to gather input on what the community would want, design-wise. The comments from that meeting led to the current design.
The only addition to the design not finalized is the design for the plaque that will acknowledge donors, namely Tom Morgan. Minick said she was told she has permission to install a small plaque thanking donors (plural) at the site, suggesting there would not be walk naming rights for a sole donor, but she was not given the dimensions of what "small" means and is awaiting clarification on these points.
---