Construction on new La Jolla Cove lifeguard tower to begin in February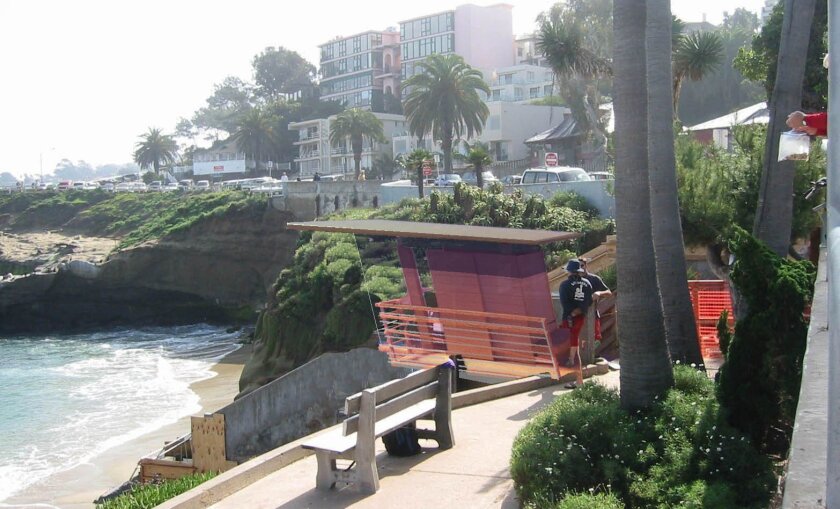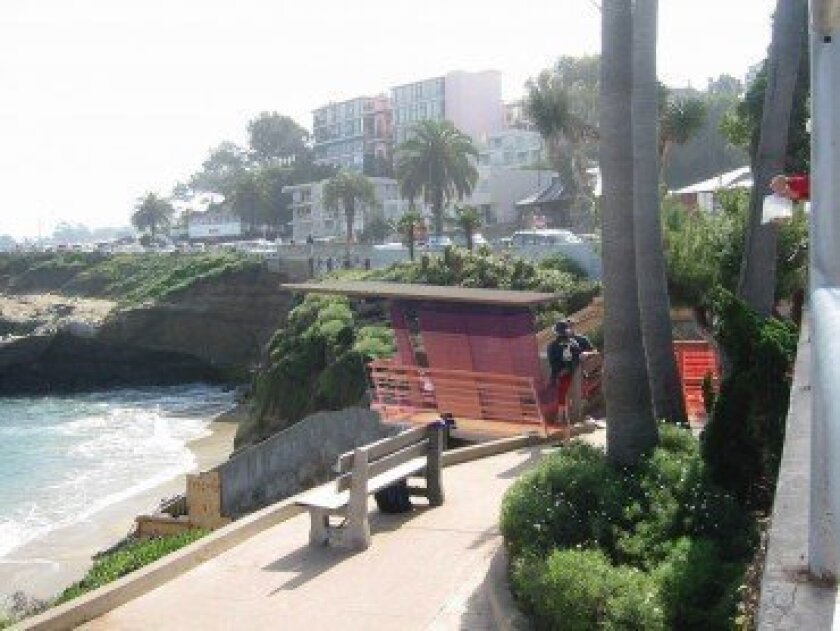 By Pat Sherman
Construction on the new lifeguard tower planned for La Jolla Cove will now begin in February, after lifeguards are relocated to a temporary tower and support facility nearby, the city said.
The project includes replacing the existing 30-square-foot, wood-framed lifeguard tower (built in 1980), and upgrading the 144-
square-foot support station there servicing La Jolla Cove beach — both of which are aged and deteriorating, said Mark Nassar, the Public Works Department's deputy director of architecture, parks and engineering.
The new Cove tower will be 80 square feet with a steel frame and wood siding on a concrete cantilevered base.
It was designed by Nakamura Terada Architects, which also designed the new La Jolla Shores lifeguard tower, which opened last year. APR Construction, Inc. is the contractor.
Lifeguards have had problems with window glare and reflection in the Shores' $3.8 million lifeguard tower since it opened last year, which make it difficult for lifeguards to see the water at certain times of the day. While the city is working to resolve these visibility issues, lifeguards are staffing a temporary, seasonal tower at La Jolla Shores that opens each day at around 2:30 p.m. (when bright, late afternoon sunlight makes it difficult for lifeguards to survey the beach from the defective new tower).
Though Nassar said lifeguards were consulted in the design of the Cove project, San Diego Lifeguard Union spokesperson Ed Harris said the Cove observation tower and glass were ultimately designed in the same manner as the new Shores' tower.
Harris said he recently met with District 1 City Council representative Sherri Lightner to assure the issues are addressed.
"We've been told that they will change (the problematic design) once they figure out what the fix is at the Shores, but as we speak nothing has been changed in the design at the Cove," Harris said. "We're hoping to get to that point and we expect that we will, but we are ensuring that Sherri's in the loop and she is on top of it."
In an e-mail, Nassar assured that "lessons learned from the La Jolla Shores lifeguard station will be implemented at the La Jolla Cove station to ensure all visibility issues are addressed."
The cost of the La Jolla Cove project is just shy of $1.85 million, which is being funded through the use of deferred capital bonds and development impact fees.
An access ramp to the mid-level landing overlooking the Cove will be installed to allow access for people with disabilities. In addition, new benches will be set at the mid-level area with storage cubbies for swimmers. Blue ADA parking spaces adjacent to the beach will also be re-striped.
---