Hop In! Community Center launches car service for La Jolla seniors
In September, the La Jolla Community Center started a transportation program called Senior Express, which provides rides to those with mobility issues. To acquaint members and non-members with the service, free rides are being offered throughout October.
Community Center Executive Director Nancy Walters said the program is in line with the wishes of the late benefactor Florence Riford. "She wanted transportation for seniors that was safe, affordable and convenient, so that is what we are trying to do," Walters said. Riford left the LJCC with a transportation fund that pays for the program.
Senior Express offers three types of rides: roundtrip evening rides from local retirement communities to the Community Center, recreational excursions and door-to-door transportation for errands within La Jolla.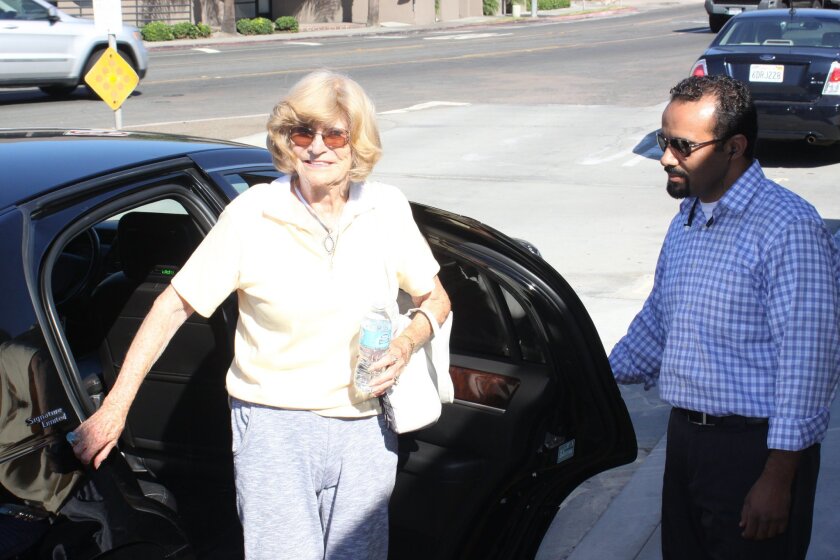 The evening trips, Walters said, help those living in retirement communities. "A lot of (the facilities) provide transportation, but it ends at 4:30 or 6 p.m. If a senior wants to go anywhere in the evening, they have to get their own taxis," she said. "Several people have told us they want to come to our Friday evening jazz concerts or hear our speakers, but they don't have the ability to drive here, and for some, it's out of budget to take a taxi each time."
She offered as an example: White Sands resident Ellen Cohen, who recently used the shuttle to attend a Distinguished Speaker series event.
"I don't mind walking during the day," Cohen explained, "but I worry about walking at night because the streets are so broken up. I won't walk in the dark down crooked and cracked streets."
Cohen said she'll definitely use Senior Express again to attend more nighttime events.
The recreational excursions, Walters said, are organized daytrips to spots in the Village and UTC — one for lunch, one for happy hour, and one for a movie or shopping.
On Oct. 20, the daytrip will be to UTC for lunch and shopping or a movie, departing the Community Center at 10:30 a.m. and returning around 2:30 p.m.
On Oct. 23, the lunch trip goes to The Shores Restaurant, departing the Community Center at 11 a.m. and returning 2 p.m.
On Oct. 29, participants can enjoy happy hour at CUSP at the Hotel La Jolla, leaving at 3:30 p.m. and returning around 6:30 p.m.
The third leg of Senior Express, though still in development, will assist those who live in La Jolla and have errands in town. The program currently provides rides from residents' homes to the Community Center.
"This would be for Betty in Bird Rock who wants to come to a balance class here," Walters explained. "We can pick her up and take her home. Down the road, we hope to offer rides to assist with errands and meet seniors' other needs, such as going to the grocery store or doctor's office."
Citing a statistic from the American Public Transportation Association, Walters said, "Compared with those who still drive, older non-drivers make 15 percent fewer trips to the doctors, 59 percent fewer shopping trips and visits to restaurants, and 65 percent fewer trips for social, family and religious activities."
LJCC implements the program using companies like Star Limo and Martina's Transportation, through the phone number (858) 337-0275. Walters said if someone doesn't pick up, just leave a detailed message, as calls are checked regularly.
For Marjorie Berns of La Jolla, having the little black car arrive at her door "made me feel like the Queen of Sheba."
She used the shuttle service to attend the Community Center's iPhone class, and wants to continue doing so. "Traffic is getting worse and worse," Berns said. "It's fretful to drive around here, and there are no breaks in traffic. But I'm active and want to be a part of the world."
The service is free through October, although a fee might be charged in the future, depending on use and demand. Community Center members, Walters said, would receive a discount, if not get the service for free.
"You hear a lot about depression and isolation among the senior community and how, when someone's spouse dies, they become a hermit," Walters said. "We feel this transportation program is a way we could help such seniors out."
---