Commercial real estate vacancies up slightly in 2012
NOTE:
An earlier version of this story said that a Starbucks coffee house at 1055 Torrey Pines Road would include a 1,099-square-foot outdoor patio where drive-up bank teller lanes were previously located. According to Lynda Pfeifer with the city's development services department, Starbucks withdrew the patio plans after the company learned that it would require both coastal and site development permits.
By Pat Sherman
Commercial real estate vacancies were up slightly during the past four months (at 6.15 percent), according to a report by the La Jolla branch of Colliers International real estate agency.
Girard Avenue
La Jolla Shoe Gallery
at 7852 Girard Ave. and clothing boutique
Studio 12-20
at 7856 Girard Ave. closed shop recently, adding approximately 2,5000 square feet of inventory to La Jolla's commercial real estate market.
Go of La Jolla
clothing at 7931 Girard Ave. closed recently, with hopes of opening a North County location in the near future. In its place will be
White House Black Market
women's clothing store, which is relocating to the 2,400-square-foot space from a couple doors down on Girard.
Rica Boutique
, another new clothing store, will open this month at 7456 Girard Ave., formerly the site of
Maudlin
furnishings (which is now at 7755 Fay Ave.).
Rica Boutique owner Erica Alexander, a graduate of The Bishop's School, said the women's clothing store will update inventory weekly to keep pace with evolving trends, offering clothing and accessories, from shoes to handbags. A grand opening is scheduled for May 19.
Still poised to open at 7441 Girard Ave. (though slightly delayed) is
Ariccia Italian Market
. Co-owner Robert Pascucci said finishing touches are being put on the restaurant and market "We should be open late May or early June if all goes well," he said.
Posies and Ponies
at 7449 Girard also has closed, though the space was leased in a matter of hours to
Elizabeth Allen Atelier
gifts and home accessories, which moved from its prior location on La Jolla Boulevard late last month.
Though there was word that
La Jolla Music
may be shutting its doors after five decades in the Village, owner Janine Ryder said she is "waiting to see what happens" with an individual who could help the business remain open.
Prospect Street
On Prospect Street,
Aquamoree
restaurant and
Let's Go
clothing store closed, while a 3,400-square foot space at 1205 Prospect that once housed Simic Gallery is undergoing a remodel in hopes of renting it, said a representative with Torrey Enterprises Property.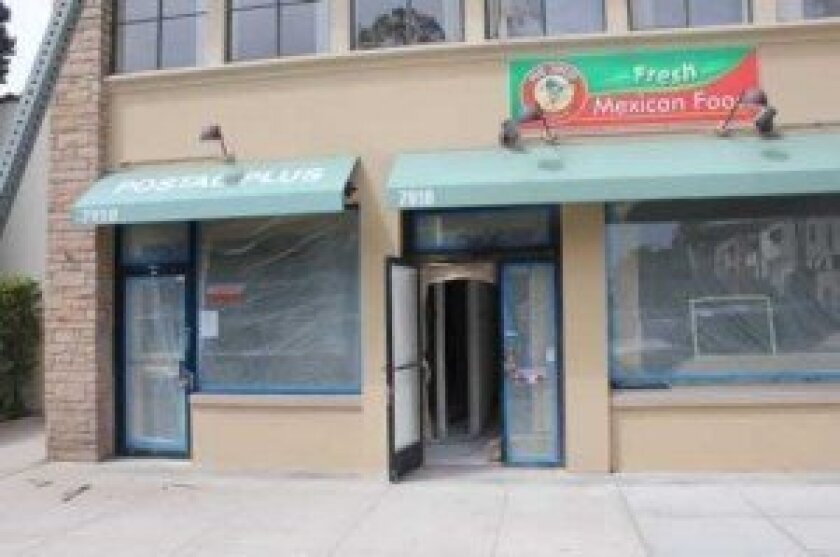 Luxury soap and bath store,
Presenting the Soap Opera
, will open its second store June 1 at 1025 Prospect St. (previously occupied by Let's Go).
Ivanhoe Avenue
Mr. Taco
eatery and
Postal Plus
on Ivanhoe Avenue closed due to a fire in February. Repairs to the spaces are still underway. The owner of the Postal Plus, who did not offer her name, said she is not sure when or if she will reopen. "It depends on the management company," she said.
Herschel Avenue
The opening of
Herringbone
restaurant, a $2.5 million eatery from restaurateur Brian Malarkey and nightclub owner James Brennan, has been pushed back to mid-May.
The restaurant will feature "Ocean Bazaar" and surf and turf fare from "Top Chef" contestant Amanda Baumgarten, formerly of Los Angeles' Water Grill.
The team at Snake Oil Cocktail Co. will create the eatery's culinary-inspired libations, while interior designer Thomas Schoos will transform the vintage warehouse, paying homage to the history of the building,while incorporating images and artifacts associated with the coast. The interior will include six 100-year-old olive trees, to give the space an open, interior garden feel.
Pearl Street/Torrey Pines Road
An approximately 5,000-square-foot property at 613-623 Pearl St. recently sold for $2,299,000 cash. The partially vacant building, which once housed Sadaf Persian restaurant, is currently home to pizza, Mexican and Chinese restaurants, which are expected to remain in place.
The
Starbucks
coffee house at 905 Pearl St. (and Fay Avenue) will be moving to new, larger digs at 1055 Torrey Pines Road, site of the former World Savings Bank.
Though Starbucks was originally slated to open this month, the opening has been tentatively set for Aug. 30.
The new location will utilize 1,625 square feet of the building.
The site will include 38 designated Starbucks parking spaces — a substantial increase from Pearl Street.
Starbucks locations on Prospect, La Jolla Boulevard (Bird Rock) and in La Jolla Shores are expected to remain open, the company says.
Jennifer Van Galder of La Jolla's Planned District Ordinance (PDO) Committee said there was some concern about the use of an existing Pylon sign at the site, which exceeds height limits for signage in the Village.
"We wouldn't allow that now, but it was grandfathered in," she said, noting Starbucks' intention to use it.
Sharing the first floor of the building with Starbucks will be a 2,400-square-foot
Chipotle
Mexican restaurant, with an indoor seating capacity of 52. The restaurant, expected to open in early fall, is one of 21 Chipotles in the San Diego area, including one on La Jolla Village Drive.
Van Galder said she heard some grumbling that there is already a saturation of fast food-style Mexican restaurants in the Village area, including the recently opened Puesto on Wall Street, as well as Rubio's, Wahoo's, Ortega's, Don Carlos, Bahia Don Bravo (in Bird Rock) and two Rigoberto's locations on La Jolla Boulevard.
There also is some concern that the city is not sending the PDO Committee notification of all new business proposals, so that the owners can comply with mandates on signage, building color and other plans subject to PDO Committee scrutiny, Van Galder said.
"We know that Chipotle's coming in, but they haven't been in to see us," she said. "There are a lot of businesses that don't come in and just open up … but we're really easy. We want people to open businesses; we want this village to be lively and successful."
---