Coming Home: La Jollan returns to house of his youth
By Ashley Mackin
For some people, a house is just a house. But for Fred and Marilyn Livingstone of La Jolla, their house on Park Row represents their roots in La Jolla and is the constant in an ever-changing town.
The house in which they now reside — which they only moved into a few months ago — was built by Fred's grandfather, Fred Murray, as was the house next door.
"I remember my grandmother saying she told my grandfather the ridge of the house next door couldn't be so high that we could not see the ocean," he said. To this day, a small glimpse of the ocean is still visible from their home, built in the early 1920s.
It is also the house to which Fred, a retired architect, came home after his birth. "My mother brought me here so her mother, my grandmother, could show her how to take care of a newborn," he said. Of their return to Fred's first home, Marilyn joked, "I just brought him home."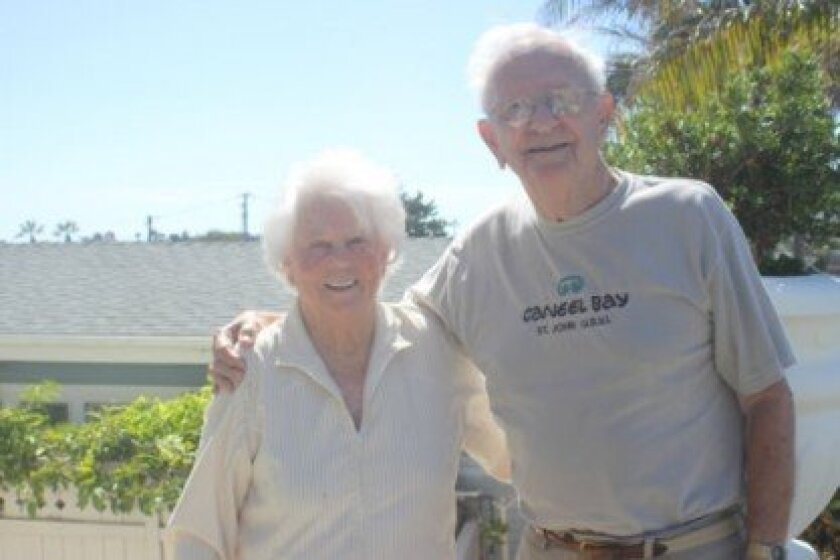 The house is called Broad View, Fred explained, because, "When this house was built, people didn't have street addresses; they named their houses and the street addresses came later." From the colonial-style home, one could see up and down the coast. "That was before La Jolla was built up and some of the trees matured. The view was fantastic from here; I remember it as a child."
Marilyn stayed in La Jolla before attending San Diego State, but Fred moved to Solana Beach in his youth, and around San Diego, before also going to San Diego State, where the two met as freshmen. Fred said during college, he would come to La Jolla after his last class and go swimming at the Cove.
When it came time for Fred and Marilyn to get married, they had their reception at the La Valencia Hotel.
The Livingstones spent more than a decade in Los Angeles, where Fred studied architecture, but never attained a degree. "When we started having children, I needed to work," he explained. But San Diego continued to call. They moved with their five children to the Crown Point area of Pacific Beach, where they stayed for 50 years before moving to a retirement community.
When Marilyn wanted to move from the retirement community, there was only one option: Broad View. Because their hearts were set on owning the home, which was not for sale at the time, Fred said, "we made the house available," offering the owners a deal they couldn't refuse.
But, today's La Jolla is not necessarily the La Jolla they remember, Marilyn said.
"I think La Jolla is struggling because there has been a tremendous influx in buildings and people," she said. "Our utilities are not up to snuff and the streets are going to hell. There is a lot of work to be done with the influx."
Fred added, "The only thing that looks the same is the Arcade Building on Girard Avenue ... Other than that, we hardly recognize anything about La Jolla."
The change in population, they assert, came after the construction of UC San Diego — and the wave of people who came from all over the world to study and teach there.
As the population grew, La Jolla was "built out" to accommodate it, Fred said.
Now that the buildings are here, Marilyn added, "I think La Jolla is struggling with what they have," and she would like further construction to stop and have the community stay where it is, development-wise.
"We hope to enjoy the La Jolla we once knew," Fred said, adding the couple will instead focus on the cultural aspects of the community. "We haven't gotten involved in the society of La Jolla, but we plan to ease into things. I'd like to visit the Historical Society to see what they're up to and try local restaurants because there are so many to choose from."
And of course, they plan to enjoy their "new" life at Broad View.
---