'Comedy Warriors' are veterans at getting laughs in new documentary screening at San Diego Jewish Film Festival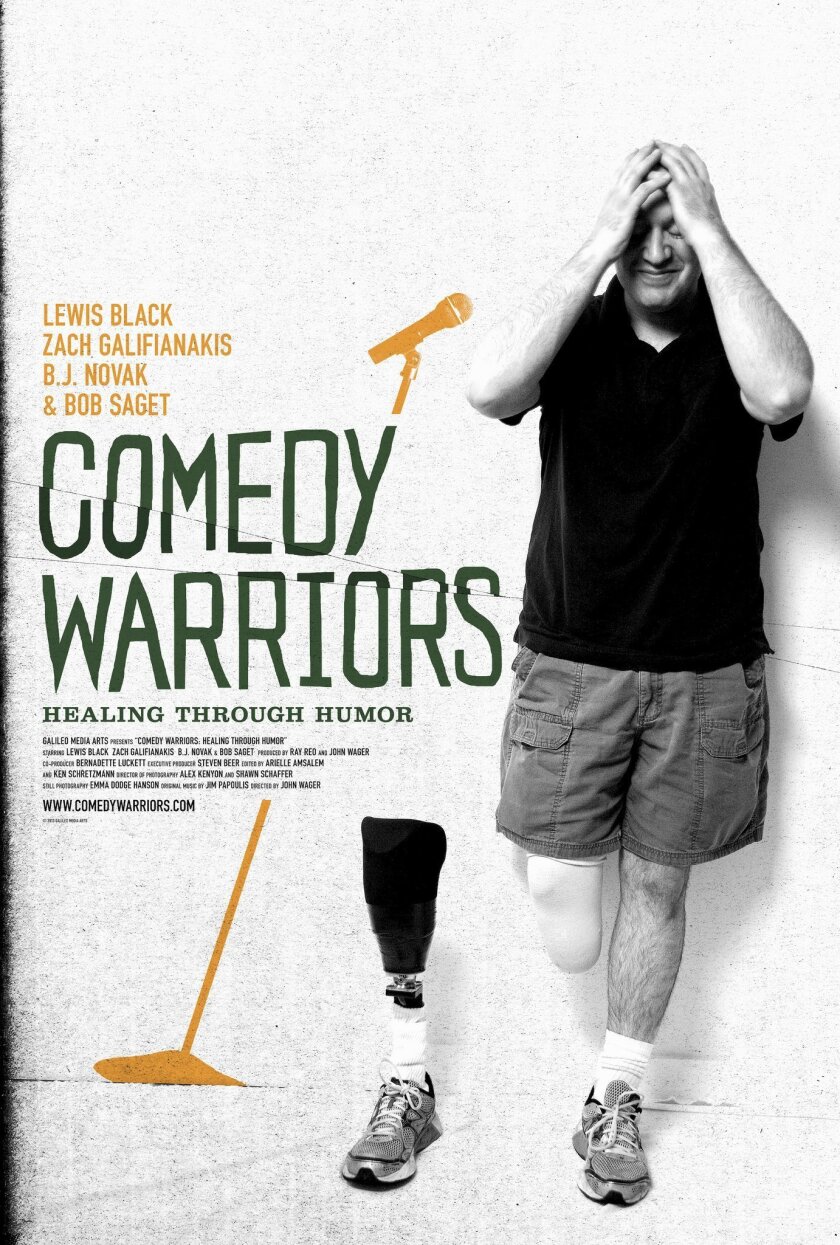 What's more terrifying? The battlefield or the stage of a comedy club? Joe Kashnow, an Army veteran who served in Iraq for six months in 2003, has experience with both, and he says at times, the comedy stage is scarier. "In combat," Kashnow says, "I can shoot back."
Rimshot, please.
Kashnow, now 36, is a veteran of both combat and standup comedy, but that's only part of his story. Injured by a roadside bomb while serving in Iraq, he lost his right leg. But determined to "not throw myself a pity party" when he was sent home, Kashnow soon got a job working for the government as a physical security specialist. Then, in 2011, fate came calling.
"There was an e-mail sent out by the Wounded Warrior Project, saying they'd been approached by some filmmakers about veterans who wanted to do standup," Kashnow recalls. "I'd always wanted to but I never saw an opportunity to make it work." He sent in his tape and a month later Kashnow was selected to be part of what would become an award-winning, inspirational documentary called "Comedy Warriors."
Kashnow is one of five severely injured American veterans featured in the film, which chronicles their backstories and then their training in the art of stand-up comedy. In the film, which culminates with their performances at top L.A. comedy clubs The Improv and the Laugh Factory, the wounded warriors work with professional comedy writers and with a heavyweight foursome of established comedians: Lewis Black, Zach Galifianakis, Bob Saget and B.J. Novak.
The San Diego Jewish Film Festival screening of "Comedy Warriors" will be 7 p.m. Wednesday, Oct. 29 at the Garfield Theatre.
"I was absolutely terrified the first time I went up on stage," says Kashnow, "and that lasted for quite a while. Now I've become more comfortable." So comfortable that Kashnow has continued to do standup after the filming wrapped in late 2012 and says, "at this point I've got 40 minutes worth of pretty solid material."
"Comedy Warriors" has been a hit on the film festival circuit, winning top prizes at the Palm Beach International Film Festival (where it premiered), the San Antonio Film Festival, the Middleburg (Va.) Film Festival, the Gold Coast International Film Festival on Long Island and the Naples (Fla.) International Film Festival. All of which makes producer/director John Wager duly proud. But it's the film's message and the relationships he forged with the injured veterans that mean the most to him.
"This was a once-in-a-lifetime thing that was bigger than the film itself," said Wager by phone from upstate New York. "It was an honor to be a part of it. Our hope is to raise awareness of what these men and women are going through when they come back."
Getting the film off the ground, Wager recalled, included a lot of ambitious phone calls ("You're asking people to do things for free") and, he admits, a little uncertainty. "We paired (the veterans) up with professional writers and we really didn't know whether it was going to work. We thought 'We could do this and nobody laughs.' "
Wager and his filmmaking team needn't have worried. "We had a press conference and flew all the guys in and we did all the initial interviews. None of them knew each other. Within a half-day there was nothing sacred with them. They would make fun of anything and everything. They all used humor to release the tension. That becomes infectious."
Wager remembered that Kashnow was one of the veterans with the worst case of stage fright, but "he was also one of the best prepared."
Getting laughs while on stage was much appreciated, but Kashnow says that the reaction to the film from audiences after they've seen it is even better. "The feedback you get is always heartwarming and supportive," he says. Some of that positive feedback has come from people who weren't in the military but who have debilitating injuries themselves. "That's something that's really indescribable, the emotion that can make you feel."
---