Clocked Out Duo opens Fresh Sound's new venue, series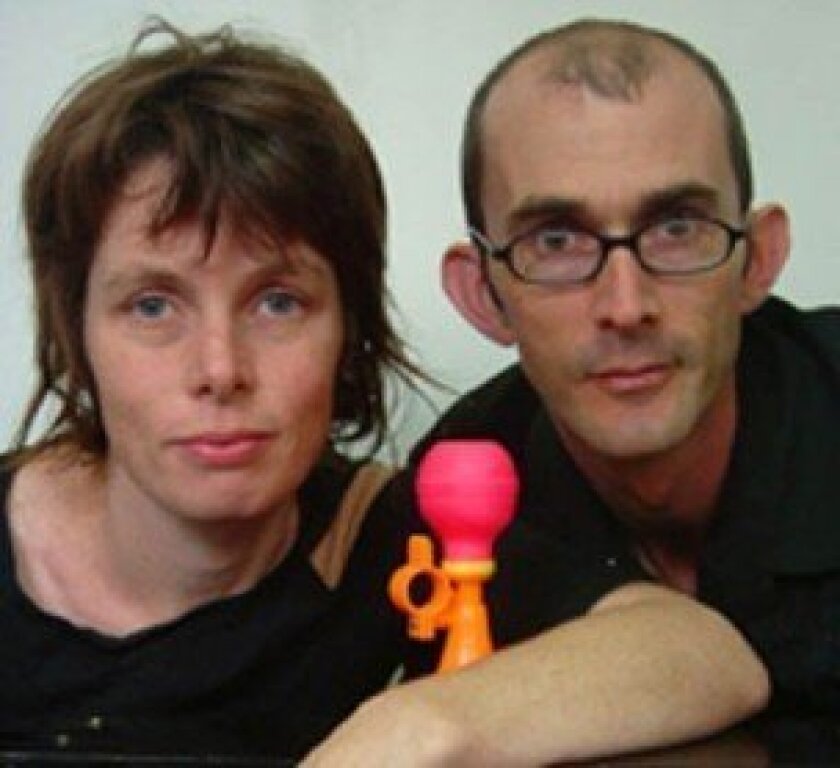 If you go
■ What: Fresh Sound Winter Series 2014
• Jan. 24: Clocked Out Duo
• Feb. 21: Zeena Parkins,
contemporary harp
• March 7: Nicole Mitchell
with Sun Dial Ensemble
■ When/Where: 7:30 p.m.
Bread & Salt, 1955 Julian Ave.,
San Diego, 92113
■ Parking: Free parking lot across the street, corner of Julian and Dewey
■ Tickets: $10-15
■ Contact: (619) 987-6214
■ Website:
freshsoundmusic.com
By Lonnie Burstein Hewitt
For almost two decades, Bonnie Wright has been bringing adventurous musicians from around the world to San Diego to perform in a variety of settings, including a Spruce Street showroom, The Loft at UCSD, and Space 4 Art. The latest home for her Fresh Sound concert series is Bread & Salt, a former warehouse currently being repurposed as an art-and-entertainment-center in Barrio Logan, where art venues are taking root like pampered plants.
The new venue is perfect for Wright. "It's a 43,000-square foot space owned by an architect and an artist. They have great plans for the future, and I like the idea of being in at the beginning," she said. "This is evolving architecture, and I do evolving music."
Wright is passionate about spreading the sounds of new, non-mainstream music to new listeners. "What I'm trying to do is expand people's ears," she said.
Her own ear-expanding experience came from what she learned as a mid-life music student at UC San Diego, which inspired her to present her first series of concerts in 1997, in a building her family owned.
"I wanted to bring the exciting kinds of music I'd been hearing — contemporary classical, experimental, electronic — into the community, so more people could have a chance to hear it," she said.
Kicking off Fresh Sound's 2014 winter season is Clocked Out Duo, a couple from Brisbane, Australia, who use percussion, prepared piano, found objects and toys to create evocative soundscapes. The two — percussionist Vanessa Tomlinson and pianist-composer Erik Griswold — have a local connection: they met in the music department at UC San Diego, where both received their Ph.Ds.
The concert is particularly significant for Wright. "Vanessa and (music professor) Steve Schick were my very first concert," she said. "I've never seen Clocked Out as a duo, but I've been wanting to, and wanting audiences here to see them, too."
As a grad student, Tomlinson was one of the original members of red fish blue fish, UCSD's dynamic percussion ensemble founded in 1996 by music professor/master percussionist Schick.
"Erik was playing some hard free jazz on piano in those days, and I took an interest," Tomlinson said. "He started the Clocked Out Orchestra, which did covers of Duke Ellington, Sun Ra and some original tunes, and I played in that. Then, in 1999, when we moved to Australia, we started the Clocked Out Duo. So much of a musician's life is spent touring, which is tough for relationships, and we wanted to see if we could combine our talents and get to spend time together."
Things seem to be working out nicely, since both have won multiple awards, tour separately and together, and are professors of music at Queensland Conservatorium, which Tomlinson calls "one of the great conservatories in Australia, and a great place to experiment with new ideas."
On Jan. 24, Clocked Out Duo will perform their most recent composition, "Time Crystals," which gives musical form to Nobel prize-winning physicist Frank Wilczek's controversial theory of crystalline structures in perpetual motion, endlessly oscillating in the fourth dimension.
"Over the years, we've been distilling our sound and our sets down to the essential moods and textures," said Griswold. "The idea is to let people sit back and enjoy the journey through the imaginary world of 'time crystals.' "
---