Cliff Roberston lit up the screen in 54 feature films, 1956-2007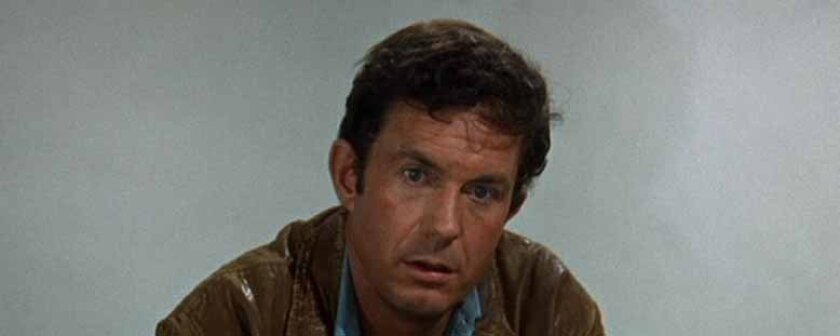 By Susan DeMaggio
Staff Writer
Actor Cliff Roberston spent his 88 years in many different real-life roles. He was a reporter in Ohio, a playwright, a World War II veteran, an aviator, director and a reluctant Hollywood whistleblower.
In this account of the 1977 scandal by Sean O'Neal at
www.avclub.com
, it all began when Robertson received a note from the IRS regarding a $10,000 check he had supposedly cashed, with Robertson soon discovering that his signature had been forged.
Despite being warned not to press the matter by many in the industry, Robertson filed a report that launched a widespread studio and even criminal investigation, eventually revealing that Columbia Pictures president David Begelman had embezzled more than $61,000 from the studio. Begelman was fined $5,000 for his forgery and bounced back by taking over MGM in 1980. Robertson, meanwhile, claimed he was then shunned by the industry for several years for daring to take on its powerbrokers. The affair is chronicled in the 1982 bestseller "Indecent Exposure."
On the big screen, La Jollans will recall that Robertson played The Big Kahuna in the first "Gidget" movie (1959). Older readers will remember his Academy Award-winning role as "Charly" in the 1967 film about a mentally challenged man whose intelligence is increased in a scientific experiment. Younger readers will recognize him as Uncle Ben in the Spider-Man film trilogy (2002-2007).
When Warner Brothers announced plans in 1963 to film "PT 109," a book about the new president's war heroics, John F. Kennedy himself suggested the handsome Robertson for the lead. He later wrote, produced, directed, and starred in "J.W. Coop," a small 1971 gem about a rough-luck rodeo cowboy.
Other screen gems included his role as a CIA middle-management type in "Three Days of the Condor" (1975), and a haunted husband in Brian De Palma's, "Obsession" (1976).
Roberstson has a star on the Hollywood Walk of Fame at 6801 Hollywood Blvd., and a 1966 Emmy for "The Game,"
 presented by the Bob Hope Chrysler Theatre. —
Here is his filmography:
Spider-Man 3 (2007) 

Riding the Bullet (2004)
Spider-Man 2 (2004) 

13th Child: Legend of the Jersey Devil (2002) 

Spider-Man (2002) 

Mach 2 (2001)
Falcon Down (2000)
Family Tree (1999) 

Escape from L.A. (1996)
Renaissance Man (1994) 

Wind (1992)
Wild Hearts Can't Be Broken (1991)
Dead Reckoning (1990) 

Malone (1987) 

Shaker Run (1985) 

Star 80 (1983)
Brainstorm (1983) 

Class (1983) 

Two of a Kind (1982) 

The Pilot (1980) 

Dominique (1978)
Fraternity Row (1977) 

Obsession (1976) 

Midway (1976) 

Shoot (1976) 

Three Days of the Condor (1975) 

Out of Season (1975) 

A Tree Grows in Brooklyn (1974) 

Man on a Swing (1974) 

The Man Without a Country (1973) 

Ace Eli and Rodger of the Skies (1973) 

J. W. Coop (1971) 

Too Late the Hero (1970) 

Charly (1968)
The Devil's Brigade (1968) 

The Honey Pot (1967)
Masquerade (1965)
Love Has Many Faces (1965) ·
Up from the Beach (1965) 

633 Squadron (24-Jun-1964) 

The Best Man (1964)
Sunday in New York (1963)
PT 109 (19-Jun-1963) 

My Six Loves (3-Apr-1963)
The Interns (8-Aug-1962)
Underworld USA (1961)
The Big Show (1961)
All in a Night's Work (1961)
Battle of the Coral Sea (1959) 

Gidget (1959) 

The Naked and the Dead (1958)
The Girl Most Likely (1957)
Autumn Leaves (1956) 

Picnic (1956)
---