City touts undergrounding of utility lines for 950 La Jolla residences
By Pat Sherman
City officials and SDG&E workers gathered at the corner of Draper Avenue and Genter Street in the Village on May 24 to witness the removal of one of the final utility poles from an area serving roughly 950 residences.
Undergrounding in project area 1F, located between Coast Boulevard and Eads Avenue, from Kline Street south to Glenview Lane, began in January 2008. More than 1.43 miles of overhead utility wire was moved underground during the four-year work cycle, and 127 utility poles removed.
"This project is a perfect example of the city working with our utility partners to create a lasting impression for San Diego," said District 1 City Councilwoman Sherri Lightner, addressing a small group of city officials and residents before the pole was removed.
Lightner praised the community for its patience while the project progressed.
"Just when you thought another San Diego neighborhood couldn't get any more beautiful, this one certainly has," she said. "Thanks to this undergrounding effort, residents are less vulnerable to utility outages caused by wind, rain and other external factors. Relocating utility lines underground will also save money and time in the long run, freeing up city staff, utility crews and public safety workers to focus on other neighborhoods in need when natural disasters strike."
As part of the project, city crews added 30 streetlights and 39 pedestrian ramps to the neighborhood. Nearly 70 trees will be planted there, per residents' requests, and the streets resurfaced.
Since the 1970s, all new residential neighborhoods have been required to install underground utility lines. About a decade ago, the California Public Utilities Commission mandated that a surcharge be added to customers' utility bills for the conversation of overhead utility lines in older neighborhoods.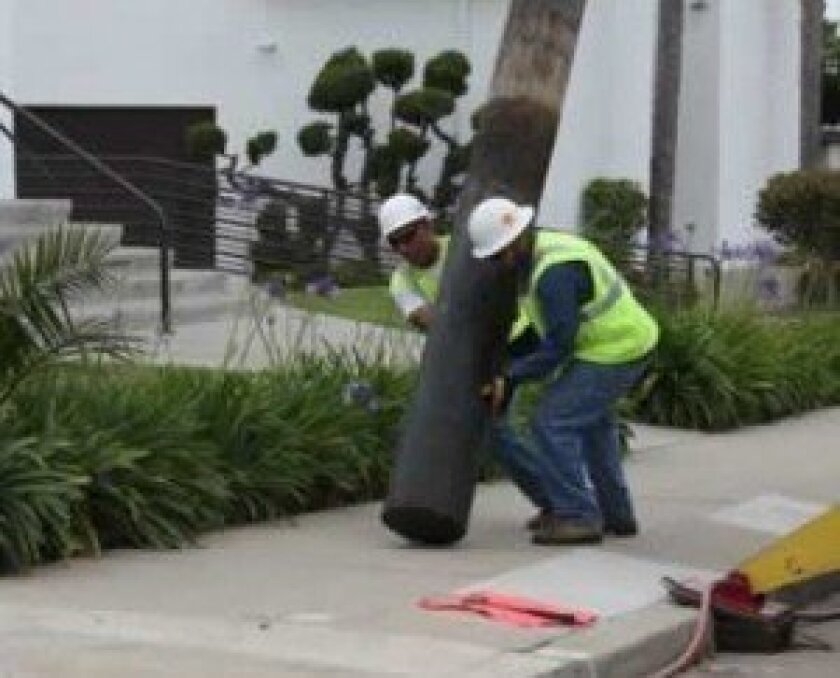 Each year, approximately 30-35 miles of overhead utility lines are undergrounded in San Diego.
"There are approximately 70 miles currently under construction, which will benefit more than 7,500 customers throughout San Diego," Lightner said.
The city removes what are known as "distribution poles," while the removal of larger, taller "transmission poles," which may hold six lines, must be coordinated with SDG&E. (Transmission lines are those which transmit electricity from power stations to substations).
Charlynne Moyer, a principal traffic engineer aide with the city, said future undergrounding project areas would be much smaller (an average of about 250 to 450 residences), so that the work is more manageable.
Two more La Jolla project areas are set to go before the city council for approval in July and November, after which the design process and coordination with utility providers will commence.
Who's next?
The next five contiguous project areas in La Jolla slated for undergrounding include: 1J (in La Jolla Shores, north of Avenida de la Playa); 1JPHII (a large swath east and south of 1J); 1M (in the West Muirlands area); 1M1 (south of 1M) and 1H (in the heart of the Village).
Each of the project areas are slated for environmental review in the near future, which will determine the date the work will commence.
Due to environmental issues, utility poles located in canyons, which may block homeowner views, are removed after all other undergrounding work in the city is complete.
"As far as priorities, it goes to the back of the list," said James Bajet, with the city's utilities undergrounding program. "That's one of the caveats. Anything with environmental (sensitivity) just skyrockets the expenses of a particular project."
Light too bright?
In the past week, several residents complained to the La Jolla Light about the brightness of the replacement street lamps the city is installing during undergrounding.
During the project, the city began replacing existing, low-pressure sodium lamps with high-pressure sodium lamps, ultimately switching last fall to more energy-efficient, longer-lasting fixtures that produce a whiter light that is more akin to sunlight. The city expects to save $2.2 million annually from installation of the new broad-spectrum induction lamps.
Moyer said those who find the light too bright can request that the city install a shield around the base of the lamp to decrease its intensity. To request such, call the city's Development Services department at (858) 694-7000.
---