Chronicling Qualcomm: Irwin Jacobs lectures at The Riford Center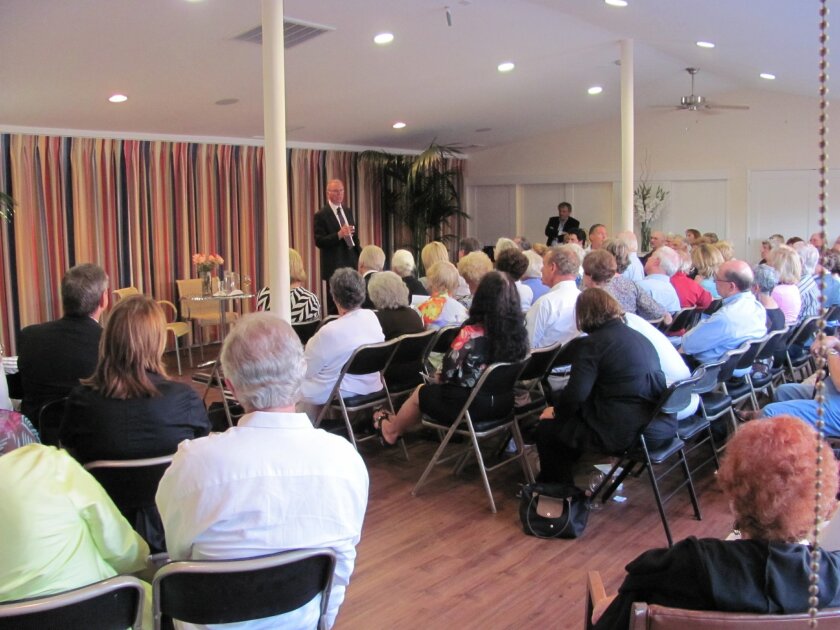 By Susan DeMaggio
sdemaggio@lajollalight.com
He's the man …
… to San Diegans for co-founding the lucrative Qualcomm in their city;
… to the world for helping to lay the foundation for mobile communications;
… to the guests who came out Monday night to hear him discuss his illustrious career as part of the Riford Center's "Distinguished Speakers Series."
Dr. Irwin Jacobs, 78, spoke for more than an hour, chronicling his life from the son of restaurateurs in New Bedford, Mass., to MIT grad student in electrical engineering, college professor, chairman of Qualcomm and chair of the board of trustees of the Salk Institute. In 2010, Jacobs was listed as No. 828 on Forbes's annual list of the World's Top Billionaires.
He ended his presentation taking questions from the crowd and then stayed to visit with well-wishers who kept him engaged.
Had his wife Joan been there (she was not due to a concurrent commitment) she would have delighted in the applause that followed Jacob's admission that Joan's love of a home spotted in La Jolla on vacation, brought the East Coast couple to town in the mid '60s when he was offered a professorship at UCSD.
"Back then, UCSD was recruiting new faculty members so there was always a dinner party at someone's home. I remember the night I went to one at Professor Harold Urey's house — he was a Nobel Prize winner in chemistry — and upon hearing I was from the electrical engineering department, he pulled me over to his window overlooking the cove and showed me all the electrical wires criss-crossing the view. 'How can I get rid of all these wires?" he asked me.
"I guess he never knew I would end up in the wireless business," Jacobs said, grinning.
He then offered the crowd a brief history of Qualcomm (named for quality in communications) and a look at the global evolution of cell phones, now smart phones in the third generation of wireless communication combing voice and data transference.
"The challenge going forward," Jacobs said, "is to produce a high performance computer for smart phones that uses very little battery power." (Qualcomm's chipsets are called Snapdragon.)
He said 85 to 90 percent of Qualcomm's revenue comes from outside the United States (China, India and now Africa), though the product engineering is done here. "There are some 5 billion subscribers in the world, and the world's population is, what now? 7 billion?"
The college professor-scientist-businessman-philanthropist concluded that his hope for the future is that the United States gets its public education costs under control so American students can all be hooked into "e-education." His bets are on e-textbooks, real time testing and peer-to-peer information exchange.
"We're just not educating enough people," Jacobs said. "And the future is in math and the sciences — a course or two in accounting is valuable, as well."
After the lecture, La Jollan Art Brandt said what made it interesting to him was the role San Diego played in the 1980s as cell phone technology debuted. "The story is part of U.S. history."
Chuck Day, CEO of Ronald McDonald house, said he was inspired by Jacob's energy.
"He continues to move things ahead in San Diego. He is a remarkable guy!"
As she left the Riford Center, Amal Madany was all smiles. "What else can I say? I have a son who works at Qualcomm!"
Up next
The Distinguished Speakers Series at the Riford Center will present:
August: Mayor Jerry Sanders
October: Adm. William French
Up nextThe Distinguished Speakers Series at the Riford Center will present: August: Mayor Jerry SandersOctober: Adm. William French
---