California Surf Museum stoked over new Hansen retrospective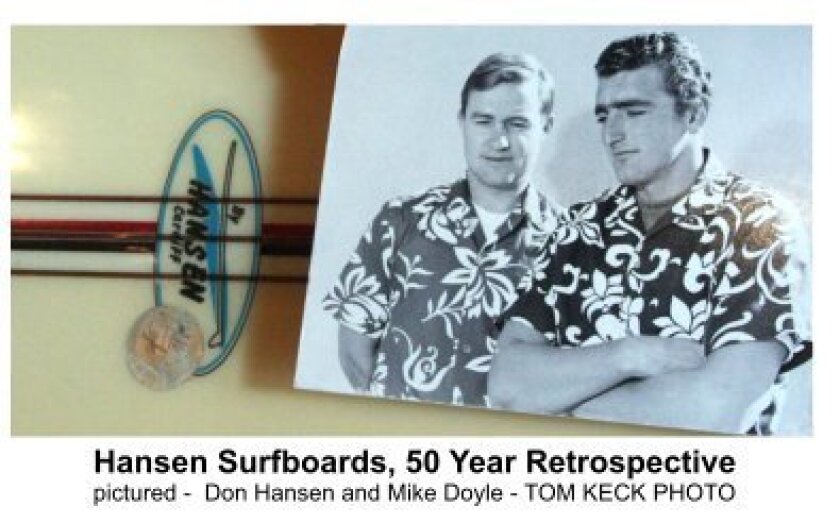 "Hansen Surfboards – A 50 Year Retrospective," opens Sunday, Sept. 18 at The California Surf Museum in Oceanside promising visitors "a vivid display of the legendary surf company, its founder and family history." It chronicles Don Hansen's move to the West Coast from South Dakota, where he was introduced to the sport in the basement of the Beta Theta Pi frat house at the University of South Dakota. His college roommates, who were from Coronado, invited him to vacation with them during their summers, and it didn't take long before Hansen knew he belonged in California and he became a regular at San Diego's best surf spots.
In a press release announcing the show, Josh Hansen writes, "My dad has a very vibrant past and he's taught all of us a lot about running a business by the way he lives. From the beginning, he has kept this a family business and involved so many key people from the community."
Hansen got his start shaping surfboards for Jack O'Neill and then in 1961, he moved to the North Shore of Hawaii where he went off on his own shaping and selling Hansen Surfboards from a small shack at the end of a dirt road. While living in Hawaii, his love for the big waves became evident when he finished second place in the Makaha Surfing World Championships in Hawaii. He was pictured on the cover of Surfing Magazine at Haleiwa, and was featured in the surf movie, "North Swell," produced by Grant Rohloff.
After establishing himself as a surfer and shaper, in 1962 he returned to Southern California and opened Hansen Surfboards in Encinitas where the surf shop became one of the largest producers and suppliers of surfboards in the world.
The retrospective shows Hansen's life from the start of Hansen Surfboards, to the days when he and his partners started the OP Clothing Company in the 1970s. It also chronicles his move to Montana where he learned to rope and ride, and started downhill ski racing. At one time in the mid 1970s, Hansen was a two-time national skydiving champion, breaking almost every record there was.
If you go
What: 'Hansen Surfboards – A 50 Year Retrospective'
When: 10 a.m. to 4 p.m. daily; Thursdays to 8 p.m.
Where: California Surf Museum, 312 Pier View Way, Oceanside
Contact:
(760) 721-6876
Web:
csm@surfmuseum.org
; hansensurf.com
Admission: Free to members; free on Tuesdays; free to ages 12 and younger; $3 adults, $1 students, military
---