California Ballet Company opens season with 'Giselle' in San Diego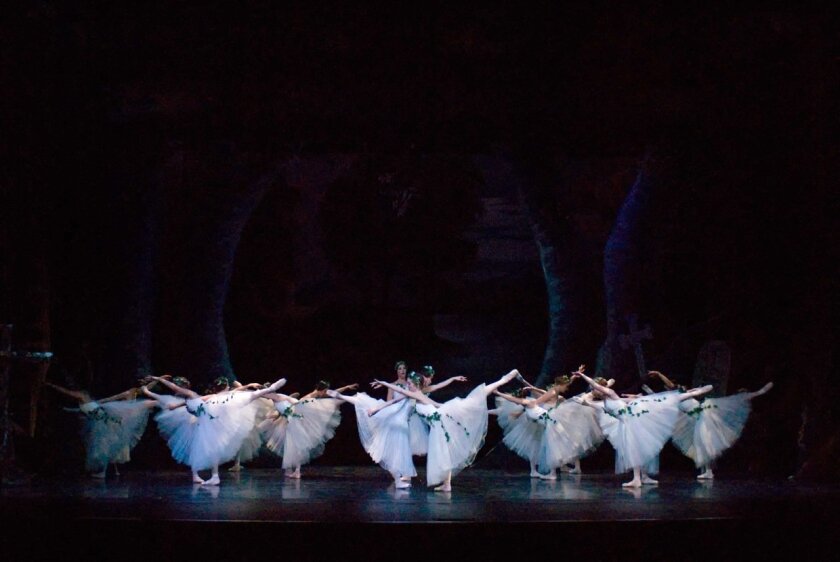 California Ballet Company launches its 47th season with "Giselle," 2:30 and 7:30 p.m. Saturday, Nov. 1, and 2:30 p.m. Sunday, Nov. 2 at the San Diego Civic Theatre, 1100 Third Ave.
Originally choreographed by Jean Corrali, "Giselle" was restaged for California Ballet by former ballet master Marius Zirra. This moving love story, filled with romance, madness, magic, death and triumph, showcases the dancers' dramatic acting skills as well as their dancing abilities.
Often referred to as the Hamlet of the dance world, "Giselle" is the quintessential ballet of the Romantic era. The conflict between reality and the supernatural as a basis for storytelling was popular with the creative artists of the period.
Set to a haunting score by Adolphe Adam, it spins the tragic tale of a beautiful young peasant girl who falls for the flirtations of the deceitful and disguised Prince Albrecht. When the ruse is revealed, the fragile Giselle dies of heartbreak. Albrecht must then face the consequences of his careless seduction when confronted by the Wilis: vengeful spirits of spurned lovers who roam the forests for unsuspecting men to slaughter. Giselle's misguided love for Albrecht is the nobleman's only hope for salvation.
Principal Ballerina Chie Kudo will make her debut as Giselle. Guest Artist Andrei Jouravlev will reprise his role as Prince Albrecht. This production will also be the official California Ballet Company debut of new Principal Dancers Ana de Costa and Trystan Loucado, alternating with Kudo and Jouravlev in the roles of Giselle and Albrecht.
This production is suggested for ages 8 and older. There will be a 30-minute pre-performance lecture with director Maxine Mahon one hour prior to curtain.
Tickets: $40-$90 at (858) 560-5676, tickets@californiaballet.org, or californiaballet.org/giselle
---