Cab driver shot, killed near La Jolla synagogue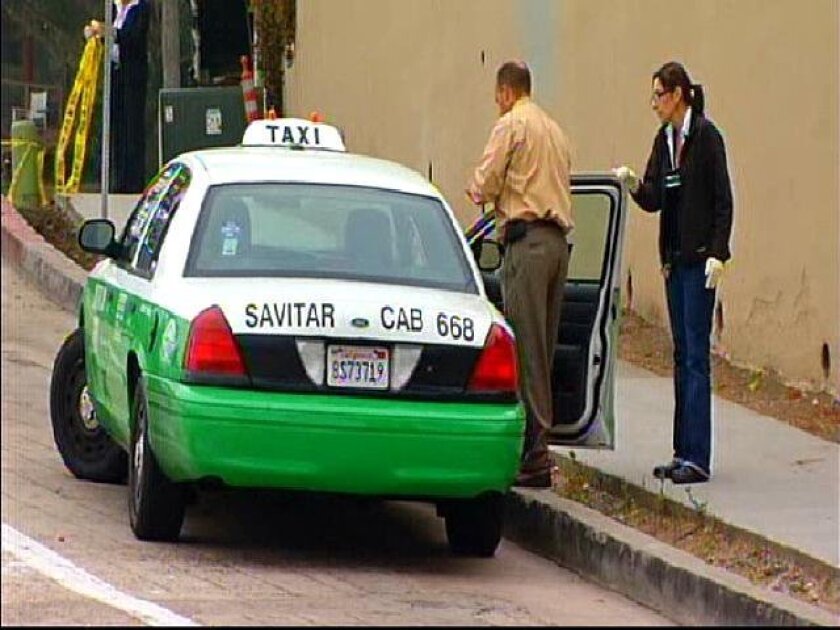 City News Service
San Diego police homicide detectives are investigating the death of a 68-year-old cab driver shot on a La Jolla sidewalk.
The body was found in the 8600 block of La Jolla Scenic Drive, across the street from the Adat Yeshurun synagogue late Wednesday night, said San Diego police Officer David Stafford. The neighborhood includes many million-dollar homes.
An area resident reported hearing gunfire about 11:35 p.m. Wednesday and a patrol officer who went to investigate found the body, said San Diego police homicide Lt. Kevin Rooney. The man appeared to be in his 60s, he said.
In an early morning press release, Rooney reported witnesses saw the cab pull to the west curb and two males step out. "There was an exchange of words and a struggle, followed by several gunshots," the release stated, adding the suspect fled northbound in the cab.
NBCSanDiego.com reported that the "cabbie still had his wallet on him when officers arrived."
Det. Kevin Rooney told NBCSanDiego "the fact that the driver was self-employed and not working with a dispatcher like many cab companies makes it more challenging for investigators to clarify why the victim was in La Jolla at the time of the shooting."
For NBC's latest report, go to
www.nbcsandiego.com/news/local/Taxi-Cab-Driver-Killed-La-Jolla--130809208.html
The vehicle was found abandoned near La Jolla Cove early Thursday, Rooney said.
The man's identity is known but is not being released until his family has been notified.
Anyone with information about this case is encouraged to call the Homicide Unit at (619) 531-2293 or Crime Stoppers at (888) 580-8477.
---