Boys Soccer: Bishop's School switches attack, overcomes La Jolla Country Day School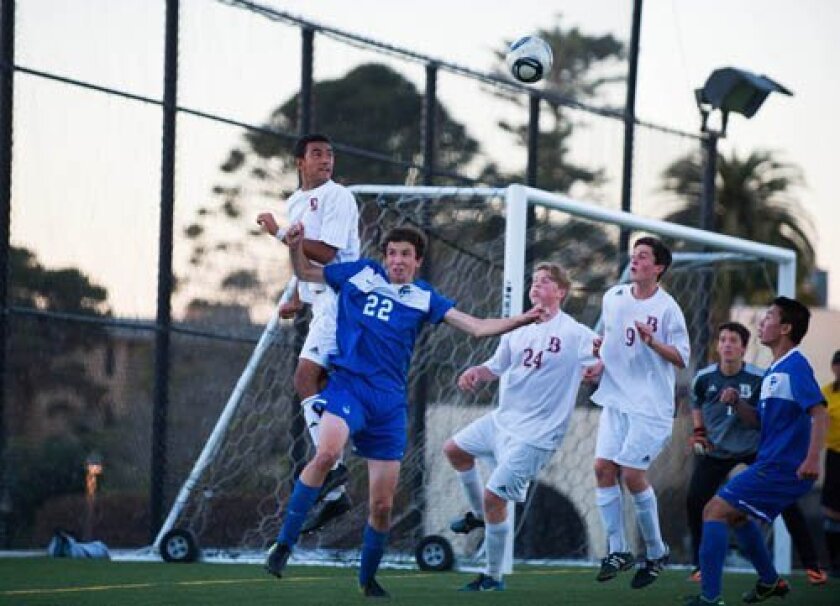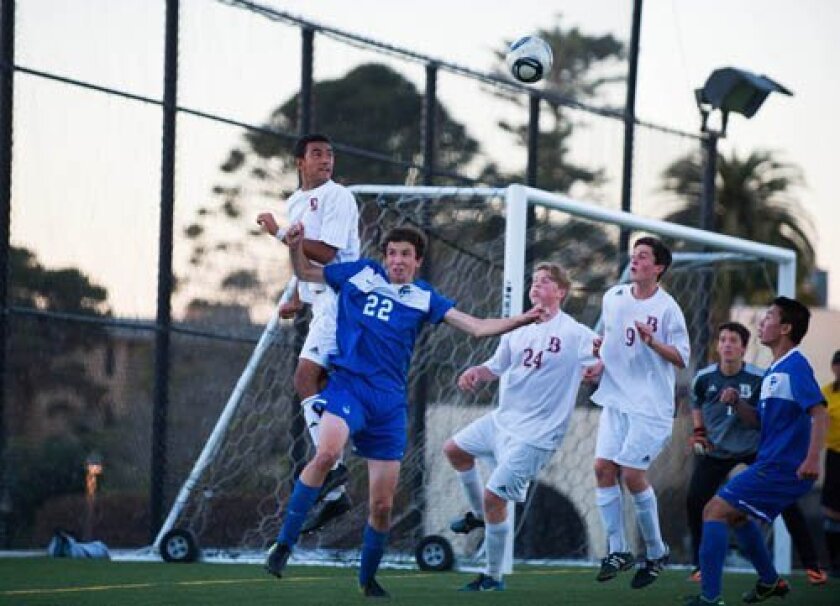 BOYS SOCCER — SCORE:
The Bishop's School Knights
2
La Jolla Country Day School Torreys
1
By Ed Piper
Down 1-0 to La Jolla Country Day School at halftime at home, Bishop's School coach Malcolm Tovey switched his Knights to a 3-4-3 formation to push more players closer to the goal. The tactic was successful, as Bishop's scored two, second-half goals and prevailed over the Torreys in a Coastal League match, 2-1 on Jan. 7, 2014.
Bishop's maintained a 4-5-1 formation throughout the first half. But the Knights weren't able to net a goal, finding themselves looking up from a deficit.
Bishop's assistant coach Jase Scarvaci pointed out that the 3-4-3 is riskier than the 4-5-1, because fewer defenders are back to help protect their goal. But it applies a lot more pressure on the opponents, and makes longer passes possible and provides more shot attempts.
A header by freshman Tanner Coleman in front of the goal on a corner kick in about the 70th minute of regulation time served as the go-ahead goal. Coleman's shot turned out to be the winning goal.
Shortly after the start of the second half, senior captain Grant Brutten brought the Knights' even at 1-1 on his trademark "Thunderbolt" shot — a right-footed blast from 25 yards out into the top left corner of the goal. Brutten had two previous "Thunderbolts," as his team calls them, this season.
Country Day sophomore Philip Lee scored his sole goal in the first 10 minutes of the game. His shot was set up by Ben Coden, who won a "50-50" (the ball up for grabs by either player) against the goalkeeper. That marks his fourth goal of the season.
"We live for these games against Country Day, and Parker," said Daniel Cohn, Knights junior defender out with a toe injury for two to four weeks and unable to play against LJCD. "We run LJ."
Teammate and captain Ian Caples, interviewed before the game, as he was sitting out due to ACL surgery scheduled for Jan. 17, said a strategy was to "keep the ball on the ground." That means, "If we pass the ball around a lot, we keep possession and the other team doesn't have the ball and we have it. That's a good thing for our team. We'll be able to tire the other team out."
Bishop's was successful in controlling the ball, as the Knights dominated both halves at the time of possession. The ball rarely entered their defensive half of the field, especially in the second half.
Country Day, though losing to Bishop's, shut out Santa Fe Christian 2-0 at home two days later. Senior forward Nick Hawkins scored the first goal, assisted by Sean Shevel. Grayson Lyman scored the second goal on a penalty kick. LJCD moves to 1-2 in league, 5-4-2 overall.
Said LJCD coach Jerry Fleischhacker of the loss to Bishop's, "It was a tough game. We put up a good fight playing without two of our key players. I think they were missing some players, too." Torrey Jose "Fofa" Arriola was at a soccer camp, which under CIF rules, requires the student athlete to sit out two games when he returns.
Commented Cohn, "We're a little down with players now. We have a lot of injuries. We have a really good young team. We're giving a lot of young players a lot of playing time right now, so in the bigger games later in the season we can have them ready to go."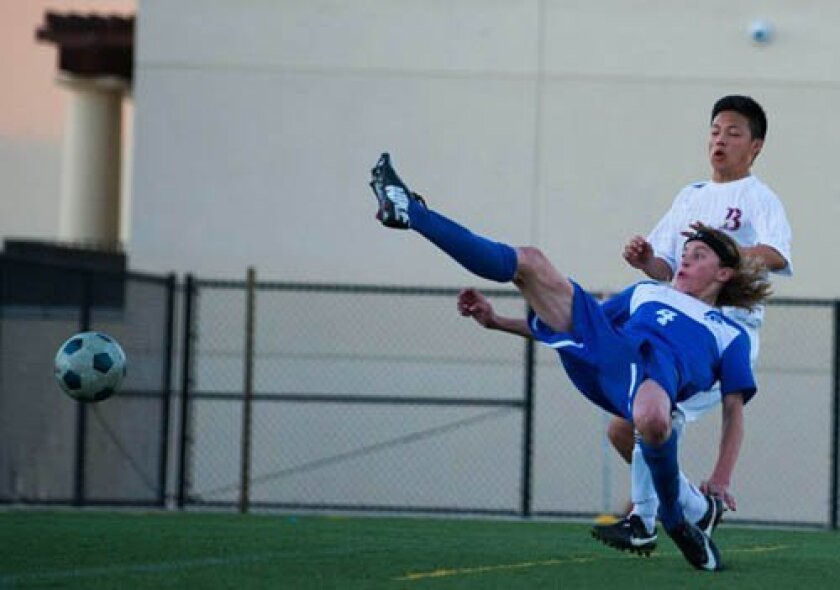 ---