Boys Basketball: Bishop's School clobbers Christian High, 65-32, in La Jolla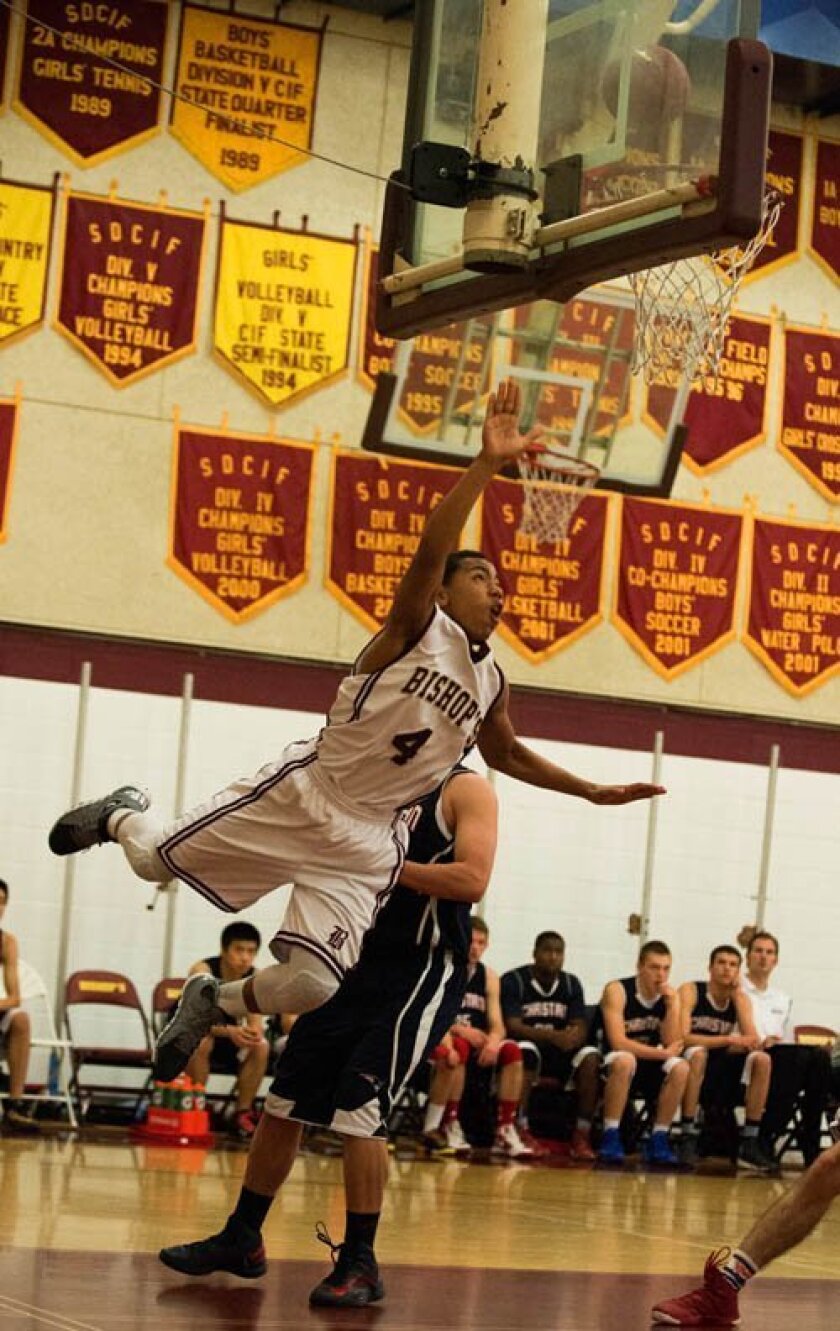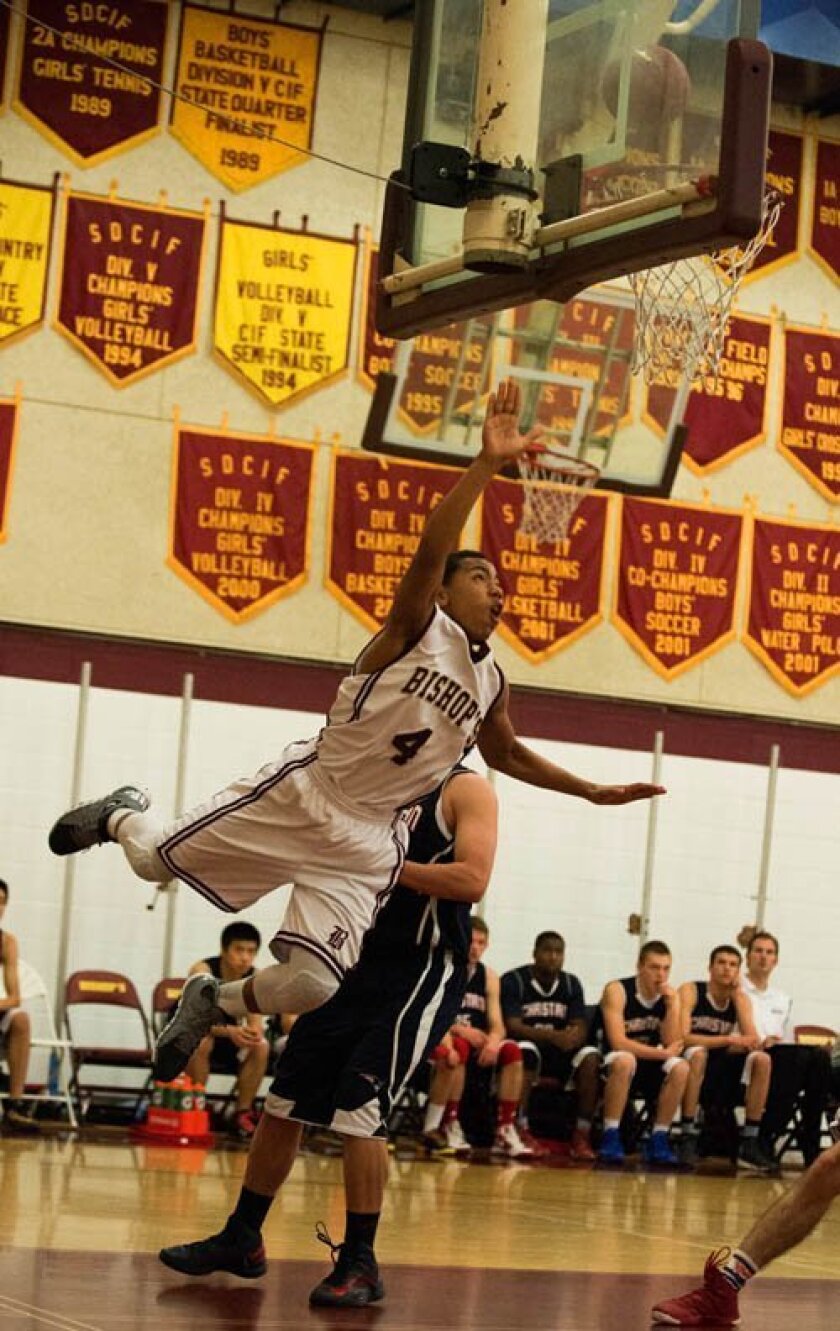 BOYS BASKETBALL — SCORE:
The Bishop's School Knights
65
Christian High School Patriots
32
By Ed Piper
Enter the mind of The Bishop's School Knight Matt Lizanich: "If I'm looking for steals, I'm looking at (the ballhandlers') eyes. And if their eyes are more focused on the defender guarding them, then I'll go for the steal because they're not focused on the ball and the pass they're going to make."
Lizanich, a crazy ball-hawking guard, had three steals and disrupted countless other situations in the Knights' 65-32 mauling of the San Diego Christian Patriots at home Jan. 15, 2014. That brings his season total to 29 steals, an average of 2.9 per game.
The senior's partner in crime, Eric Yu, the other starting guard for the Knights, added another three steals and is averaging 3.3 steals a game, in coach Matt Niehues' aggressive pressure defense. Justin Woodley is not far back of the two at 2.4 steals per game. Led by their "big three," the Knights average almost 12 steals a game.
Largely as a result of the relentless pressure, and their own quick-shoot offense, the hosts kept mounting their lead, which was 27-9 after the first quarter, and 39-18 at the half. Woodley led all scorers with 17 points, on 7 of 10 shooting from the field. Yu had 13 points, Lizanich 12. The productive Yu added 7 rebounds, the versatile Woodley 6.
The Knights jumped off to a 9-0 lead and never looked back. Lizanich scored the first bucket, and then he followed with a layup off his own steal to go up 4-0. Yu fed a teammate an assist for another basket. A short time later, another goal led to the rhyming announcement, "Yu for two."
The visiting Patriots (4-14) tried to keep up their own tempo, but committed a lot of mistakes. Their hosts were only too happy to accommodate them, since Bishop's plays effectively at a high tempo. Senior Zack Kinninger led Christian with 11 points.
Bishop's shooters have a green light to shoot threes. The team message, as Woodley said, is, "Be ready to shoot." Yu was effective in moving the ball to get it to shooters, as was Lizanich. They have 37 and 31 assists on the season, respectively.
Another asset the focused Lizanich, a six-foot tall senior, brings to the attack is his long-range shooting. He had seven three-pointers in a game last season. This year he is shooting an excellent 38 percent from three-pointer range on 28 of 74.
Said Yu of his synergy with Lizanich, "We're really aggressive off ball; that's where we get most of our offense from — especially because Lizanich is a great shooter from the perimeter. So we can drive and kick and spread it out when we have to, and also on fastbreaks we can get out and run. We run a lot in practice, so when we get in games, we rely on our conditioning to out-run our opponents, and we saw that here."
Commenting on the season, thus far, Coach Niehues said, "We're pretty young. Both freshmen (Woodley and reserve guard Cullen Bedingfield) have really impressed, have stepped up in everything — getting to practice on time, getting to games on time. They step up in games. Good kids."
Bishop's (8-5) suffered a loss to Army-Navy Jan. 17, falling 59-50. The Knights have an important Coastal League game Friday, Jan. 24, at Santa Fe Christian, with a varsity doubleheader: boys at 7 p.m., girls at 6 p.m. Next, the boys play a non-league game Tuesday, Jan. 28 at Calvin Christian.
• BISHOP'S STATS: Points (65)
Woodley 17
Yu 13
Lizanich 12
Dempsey 6
Meyer 6
Thompson 3
Sheth 2
Bedingfield 2
Zeigler 2
Maren 2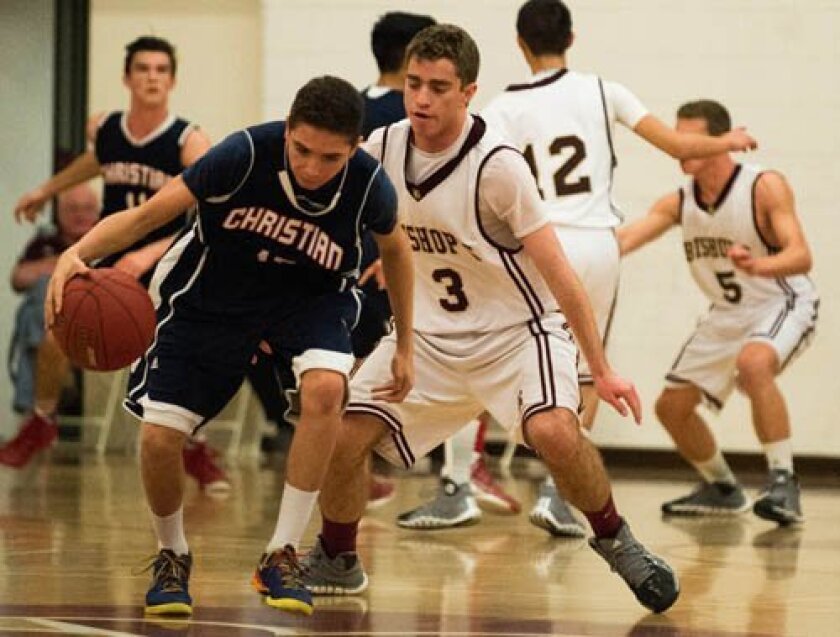 ---