Southern Comfort in La Jolla
UC San Diego, lifeguards unveil new 'comfort station' (restroom) at southern end of Black's Beach
A small dedication ceremony was held Oct. 10 for a new public restroom perched just above the southern edge of Black's Beach, near the bottom of a paved access road leading down from the intersection of Black Gold and La Jolla Farms roads.
The restroom is open to the public from sunrise to sunset. A separate bathroom at the facility is accessible to lifeguards only. The new facility also includes a storage shed for lifeguard emergency equipment and trash and recycle compacting machines, similar to those located on the UC San Diego campus.
The $300,000 project, a partnership between the City of San Diego, San Diego lifeguards and the Black's Beach Foundation, was paid for entirely with unrestricted, non-state university funds.
The environmentally friendly facility includes rooftop solar panels that power low-voltage lights and security cameras. Safdie Rabines Architects prepared renderings and documentation for California Coastal Commission approval.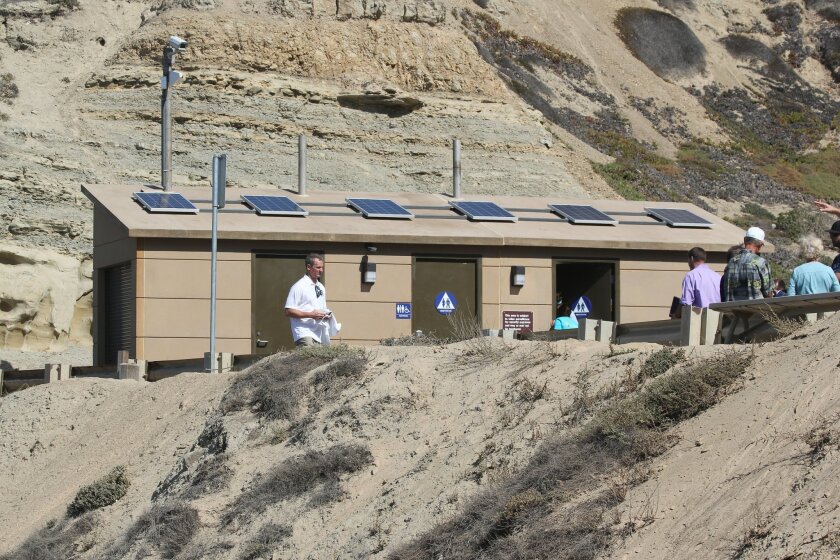 Addressing a group of about 30 people shuttled down to the restroom, District 1 City Council representative Sherri Lightner called Black's Beach "one of the premier surf breaks in the state."
"I'm very pleased that UCSD and the city have been able to work together over the years to ensure that Black's Beach has lifeguard coverage and is a safe destination for all who come to visit," she said, noting that prior to the new lavatory being built the nearest public restrooms were either at La Jolla Shores or the Torrey Pines Gliderport.
Although the public is encouraged to use the facility, Brian Gregory, UCSD's Assistant Vice Chancellor for Strategic Campus Resource Initiatives, confirmed that there are no plans to add signage on the beach alerting beach-goers that there is a restroom just a short walk up the blacktop path.
"The community down here seems to know about anything that goes on down here," Gregory told La Jolla Light. "I can't imagine we'd want to add a bunch of signs on the beach. … We'd have to talk to the Coastal Commission about that."
---