Lessons at the Library: Bishop's student moves the chess club along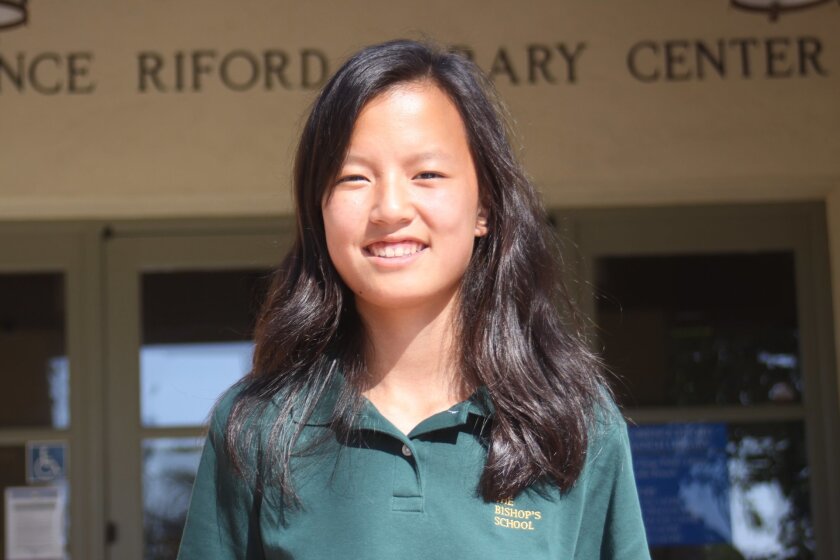 For the last 10 years, The Bishop's School sophomore Rachel Hong, 15, has played chess competitively, earning accolades from national organizations. She puts her skills to good use running the La Jolla Chess Club, which meets 1 p.m. Sundays at La Jolla's Riford Library.
Hong is on the U.S. Chess Federation's list of the top 100 girls under 16 years old (at No. 88), and on the nationally implemented Elo rating score used to rate skill in chess, she has a 1660. Those with 2600 are considered a grandmaster.
Head Librarian Shaun Briley said, "Chess playing and libraries go together nicely and we are very pleased to have Rachel and offer this venue as a backdrop to such a thoughtful game."
Hong said she runs the club to meet the community service hours required by Bishop's, but also enjoys teaching the chess skills she has honed over the years.
"I've taught a range of kids of all ages and the main thing is you just have to be eager to play," Hong said. "But it also requires critical thinking and patience — you stare at the board for a long time — so you've got to be willing to stick with it."
Those skills can be taught, she said. "The more you play the better you get and patience is something that takes time to develop. A lot of parents send their 5-year- old children to chess competitions because chess players develop patience, thinking skills and sportsmanship — it encompasses everything."
Having played chess for as long as she has (since age 5) Hong has developed the ability to predict moves and play accordingly. "You have to calculate and see moves in advance; you have to see the game five moves in and visualize how the board will change. I have friends who can play a game without a board. They just say the moves and can visualize it," she said.
She also uses her intense focus and ability to think ahead as a member of the varsity soccer team at Bishop's.
Hong said the kids who come to Chess Club, which she took over from another Bishop's student last year, are 5 to 12 years old, but all are welcome. "My club is really just for beginners. We've had adults come in, but it would get awkward when they would lose to a kid and become embarrassed."
Along with running the club, Hong, the daughter of Jin Hong and Yuanyuan Zhou of Carmel Valley, plans to compete in chess tourneys for as long as she can.
---