Bird Rock Community Council hears residents' concerns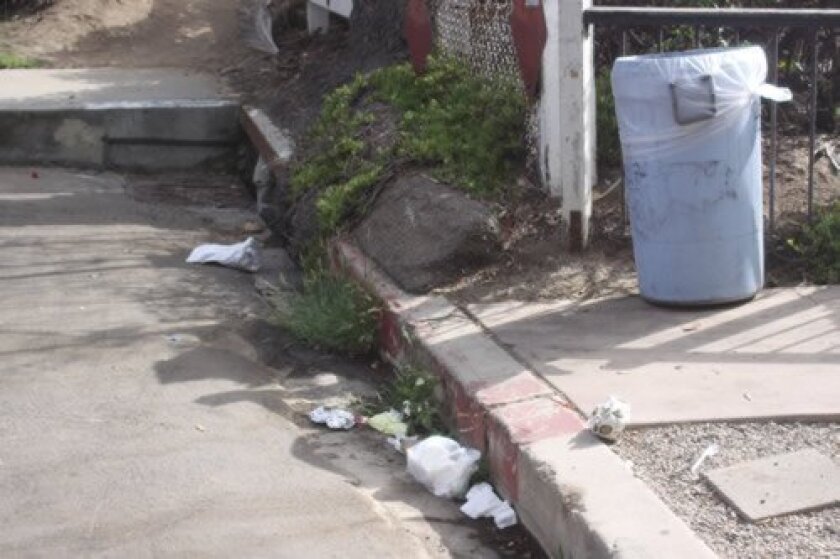 By Ashley Mackin
Many residents attended the Bird Rock Community Council (BRCC) meeting on Oct. 1 with concerns about trash pickup, broken irrigation systems, Halloween safety and the federal government shutdown.
'All they are seeing is trash'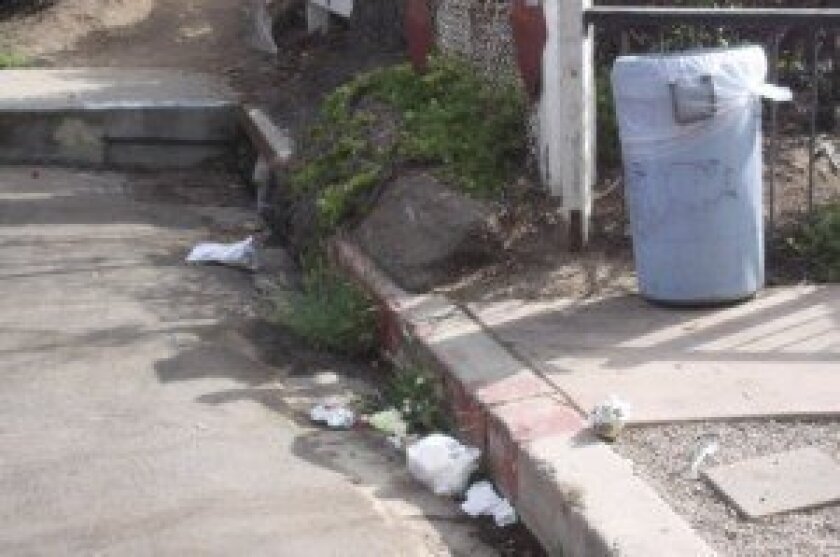 Speaking on behalf of his neighbors, Don Schmidt said that in an effort to save money during Jerry Sanders' mayorship, trashcans were removed and garbage pickup stopped at lookout locations in Bird Rock that do not have beach access. "It's been a problem for months at the ends of Forward Street and Midway Street," he told the council. "The residents are trying to have a trash can, but there is no regular trash pickup. Now that the city is doing better, and if they have the money to expand the convention center, they really should be putting those trash cans back with regular trash pickup. We had a lot of visitors over the summer and all they are seeing is trash. If it doesn't get picked up, it goes into the ocean, so it's also an environmental hazard."
At the same lookout, a section of chicken wire has been installed to fix a hole in the railing. "They need to come out and fix this, too," Schmidt said. "The temporary fix was fine for a few days, but workers have been M.I.A. for weeks, if not months." Schmidt said he would be in contact with the offices of District 1 Councilmember Sherri Lightner to bring the problem to her attention.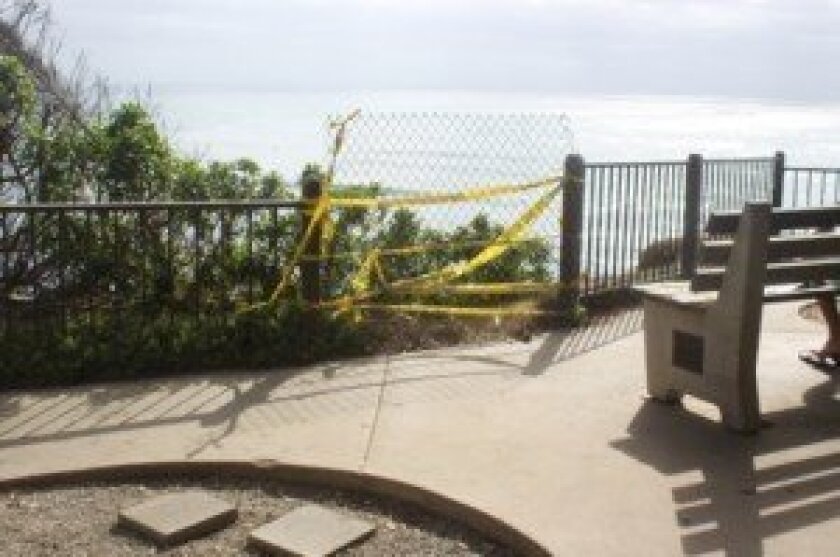 Infrastructure issues
During a report on the Maintenance Assessment District (MAD), treasurer Barbara Dunbar said several people have been asking about the malfunctioning irrigation system.
"There have been a number of irrigation system disruptions, problems and challenges in the past year," she said, citing construction projects such as the Brow Ditch water divergence and the repair of the lighted crosswalks at Colima Street and Midway Street.
"All of those activities messed up our irrigation system and not all of it was immediately obvious. However, testing is underway to ensure all the needed repairs are made."
An additional problem to the irrigation system is "drive-overs" on landscaped areas and roundabouts. Dunbar said drunk drivers, distracted drivers and drivers of large vehicles will drive over the roundabouts, running over plants and cracking sprinklers.
She said the board would like to be notified if someone sees a broken sprinkler by e-mail at info@BirdRockCC.org
Halloween safety
The Neighborhood Watch Chair reported that police would continue having the Retired Senior Volunteer Patrol (RSVP) and officers on bicycles watching the streets on Halloween night.
She also reported there would be a haunted house at a private residence this year, for which donations will be accepted and front-of-the-line passes sold.
She requested the community continue limiting trick-or-treat hours to 5-8 p.m. on Halloween night, and that residents turn their lights off promptly at 8 p.m.
Congressman Scott Peters passes on paycheck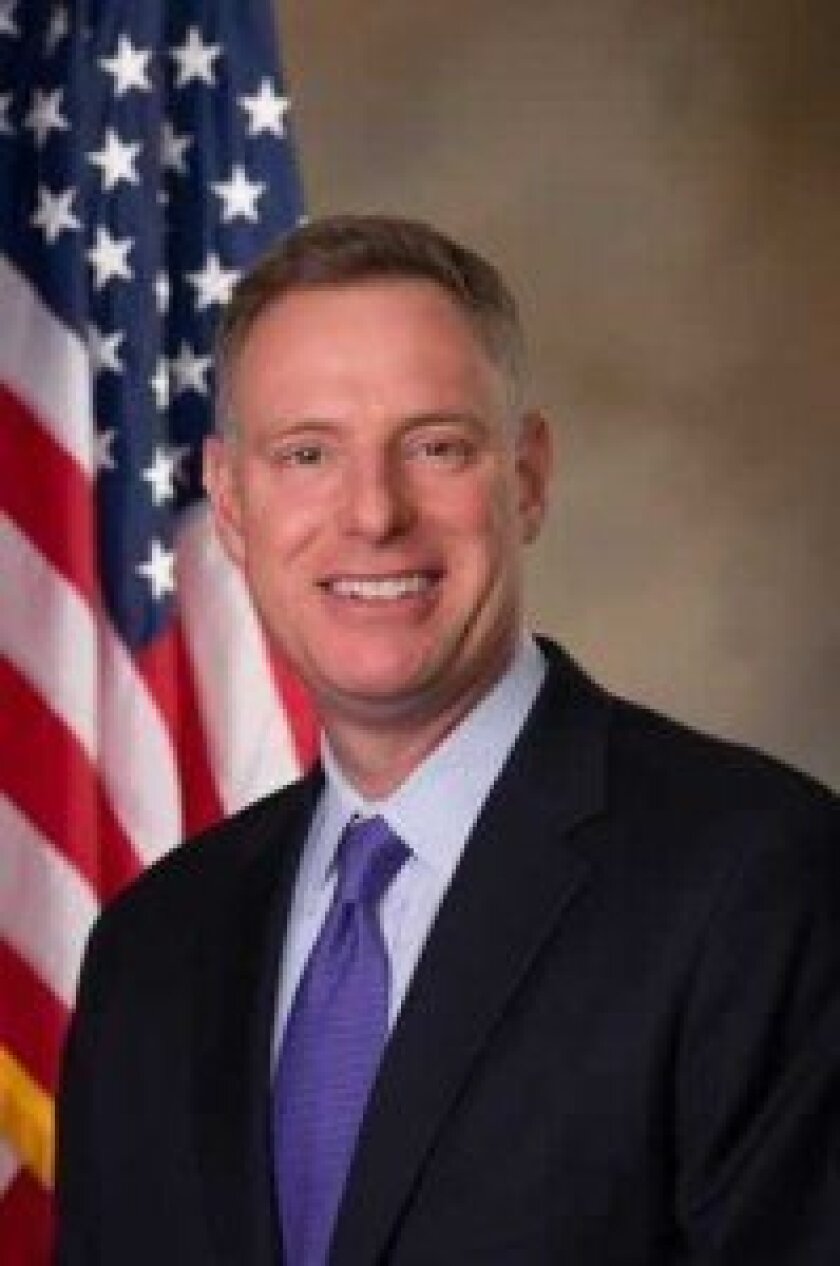 "Happy Government Shutdown Day, everyone!" joked Congressman (D-52nd) Scott Peters' field representative Sarah Czarnecki when she spoke to attendees.
"This is an extra important day for ustobeat community meetings, talking to everyone (and answering questions)." She said Peters' office had received many phone calls with questions about the government shutdown that went into effect at midnight Oct. 1 (9 p.m. Pacific Time) wanting to know what it means to the public.
Czarnecki distributed a flier (available
here
) that explains what the shutdown means, including what services will continue and which will be furloughed.
Peters' staff is technically volunteering by working during the shutdown. They are not being paid nor have they any guarantee they will be paid retroactively. In solidarity, Peters, a La Jolla resident, announced he would not accept his pay during this time.
"He is going to donate it to charity," Czarnecki said. "He's doing this because Americans across the country are being harmed by the shutdown. San Diego has a lot of federal employees who are being furloughed from their jobs because Congress failed to do its job. He is going to do everything he can to get people back to work, but in the meantime, he is going to stand with them by refusing to keep his pay." It is constitutionally required that members of Congress be paid, but each can opt to decline it.
Czarnecki said the San Diego and Washington D.C. offices will be open during the shutdown for constituents with questions. Peters' San Diego office is at 4350 Executive Drive, Suite 105 and can be reached at (858) 455-5550.
In other BRCC news:
■ Neighborhood Watch requests that residents whose homes face an alley, paint their addresses on the backside of their homes to assist police and rescue personnel. The address should be reflective and noticeable.
■ A volunteer is needed to clean the windows after the annual Merchant Window Painting event for children on Oct. 26.
■ At the next BRCC meeting (6 p.m. Tuesday, Nov. 5 at the Masonic Lodge, 5655 La Jolla Blvd.) the budget for 2015 fiscal year will be reviewed, revised and approved. Dunbar said the budget must be submitted to the city by January, and there is no December meeting.
— For information about the Bird Rock Community Council, visit
BirdRockCC.org
---