At Kitchen 1540, the chefs hope diners surrender to the menu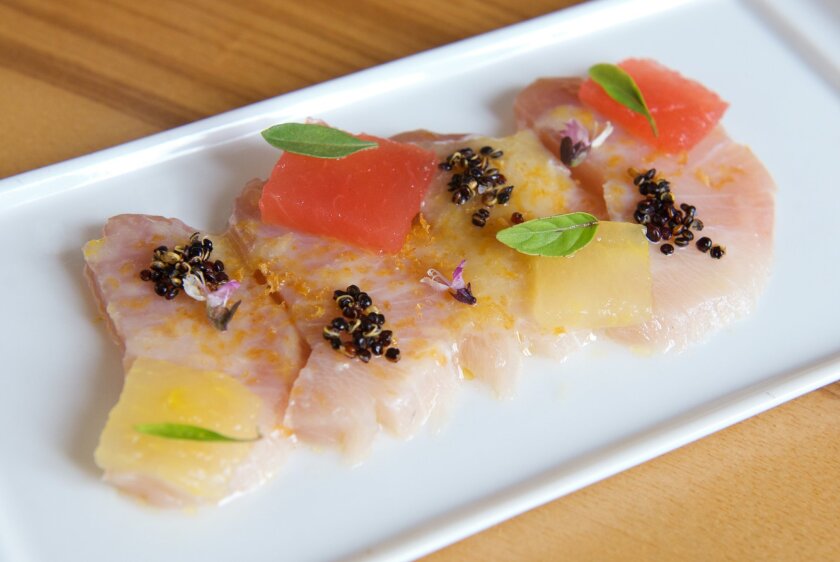 By Kelley Carlson
It's not every restaurant where you see someone raising a "white flag" in surrender. Kitchen 1540 in L'Auberge Del Mar allows guests to control their dining experience — from the portions they consume to the areas in which they may meander.
The White Flag menu is one of several unique ways patrons may choose how to eat. A patron puts their faith in the chef, who creates a number of dishes and pairs them with drinks, and the onslaught of food begins until he or she holds up the "white flag." Then the person is assailed with desserts.
For customers who prefer to order directly from the menu, there are sample and savor portions offered during dinner of plates, such as California White Rabbit, Barbecued Pig Tails or Hamachi, along with side dish options that include 1540 Cheese Fries, White Corn Grits and Crows Pass Squash. A sample is slightly smaller than a traditional appetizer, which allows guests to try several dishes. Savor is a little smaller than a traditional entree.
"This allows each person to decide how they want to dine, and it can be different each time they return," said executive chef Paul McCabe.
Family-style dining is yet another option, portioned for parties of four. Choose from entrees such as May Ranch Natural Ribeye, Whole Roasted Tai Snapper or Kurobuta Pork Shoulder. A children's menu is available for the younger set.
Guests can enjoy these entrees and a number of others, along with desserts and cocktails, in several locations in the recently revamped restaurant.
Just inside the entrance is the wine bar, bathed in a soft yellow-orange glow, where patrons can taste vintages from as far away as France and Australia or as close as California's Central Coast. Soothing music played in the lobby can be heard Thursday through Saturday.Wander into the large dining room, with its white vaulted ceiling, and sit in a plush yellow chair near the fireplace while watching the staff in action in the open presentation kitchen. The warm hues of the wall coverings and lighting are reminiscent of a sunset.
The outdoor patio comes alive at night at Kitchen 1540, with hanging lanterns in blue, orange and green and a crackling fire pit. Customers can relax in booths or chairs near the waterfall, or enjoy privacy in one of several cabanas. Herbs and plants including Thai basil, arugula flowers, spinach berries, red ribbon sorrel, parsley, chive flowers and shiso are grown in the garden and used in many of the restaurant's dishes.
For additional private seating, there's a wine-encased room featuring 10 purple satin chairs surrounding a rectangular wooden table.
Weekends and the Del Mar racing season are the busiest at Kitchen 1540, but McCabe advises that a person can visit at any time and have a great experience. "Breakfast is very good, and I always order the Corned Beef Hash (and Eggs)," he said.
For lunch, McCabe suggested ordering the Tossed Cobb Salad or the Lobster Salad. And for dinner? "I would recommend ordering the White Flag menu and let us cook for you," he said.
Kitchen 1540
Address: 1540 Camino del Mar, Del Mar
The Vibe: Smart Casual, Elegant
Signature Dishes: Diver Scallops with Popcorn Puree, Salted Caramel, Candied Nasturtiums, Lobster Salad
Open Since: November 2008
Hours: 6:30-11 a.m., 11:30 a.m. to 2:30 p.m. and 6-10 p.m. daily
Web:
www.laubergedelmar.com/kitchen1540/
Phone:
(858) 793-6460
Reservations: Recommended
Patio Seating: Yes
Take Out: No
Happy Hour: No
On The Menu Recipe
Each week you'll find a recipe from the featured restaurant online at lajollalight.com. Just click Get The Recipe at the bottom of the story. This week:
Kitchen 1540's Organic Beet Salad
Caramelized Yogurt, Pistachios, Orange, Valdeon Blue
---