Assembly Speaker Toni Atkins hears from constituents at La Jolla Library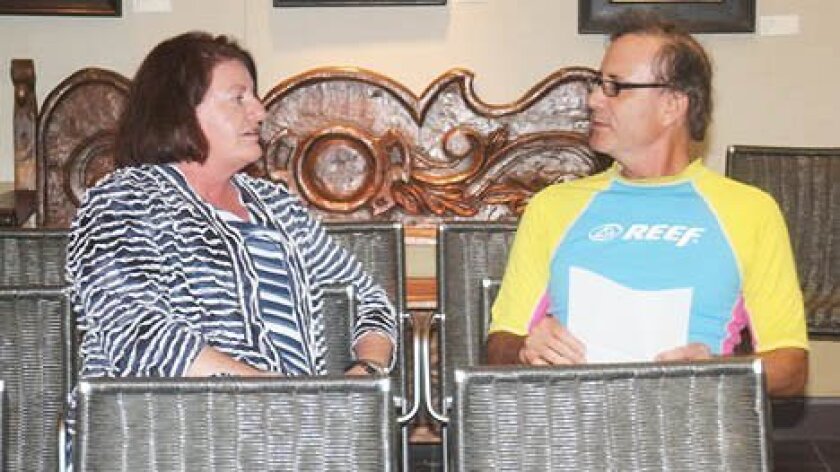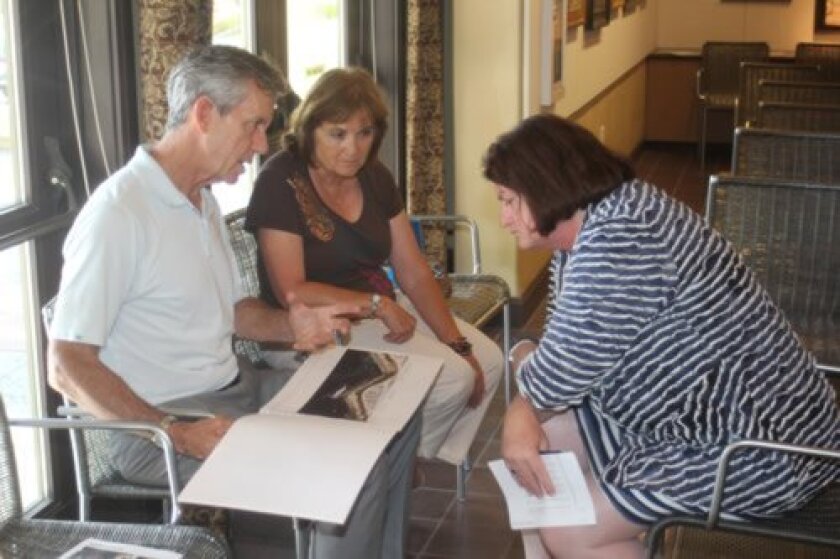 On the Web
■ Learn more about State Assembly Representative Toni Atkins and see her as acting governor on 'Jimmy Kimmel Live!' at
asmdc.org/speaker
By Pat Sherman
Sandwiched between Toni Atkins' 52nd birthday and her stint as acting governor — a rare occurrence for a State Assembly speaker that landed her a Skype appearance on "Jimmy Kimmel Live!" — La Jolla's legislative representative took time to meet with constituents at La Jolla Library, listening to concerns ranging from homelessness and drought conditions to teen mothers receiving public aid.
Representing La Jolla Parks and Beaches (LJP&B) community advisory group, Patrick Ahern and Rebecca Morales touted the Whale View Point Shoreline Enhancement Project, which would restore the coastal trail at Whale View Point, including the addition of drought-tolerant landscaping. LJP&B is seeking funds for restoration of the rugged, treacherous pathway, which they hope to have recognized as an official part of the California Coastal Trail — which would connect the entire 1,200-mile stretch of California Coastine, from Mexico to Oregon.
Atkins noted that more than $5.3 billion in Prop. 84 funding (including money for coastal resources protection) has all but dried up, suggesting LJP&B instead seek funding from the California Coastal Conservancy, a state agency established in 1976 to enhance coastal resources and access.
Atkins asked that Ahern and Morales send plans to her office electronically, to be forwarded to Policy Director Deanna Spehn, whom she said in recent years was part of a group working on a solution to the La Jolla Cove odor.
"She can just see what's available in ocean conservancy money," Atkins said.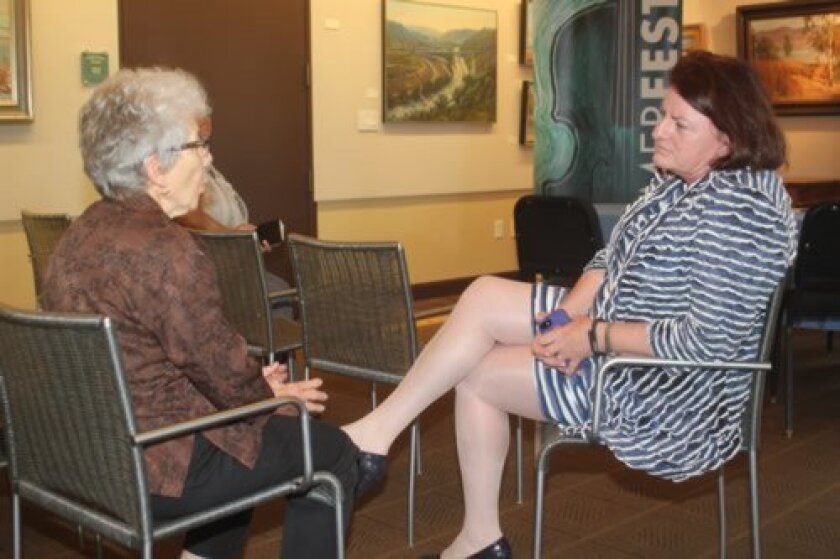 Penelope Vining of WindanSea expressed concern with the number of green lawns in La Jolla. "This constant watering of lawns is crazy to me when we have such serious drought conditions," Vining said. "I just don't understand the disconnect."
Atkins noted that in San Diego water use has actually decreased 27 percent since 2007, while the region gained 600,000 people due to a combined effort of local cities and the San Diego County Water Authority.
Atkins told Vining that San Diego-based Rain Bird Corporation has created irrigation "that sort of gauges how much water you (use) based on real need, as opposed to … blanket watering you see in the parks and golf courses and cemeteries.
"It's a real infrastructure investment that cities and communities would have to make to upgrade all of their irrigation systems. … Municipalities and large organizations have a harder time catching up … but the technology does exist," she said. "There have been rules passed at the state and it's trickling down to jurisdictions to actually force people to quit using as much water, and that there will be penalties and fines."
Adrienne Samuels of Solana Beach dropped by to express her concern that food products containing genetically modified organisms (GMOs) are not properly labeled.
"I'm a researcher by training and I can see that the studies that the industry says show that GMOs are safe, (really) don't say that," said Samuels, who phoned Monsanto — a leading producer of genetically engineered food — and was referred to a page with hundreds of studies that she said did not convince her GMOs are safe.
"The industry will lie to everybody … to demonstrate their spin that GMOs are safe; I've read the literature, I can read the science," Samuels told Atkins.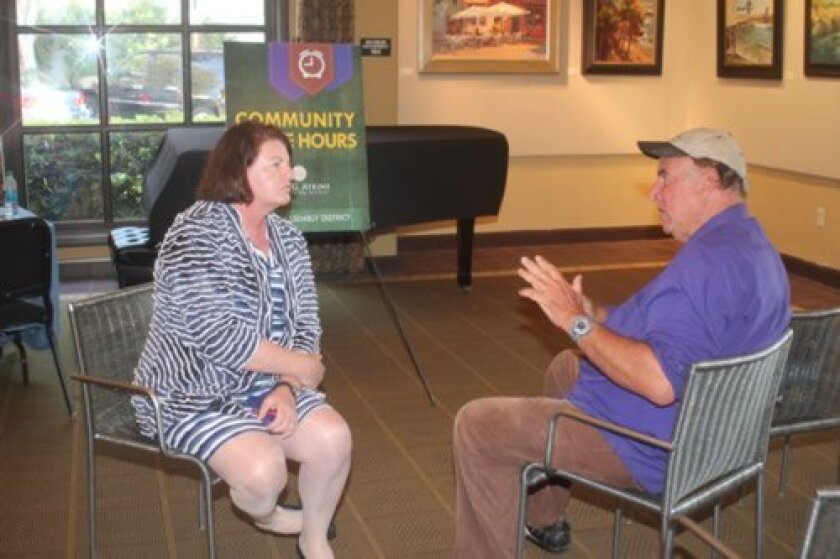 Atkins told her, "I think what resonates with assembly members and … with me, is the competitive disadvantage for California, because (GMO labeling) is not federally (regulated). It's done state-by-state. We have a huge agriculture industry; we have a huge biotech industry — and they all come with science. … There's been some push that we'd like something from the federal government and the FDA so that it's uniform, not just state-by-state."
Atkins said legislators take into account the source of studies and research reports. "Were they paid for by an industry, or was it a study out of one of the colleges or universities? … (Legislators) weigh all of those things," she said.
Mark Quintana with the nonprofit So Others May Eat, which provides free hot meals to homeless people the second Tuesday of each month at Mary, Star of the Sea Catholic Church, told Atkins about founder Tresha Souza's plan to open a privately-funded homeless shelter serving San Diego's beach communities, that would be funded by a series of recycling centers the agency operates. It would offer shelter, drug counseling, haircuts and job assistance.
Quintana said Souza received a letter from the city attorney's office stating that Souza's recycling centers had 89 nuisance violations and that the city was intending to shut them down. Quintana said they checked police records and found that the violations occurred on days when the centers were closed.
Although Atkins was not prepared to address the city attorney's claims, she said there is no way Souza can go around the city, suggesting that she try and partner with an developer experienced in affordable housing.
"They know how to get the money to do it," Atkins said. "There are dollars available. We just put $100 million into the state budget for permanent supportive housing and for Housing First (programs)."
Atkins suggested Quintana and Souza talk to the councilmember in the area they're seeking to place the shelter (perhaps the area beneath the nexus of I-5 and I-8, Quintana said).
"They're doing a lot downtown trying to reduce homelessness … but they want to look at the beach area … and those are never easy because communities don't always support having the facility in their neighborhoods," she said.
---