As Children's Pool rope comes down, seal advocates continue push for year-round barrier
By Pat Sherman
On May 15, as a six-month rope barrier meant to separate humans and seals at Children's Pool was removed, advocates for keeping the barrier up year-round met above the iconic beach to state their case — most notably, a Republican and Democratic vying for the Dist. 1 San Diego City Council seat.
Hours after the rope barrier came down, attorney Bryan Pease, a Democrat, and Dennis Ridz, a Republican and chair of the Torrey Pines planning board, held a joint press conference to discuss the issue. The candidates say the absence of a rope barrier during the summer poses a danger to both seals and humans.
Though incumbent Dist. 1 Councilwoman Sherri Lightner initially voted in committee to keep the rope up year-round, Pease and Ridz blasted Lightner for voting against the rest of her colleagues when the issue came before the full City Council.
"Our message is simple," Pease said. "If you want this mismanaged situation here, where people are encouraged to get way too closed to resting seals, vote for Sherri Lightner. If you want a better managed situation and you want to have a safe distance between people and seals, and protect our natural resources, vote for Pease or vote for Ridz. We're both in favor of protecting this natural treasure in La Jolla and the rest of the city council is also in favor of it and voted two years ago to put this rope barrier up year-round."
San Diego's Planning Commission rejected permits for the year-round rope in December 2010, claiming that it prevented full beach access — a decision Pease said Lightner orchestrated behind the scenes.
"I had to sue the planning commission to overturn that decision," he said.
The California coastal commission is set to rule on whether to allow a permit for a year-round rope on July 11.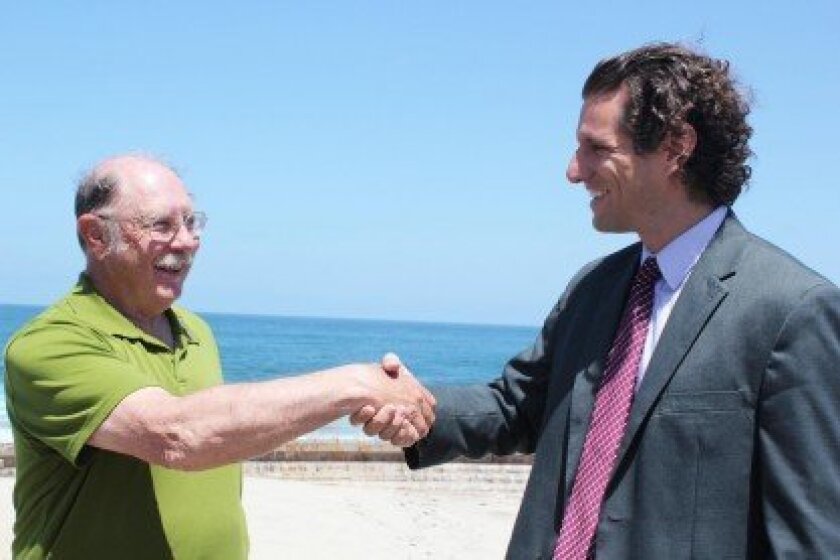 Ridz focussed on what he called "an inordinate amount of time and money" being spent negotiating the issue via lawsuits. The City Council declared the situation to be a coastal emergency in 2010, though the city attorney decided only the mayor can make that determination.
"My understanding now is the only one who can put the rope back, if you will, is the mayor — who doesn't seem to want to be involved," Ridz said.
Ridz questioned whether the city has the proper liability insurance to cover injuries to humans if they are bitten or attacked by seals, which can be especially territorial during mating season.
"People don't understand that these are wild animals and the pups are going to be protected by their mothers, just like the picture of that little girl," he said, noting one of several photos depicting incidences when curious humans wandered too close to seals. "One second she's there with her mother, the next she's gone over to pet what looks like a big dog. Someone's going to get hurt and we don't need that."
Ridz said he began to favor a year-round barrier several years ago, after attending mettings of the San Diego City Council and its various subcommittees, where the issue was discussed at length.
"We are stewards of the land, water, sea and the animals that are within it," he said. "I thought, we have this solved, and my council member basically went against what we were trying to do."
Asked for a response, Lightner e-mailed a statement through council aide Jennifer Davies.
"My goal at the Children's Pool has always been the same – to try to keep the peace so that locals, visitors and the seals are able to safely enjoy the beach," the statement read. "That is why I found a private donor to fund a Ranger program to help educate and mediate."
During pupping season, as would be the case with a year-round barrier, the public is allowed limited beach access for sunbathing, as well as a a three-foot strip down the east side of the beach to access the water, which is primarily intended for use by divers.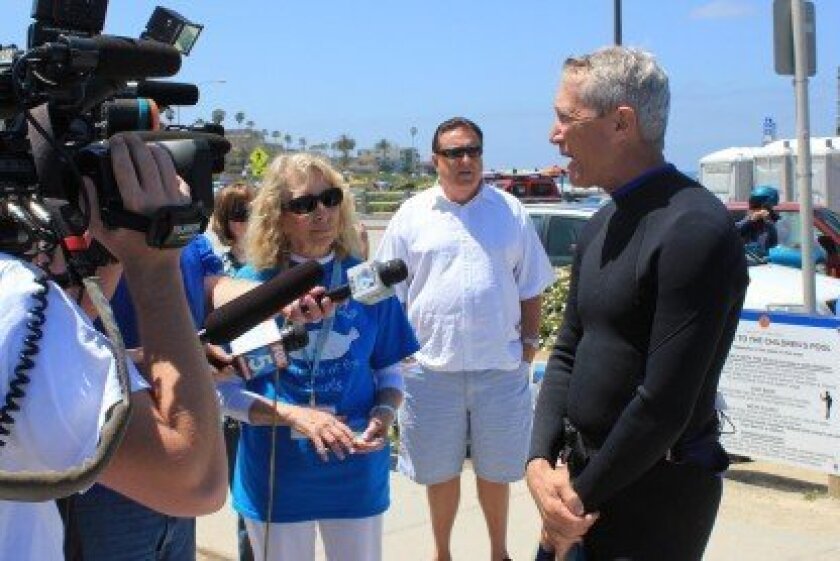 Jane Reldan, a volunteer with La Jolla Friends of the Seals, noted that the beach has been deemed unsafe for swimmers county health officials.
"This beach has a constant advisory because of the pollution," she said noting a posted warning sign about high coliform counts, partly due to seal excrement and a drainage pipe that runs down Jenner Street and empties onto the beach at Children's Pool. Both elements are tapped by a pedestrian sea wall along the western border of Children's Pool that is used for observation.
"I swim at the cove and there's no problem ... because the water washes in and out," Reldan said. "The sea lions are all over (La Jolla Cove) and there's no problem (with fecal contamination)."
Diver David Johnson, who does not support a year-round barrier, took advantage of the rope-free beach access May 15, diving at Children's Pool during the press conference. Johnson said he often swims at La Jolla's Shell Beach, though he was "too tired" that day and the waves at Shell Beach there were too strong.
"I had no problem with the rope as it was" during pupping season, Johnson said. "It's good that it's down because it's not necessary. This is a legal city beach. These people drive us off in the middle of the summer when there are no seals on the beach. In the summer (the seal advocates) say the seals would be here if we would just be off the beach — and it's just not true. In the summer there's very few seals here, in the winter there's more. It's just a cycle.
Pease said he expects the Coastal Commission to approve the year-round rope, though he and other seal advocates are asking the people who prefer a year-round rope to write the Coastal Commission prior to July 11, expressing their support.
To voice your opinion to the Coastal Commission, pro or con, send a letter to the California Coastal Commission C/O File6-11-078, 7575 Metropolitan Drive, #103, San Diego, CA 92108-4402
For more information on the year-round rope barrier effort, visit
lajollafriendsoftheseals.org
---