ArtPower! Still powerful after all these years
By Lonnie Burstein Hewitt
Almost 10 years ago, Marty Wollesen, an arts programmer at Stanford University, became director of university events at UC San Diego, powering up the campus arts scene with his infectious energy and enthusiasm. He coined the name ArtPower!, brought in performers from around the world, and in 2008, created The Loft, an intimate venue for emerging art and pop culture.
Last month, at the start of his 10th anniversary season, Wollesen left UCSD for an East Coast university arts center whose founding director was retiring. Wollesen is now head of the Clarice Smith Performing Arts Center at the University of Maryland, but ArtPower! is still going strong, and the final season he organized is well underway, with Interim Director Kathryn Martin in charge.
Martin, vice president of Arts Consulting Group, Inc., is experienced at helming arts organizations while they search for new permanent directors. Besides guiding companies like Starlight Theatre, Malashock Dance and Mainly Mozart through transitional periods, she was, for five years, managing director of La Jolla Music Society's SummerFest, and before that, production manager for UCSD's Department of Music.
"I will continue to build upon and advance ArtPower!'s momentum and success, working with the incredible team of staff, faculty, students, and dedicated community leaders as the international search for the permanent director goes on," she said.
The 2013-14 season will include:
■ Wonderland at White Box:
A fall festival of local, national and international dance co-curated by Jean Isaacs, director of San Diego Dance Theatre at Liberty Station, and Yolanda Smaithe, head of UCSD's Graduate Dance program.
■ Innovator-in-Residence Project:
From October through February, the renowned St. Lawrence String Quartet will work with student composers to develop, perform and record new compositions.
■ The launch of a Filmatic Festival at UCSD's Qualcomm Institute:
Four days of interactive screenings and installations in April that will blur the lines between artist and audience and create an exciting new film festival experience. But first, there's a pair of not-to-be-missed events this month, two very different high- energy performances that will light up the stages at UCSD.
■ From Australia:
On Oct. 19, the 16-member Sydney Dance Company will bring their latest piece, "2 One Another," an exuberant fusion of dance, sound, language and light with a driving, baroque-meets- electronica soundtrack, to Mandeville Auditorium. Choreographed by Artistic Director Rafael Bonachela, 2OA took home Aussie awards this year for Most Outstanding Choreography, Most Outstanding Performance by a Company and Most Outstanding Performance by a Female Dancer.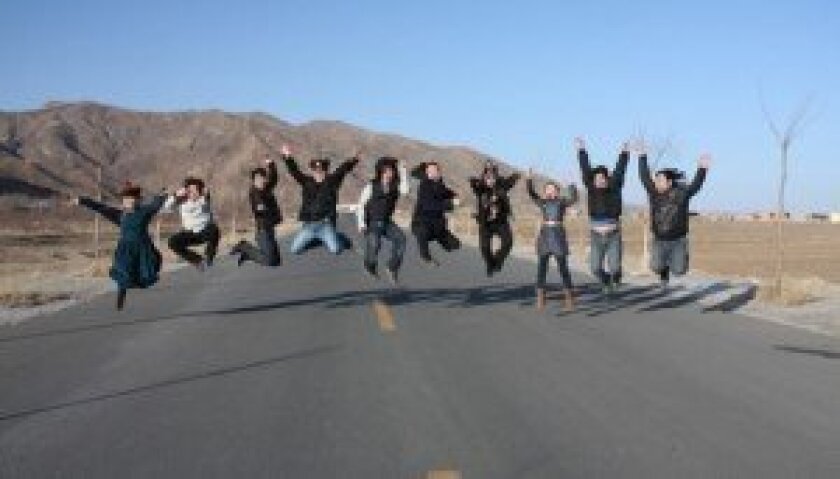 ■ From Mongolia:
On Oct. 27, the 10 singing musicians of AnDa will present a range of sounds that originated in the days of Genghis Khan. Performing on indigenous instruments, they combine haunting harmonies and vibrant throat-singing to take audiences on a voyage to the far edges of world music.
ArtPower! schedule
■ (858) 534-8497 ■ artpwr.com
---