ArtLawn: Trio works to launch artistic fundraiser for La Jolla Historical Society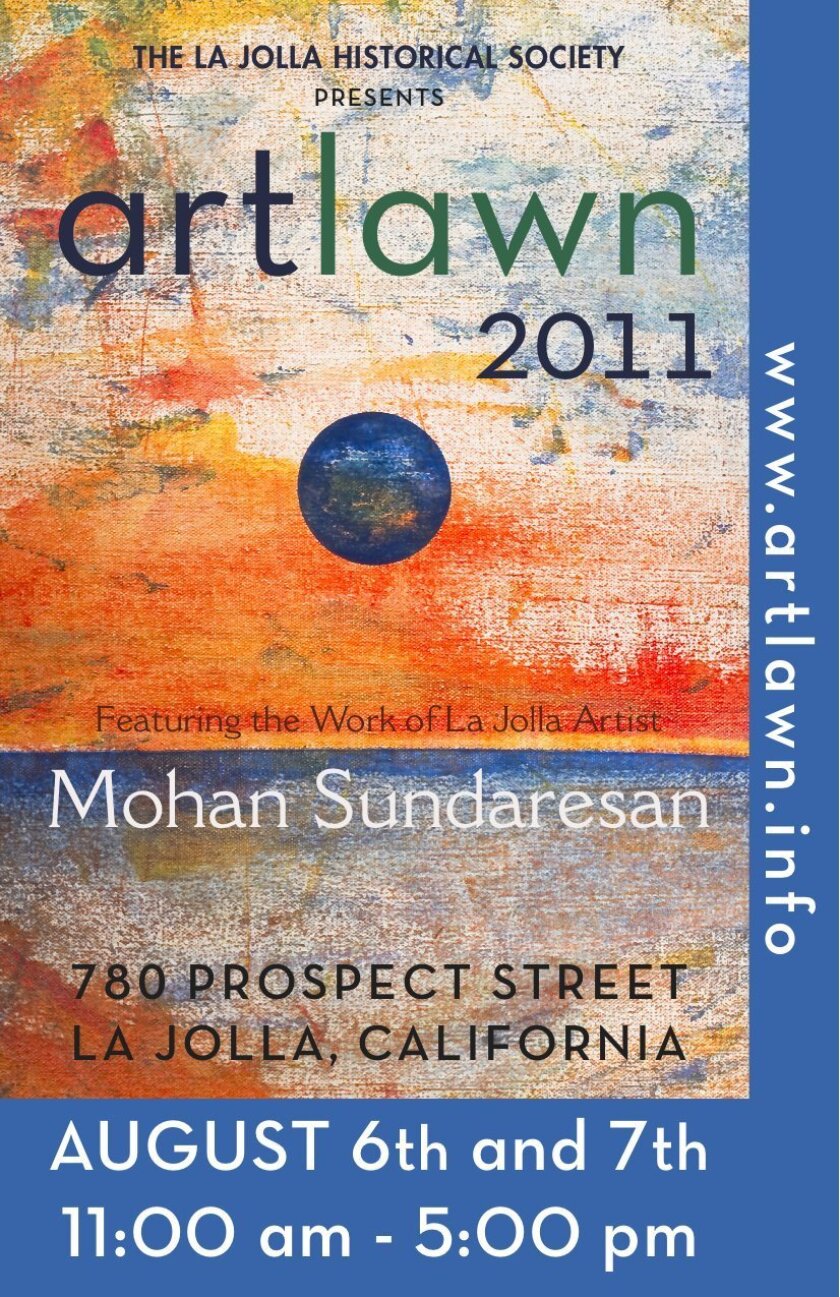 By Will Bowen
Artlawn 2011 — an innovative new development in viewing art in the gallery of an open air, outdoor grassy lawn — is coming to town, presenting an unparalleled opportunity to view some excellent art while soaking under the sun, balmy skies, and beautiful light of a patented La Jolla summer day. Artlawn 2011 is the idea of La Jolla businessman Steve Medoff and La Jolla Historical Society executive director John Bolthouse. It will feature the abstract geometrical artwork of La Jolla artist Mohan Sundaresan exhibited in the garden of Wisteria Cottage from 11 a.m. to 5 p.m. on Saturday Aug. 6 and Sunday, Aug. 7.
Medoff has a very simple explanation for how they came up with the term "Artlawn": "You have probably heard of ArtWalk and ArtFest … well, since this is art on the lawn ... we decided to call it ... ArtLawn!"
On a serious note, this event will be an important fundraiser for the historical society. All proceeds from the raffle of an original abstract painting by Sundaresan, "The Setting of the Jewel," will go to the Society, along with a percentage of all art work sold. The raffle is $5 a ticket and there will be only 200 tickets sold, offering some very good odds for winning a very nice painting.
The show will feature six canopy tents and some 60 works of Sundaresan's art, including pieces conceived in aluminum and on canvas. There will also be numerous affordably priced pieces mounted on poster board placed in a large bin to look through.
Sundaresan, a self-taught home interior restoration expert, master carpenter, and "Jack–of-All Trades," said he was inspired to turn to art by the magnificent views in La Jolla. He was born in Bangalore, India on a plantation surrounded by mango trees, to Hindu parents who converted to Christianity, and has lived in La Jolla for the past 20 years with his wife Anna.
Many may have seen Sundaresan on his daily walks around town and down to the Cove with his dog, Dizzie the dachshund, which he undertakes around 5-6 p.m. or when he is waiting for his art work to dry.
Sundaresan has a very different and what some may call "cross-disciplinary" style of painting. He places his canvas, which he has stretched over a sheet of plywood backing for firmness (flat and facing up) over two wooden sawhorses. Then, foregoing any brushes, he squirts acrylic paint, which he stores in a set of yellow plastic mustard containers, on both his hands, and waits for inspiration.
When the spirit moves him, he begins a kind of whole body artistic dance, spinning around the canvas, entreating, engaging, attacking, and cajoling it with swirling and flowery hand motions, whereby he splays the paint upon the canvas.
If the mood strikes, he may also tap, thump, hit or backhand the canvas, with his paint-laden hands, letting his emotions and the artistic spirit speak through a dance of paint, color, and movement.
Medoff, who is Sundaresan's friend and agent, calls this physical approach to painting, "Art Aerobics."
Sundaresan said that when he paints, he works up a sweat and his heart is pumping. "If I feel the shock of a current of creative electricity through me, I will give the canvas a shock with a thump or a knock in turn."
When his dance of creativity is over, Sundaresan, often exhilarated but exhausted, says, "I am often very surprised by how the painting turned out." Dizzie, who is always in the mood for a walk or to play fetch, has learned to sit and watch patiently while his master is absorbed in this dance of art.
If you go
What: Artlawn 2011: The work of Mohan Sundaresan
When: 11 a.m. to 5 p.m. Aug. 6-7
Where: Wisteria Cottage: 780 Prospect St.
Admission: Free
Contact: (858) 450-5335
Web: www.artlawn.info
Raffle: Original Sundaresan painting, $5 a ticket, drawing 5 p.m. Aug. 7.
More Sundaresan:
www.Facebook.com/art.lawn.00
www.Facebook.com/Mohanart
---