Artist amped by his inclusion in the Murals of La Jolla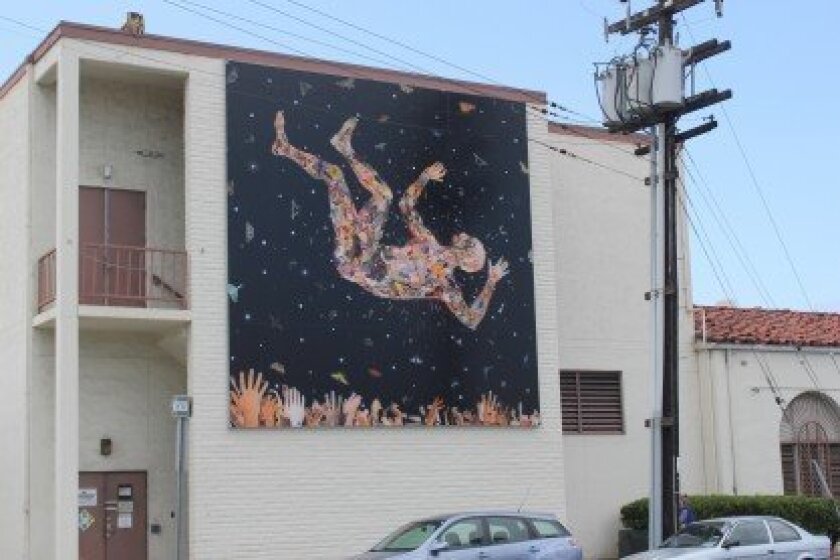 By Pat Sherman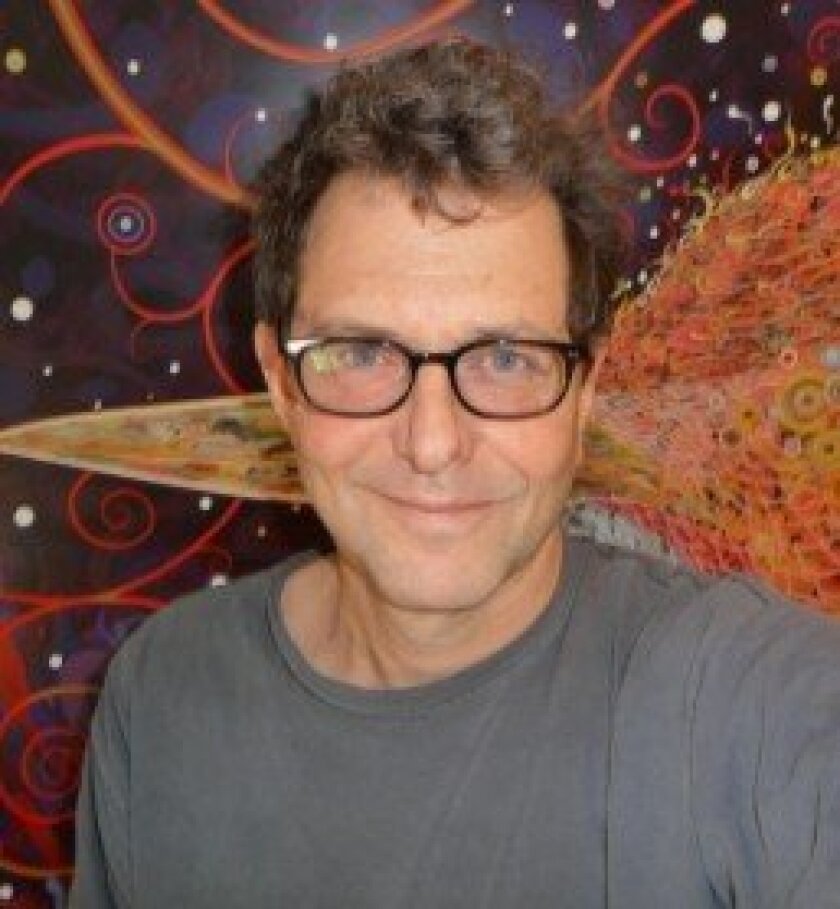 Brooklyn-based artist Fred Tomaselli said he had sworn off public art before being asked to participate in the La Jolla Community Foundation's (LJCF's) Murals of La Jolla project.
"When these things start up, sometimes they can take up years of your life," said Tomaselli, noting his previous involvement in several large-scale, sculptural works, including his 1996 installation at the New York Hall of Science in Flushing Meadows, Queens.
"That was more of a col- laboration with the archi- tects, insinuated within the architecture, so it's a very different kind of work," he said, noting a sea of bureau- cracy he was required to wade through along the way.
"It took like 10 years from conception to final realiza- tion of the project. I really wasn't interested in pursu- ing (public art) after that, but then this mural project came about."
Tomaselli said LJCF selection committee member Lynda Forsha approached him through the Michael Kohn Gallery in Los Angeles.
"She showed me the building, I gave her an image, it was approved and samples were sent to me here in New York for my approval," he said. "The next thing I know the thing was printed and up on the wall. It happened really fast. It was very efficient and I had an immediate sense of satisfaction."
The result is a replication of Tomaselli's 2002 work, "Expecting to Fly (for The Zeros)," an homage to Neil Young's Buffalo Springfield composition, "Expecting to Fly," and the legendary, albeit short-lived Chula Vista punk rock band, The Zeros.
Tomaselli said the piece came out of his experience as a "disaffected hippie" living in downtown Los Angeles, as he gravitated toward the burgeoning punk scene of the late 1970s and early '80s.
"The kind of experiences that came out of the '60s and the experiences that came out of punk rock were all kind of about the same thing ... this sort of attempt for a certain kind of transcendence, or maybe in some cases a certain kind of oblivion ... this idea of losing yourself," Tomaselli said. "In this case I'm referring to losing yourself in the crowd. I was looking at the building as almost like a stage, and then this guy's sort of stage-diving off this building."
Tomaselli said he's excited to see his larger-than-life art displayed on the brick building at the corner of Torrey Pines Road and Girard Avenue when he next travels to Orange County to visit family.
"I'm going to definitely make time in my schedule to come down there and check it out," he said. "I always liked La Jolla. I'd like to get back there, check it out, jump in the ocean and eat a fish taco."
Robert Lopez, a guitarist and vocalist with The Zeros, who also performs as "El Vez: the Mexican Elvis," said he appreciates the tribute to his short-lived band, which existed from 1976 to '78, and never cut a full-length album.
After being honored with a lifetime achievement award at the San Diego Music Awards several years ago, The Zeroes reformed, and last month played a sold-out show in Atlanta.
"It's nice that we inspired him to dedicate something to the band — especially in our hometown," said Lopez, a current Seattle resident, whose father, Robert Lopez Sr., resides in La Jolla.
---