American Legion Post 275 of La Jolla outlines its service projects for 2014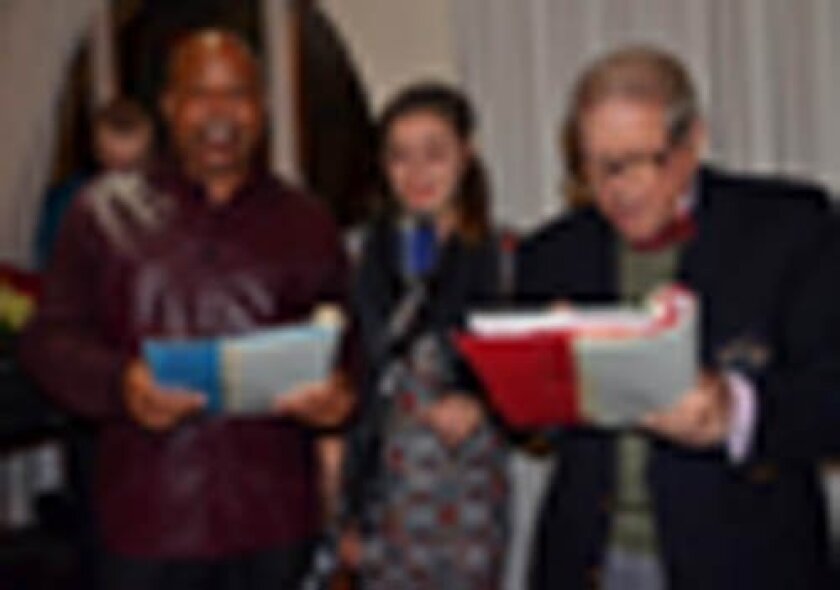 By
James Bittle and Herman Froeb
Members of American Legion Post 275
The American Legion Post 275 float in the La Jolla Christmas Parade was an exciting place to be. The thumbs ups and "thank you for your service" exclamations from the onlookers warmed our hearts. In 1924, when La Jolla was a very small town, World War I veterans formed Post 275. This was just five years after the original American Legion was founded in Paris after the war ended in 1918. These veterans (then led by Kermit Roosevelt, son of former President Theodore Roosevelt), had to wait many months after the end of the war for boats to take them home. It was during this wait that they formed the American Legion for both officers and enlisted men.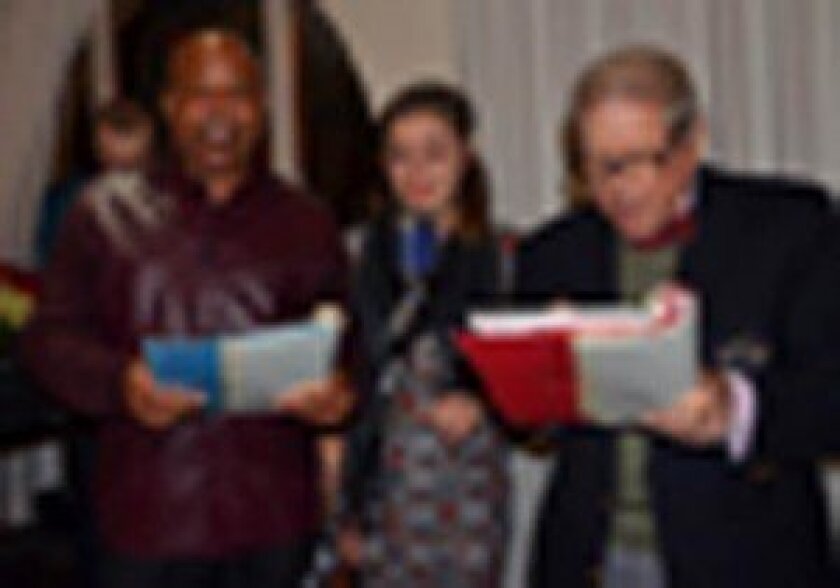 • Our Legion has been active in helping with the formation and support of the
Mt. Soledad Memorial Association
, which was founded during the Korean War. According to Legion member Carl Dustin, who serves on the board of the memorial association, there are some 3,000 plaques on the walls of the Memorial commemorating veterans, not only from La Jolla and San Diego, but also from the rest of the United States, who have had some connection to San Diego.
It has been a shock to living veterans whose plaques are on the wall and to their families, who donated the plaques, to have the cross that rises above this memorial under legal siege to be removed by the American Civil Liberties union.
• Post 275 also participates in the
Stand Down project
, which is a tent city erected in Balboa Park by the various veterans organizations, the Veterans administration and the city every June, to supply services to homeless and financially stressed veterans. The services provided during this weekend event are most extensive — from job applications, housing arrangements and medical triage, to podiatry, clothing and showers. Members from Post 275 work in the areas of their expertise — including the medical tent — and are there for three days.
• Another important Post 275 project is sending two juniors from La Jolla High to the
Boys State Program
in Sacramento every June. Two boys from every public high school in the United States are chosen to go to their state capitals. For a week they act out state and local government, campaign for local and state offices, become lawyers, policemen, sit on juries, and witness the various functions of government. There are even some who go to Washington, D.C. to participate in a Federal government program through their senators and congressmen. an article in a june issue of the
La Jolla Light
about our two 2013 candidates from La Jolla High — Conner Hallman and Adam Hersko-Ranatas — gave an excellent review of this program. The feedback we get from these young men and their parents is very positive and makes the effort of interviewing them for this honor, and raising the money to send them to Sacramento, most worthwhile.
• Post 275 members invite all veterans, active military and related peoples to our
dinner meetings
, held 6:30 p.m. on third Thursdays at La jolla Shores Hotel. Every month, we have a different program and speaker.
On Jan. 16, we will hear from World War II veteran Carl Dustin, who along with 200 other San Diego veterans, recently traveled to Washington, D.C. to visit the new World War II Memorial as a guest of the Honor Flight program. Dustin will share stories of the war that emerged from their comradeship over this weekend. For reservations or more information, call Post 275 Commander Jose Payne King at (619) 572-1022.
---