Amaya La Jolla restaurant to host winter holidays specials
Executive Chef Camron Woods and his culinary team at Amaya La Jolla are looking forward to welcoming guests to the restaurant's first winter holiday season. From expertly stirred or shaken cocktails to savory appetizers and entrees to special desserts, friends and families are certain to enjoy celebrating with special menus created for Thanksgiving, Christmas Eve, Christmas Day and New Year's Eve. A complimentary champagne toast will be offered to guests celebrating private events booked in the Private Dining Room or Wine Room during the winter holiday season.
Complimentary Champagne Toast
For dining booked Dec. 1-31, 2013
This perk is for guests dining in the Private Dining Room or the elegant Wine Room. Up to 28 people can be accommodated in the Dining Room replete with stunning woodwork, romantic chandelier lighting, hand-woven carpeting and glamorous rich hues and accents. Up to 12 guests may luxuriate as they dine in the privacy of the Wine Room among hand-painted frescoes of tranquil European settings, seductive lighting and fine Old World detailing.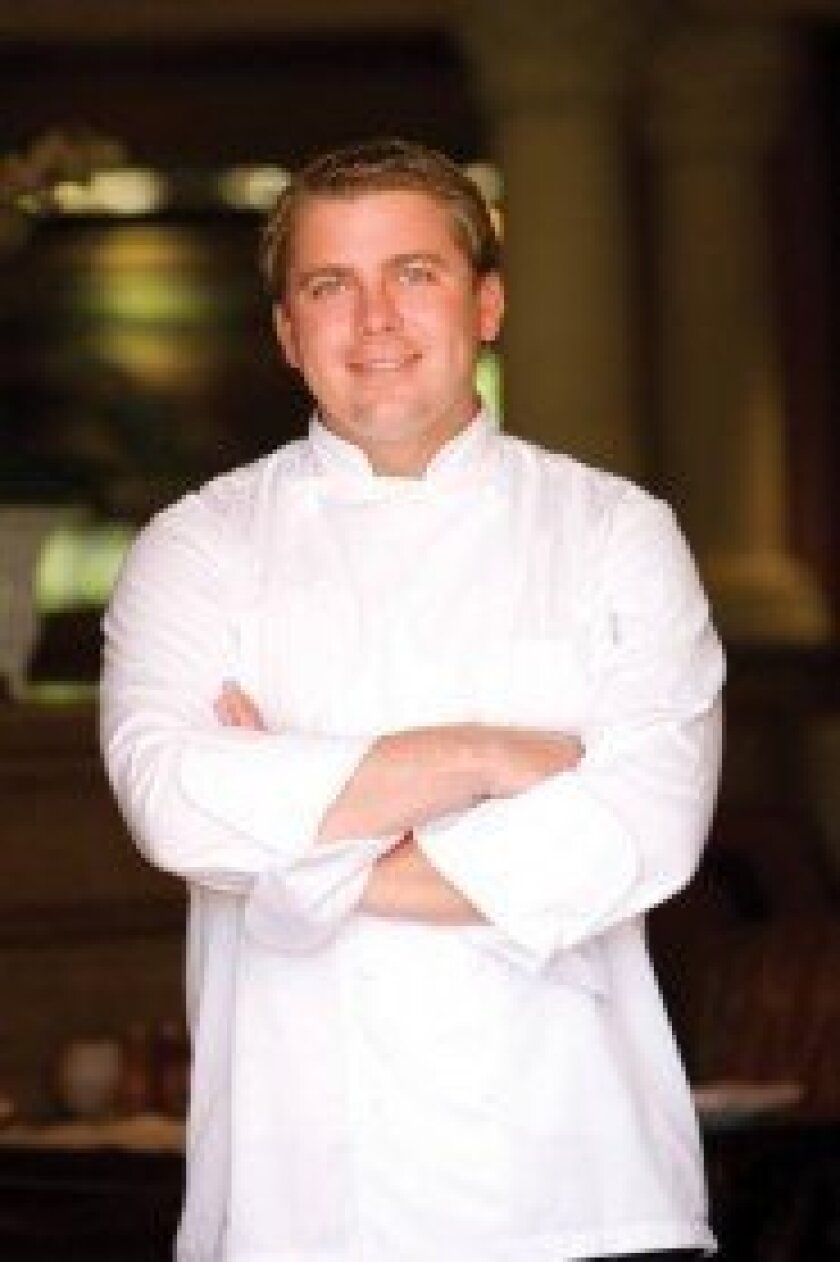 Thanksgiving Three-Course Menu
Served noon to 8 p.m. Nov. 28, 2013
Guests will give thanks for a choice of appetizers including Roasted Butternut Squash Soup with smoked duck tartlet, Caramelized Nantucket Bay Scallops and Whole Roasted Quail with cornbread stuffing and huckleberry sauce. Entrée selections range from Roasted Turkey Breast and Leg with dried cherry stuffing, green beans and buttermilk mashed potatoes to Filet of Whole Roasted Beef Tenderloin with root vegetable hash and cipollini onions to Seared Chilean Sea Bass with salsify puree, Brussels sprout leaves and pomegranate sauce. Dessert options? A trio of Chocolate-Black Currant Tea Pudding, Pumpkin-Spiced Quince Tart, and Carrot Cake with chocolate sauce, pineapple compote and cream cheese ice cream. $65 per adult; $95 with wine pairings; $25 per child (ages 6-12), excludes tax, gratuity.
Christmas Eve and Christmas Day
Special three-course prix fixe menu and customary menu 5:30-10 p.m. Dec. 24 and Dec. 25, 2013
The holiday meal will include a starter of Butternut Squash Soup with chestnuts and cranberry; entrée choices of Honey Baked Pork Chop accompanied by creamy polenta and thyme jus or Seared Sea Bass with winter truffle risotto and end with an irresistible Mini Yule Log with chocolate chartreuse and French macaron. $65 per adult; $95 with wine pairings; $25 per child (ages 6-12), excludes tax, gratuity.
New Year's Eve Five-Course Feast
Served 7-11 p.m., Dec. 31, 2013 music by Quel Bordel! 8 p.m. to close
The amuse bouche for this extravagant New Year's Eve dinner is House Smoked Scottish Salmon topped with domestic caviar. Next, guests have a choice of Beach Mushroom Consommé garnished with shaved winter truffles or Caramelized Nantucket Bay Scallops and winter truffle risotto. For the next course, select either Carpaccio of Peppered Venison with pickled mushrooms and Parmigiano-Reggiano or Roasted Quail Breast with quince tart and huckleberry sauce. You may then dine on Filet Mignon of Prime Angus Beef with a red wine reduction accompanied by roasted root vegetables or Seared Sea Bass served with salsify puree, Brussels sprout leaves and pomegranate. End with Amaya's Dessert Trio of Milk Chocolate Passion Fruit Mousse Napoleon, Date Sticky Toffee Pudding and Chai Tart Brûlée. $125 per person; $175 with wine pairings, exclusive of tax and gratuity.
From 8 p.m. to close, the San Diego-based, European gypsy kickstompin' folk band, Quel Bordel! will perform.
— For holiday dining reservations, call (858) 750-3695.
Amaya La Jolla
1205 Prospect St., La Jolla
(858) 750-3695
amayalajolla.com
The Business Spotlight features commercial enterprises that support the
La Jolla Light
.
---