'Freud's Last Session' is with C.S. Lewis at North Coast Rep Theatre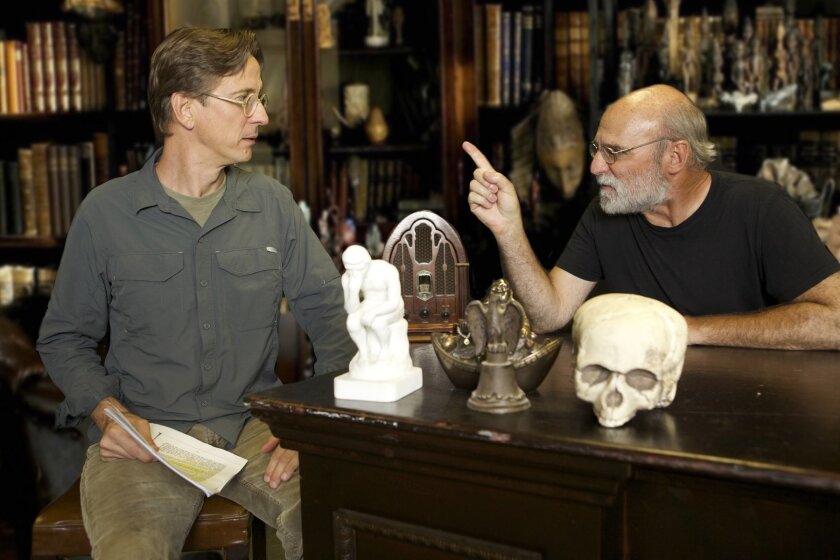 Although famous for different reasons, Sigmund Freud (Austrian father of psychoanalysis) and C.S. Lewis (British literary scholar and author of "The Chronicles of Narnia" series) were intelligent, unique and left a mark on society.
The North Coast Repertory Theatre presents an intriguing look at these personalities in the San Diego premiere of the two-actor play, "Freud's Last Session," written by Mark St. German and directed by David Ellenstein. It opened off-Broadway in 2011.
When the drama begins, Freud (Michael Santo) is near the end of his life and to stir up some excitement, he invites C.S. Lewis (Bruce Turk) for a visit. He's particularly annoyed because Lewis was once an atheist and is now professing to be a Christian.
Santo ("Death of a Salesman," "The Tempest," "Tally's Folly") said he always wanted to play Freud and was delighted when Ellenstein offered him the role.
"Freud is a wonderful part," Santo said. "He's brilliant and composed as both characters have to defend their positions in a very fun way. I know quite a bit about Lewis because I had a part in a play called 'Shadowlands,' about him and his relationship with Joy Davidman. She was an American poet who admired his work and went to England. They got married and this had him redefine his thoughts about faith. She ended up with cancer and died."
Freud invites Lewis over to find out why someone with his keen intelligence — who shared his convictions about not believing in God — would suddenly make an about-face and believe in something he once rejected.
"I didn't know much about Freud with the exception of Montgomery Clift in the 1962 movie 'Freud' and the usual clichés people know about Freud," Santo said. "To delve into his books is a major undertaking ... there is a lot of dialogue in the play, and I started three months ago to learn it."
Freud was cantankerous and at age 83, he developed oral cancer. He had a big prosthesis stuck in the roof of his mouth due to an operation on his upper jaw andpallet, so he was in a great deal of pain and spoke "funny."
"I do not wear a prosthesis in the play because it would be too hard to talk on stage," Santo said. "However, when I think about the pain Freud was going through and that thing in his mouth ... and if you see photographs ... it gives you a queasy feeling in your stomach."
The two men mostly discuss the existence of God, but also love, war, religion, politics and life, along with the immense collection of Freud's ancient artifacts with religious connotations, which are strewn all over his desk.
"That is one of the things Lewis asks about ... why are there religious objects on his desk when he doesn't believe in God?" Santo said.
"It's wonderful to work with Bruce ("Titus Andronicus," "Faded Glory") as C. S. Lewis. We met in the mid-80s in 'Much to do About Nothing' at the Cincinnati Playhouse. He's wonderful as in the role.
"Audiences will be engrossed in the discussion; it's one that everyone has and that will never die. But it's up to each theater-goer at the end to judge on their own terms, who's right or wrong."
---