A real gem in La Jolla is Caroline's Seaside Cafe
Story and Photos By Kelley Carlson
Near the Scripps Pier, just above the sparkling blue Pacific, is the "green" Caroline's Seaside Cafe. Located on the eco-friendly UC San Diego campus, the restaurant -- named for major Scripps supporter Caroline Nierenberg -- offers organic, fair trade foods, and supports local businesses and farmers.
"You know you're eating the best ingredients we can possibly find," owner/chef Giuseppe Ciuffa said.
The ingredients are assembled into a variety of breakfast, brunch and lunch dishes that are listed on electronic screenboards displayed above the front counter rather than on printed menus, cutting down on the restaurant's paper use.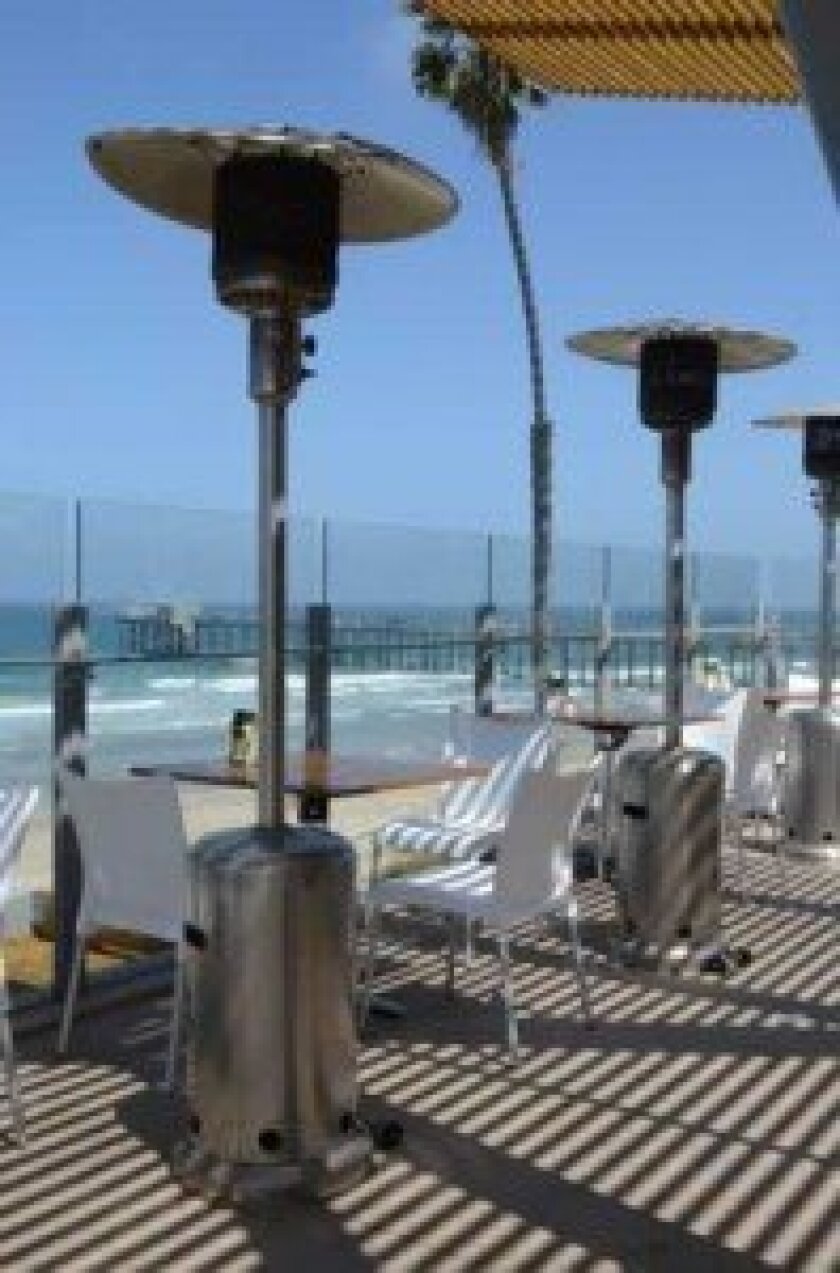 The morning menu contains healthful items such as Caroline's Parfait, with layers of mixed berries, organic vanilla yogurt and homemade granola; and specialties including the popular Housemade Buttermilk Pancakes, which can be garnished with blueberries, bananas or chocolate chips for an extra charge. About a half-dozen dishes are created from farm-fresh eggs, including the All-American Scramble with white cheddar and applewood bacon.
Soups, salads, sandwiches and burgers comprise the midday selections. One option is the Farmer's Grilled Cheese, featuring spring garlic-goat cheese spread, cheddar, grilled tomatoes and spinach between slices of sourdough bread. Ciuffa recommends the Chopped Salad, in which the ingredients vary by season. Currently, it's a colorful mixture of corn, cucumbers, tomatoes, avocado, romaine, feta, carrots and a citrus vinaigrette. Top it with a protein such as salmon, and add a few drops from a bottle of O'Brother That's Hot! organic jalapeno pepper sauce.
While there are plenty of healthful options, there are also "naughty" choices on the menu, Cuiffa said. One example is hamburgers -- although they are made from hormone-free ground beef.
The combination of casual food selections and a laid-back atmosphere -- with first-class views spanning from Black's Beach to the Cove -- draws a variety of people. There are UCSD students and professors, families with children, surfers in wetsuits, beachgoers in shorts and flip-flops, and ladies with Louis Vuitton bags. All of them find common ground at Caroline's, as they walk up to the counter, place an order, and wait for the friendly staff to bring their food. Music ranging from Latin jazz to dance/techno and popular styles can be heard in the background; upbeat tunes match the crowd's mood.
Some patrons settle in the main dining room, with its clean-cut, modern decor inspired by the ocean. The green and blue backsplash around the counter area is reminiscent of the waves, with contemporary, pure-white furniture symbolizing the caps. There are very few visual distractions, as guests are able to gaze outside at the shores through large, glass panes.
Other patrons sit outside on the terrace, an idyllic spot during a sunny day with a cool breeze. Many of them enjoy meals; some kick back with a beer, margarita or Bloody Mary.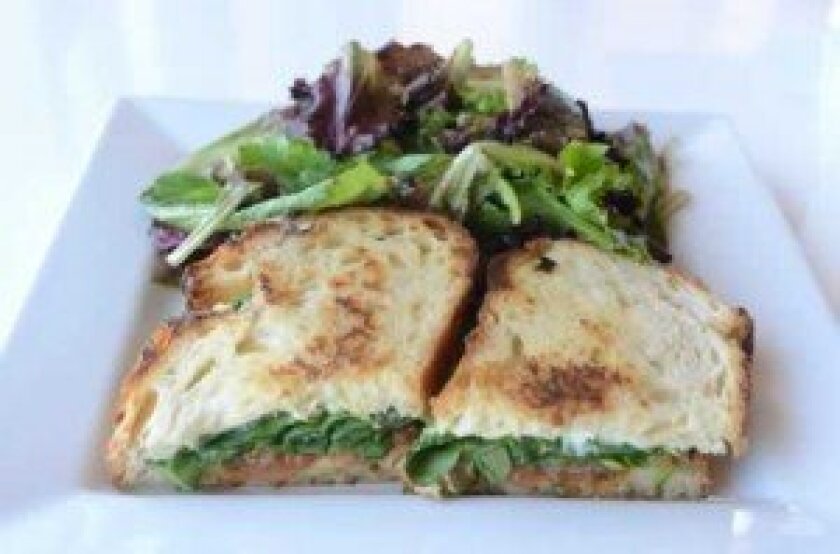 Families with energetic kids will often set up in the grassy area at the bottom of Caroline's stairs and let their little ones burn energy while having a picnic. Parents can choose fare for their youngsters from the children's menu.
Some guests take their food down a few extra steps to the beach. "Relax, eat, enjoy and just realize how lucky we are to be where we live," Ciuffa said.
Caroline's often gets busy at lunchtime during the week, as the UCSD crowd descends upon the eatery, and it's steady all day long during the weekends.
A note about parking: The lot closest to Caroline's -- which is near the Scripps Seaside Forum -- is reserved for the university during the week, but it's fair game for everyone on the weekends. If it's difficult to find a spot, one option is to park at La Jolla Shores and walk about 10 to 15 minutes along the beach, toward the pier, to the Caroline's staircases.
A time of day that is typically calm is the morning during a weekday. It's magical, Ciuffa said -- the sun has just risen, it's not quite hot, and there aren't many people. "Have an early breakfast when it's quiet and watch the day start," Ciuffa said. "It's peaceful, natural."
Caroline's Seaside Cafe
Address: 8610 Kennel Way, La Jolla
The Vibe: Relaxed, Casual
Signature Dishes: Housemade Buttermilk Pancakes with blueberries, Farmer's Grilled Cheese, Pan Seared Salmon Salad, Caroline's Parfait
Open Since: 2011
Hours: 8 a.m. to 3 p.m. daily
Web:
carolinesseasidecafe.com
Phone: (858) 202-0569
Reservations: No
Patio Seating: Yes
Take Out: Yes
Happy Hour: No
On The Menu Recipe
Each week you'll find a recipe from the featured restaurant online at lajollalight.com. Just click Get The Recipe at the bottom of the story.
This week:
Caroline's Pancakes

---