'45' in the 92037: How would a Romney presidency change La Jolla?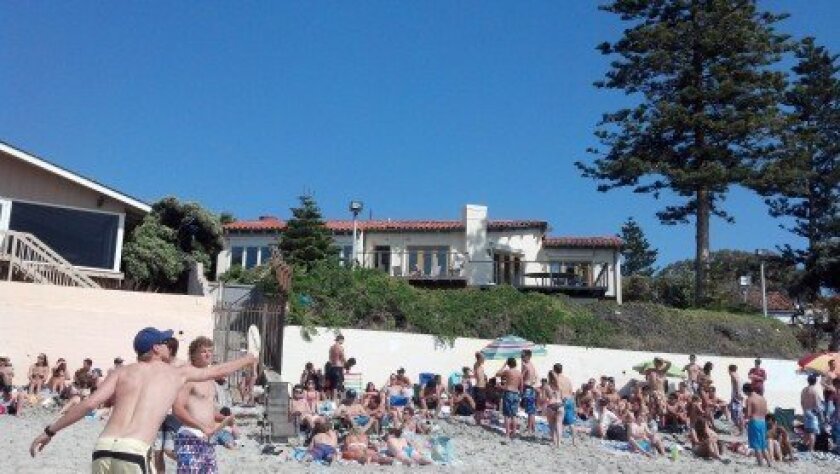 By Pat Sherman
Should Mitt Romney be elected the 45th U.S. president — and his beachfront home on Dunemere Drive become a de facto "White House West" — La Jollans would undoubtedly feel the impact of his presence.
Would the nation's first Mormon president use some of his copious capital gains to plate the Village streets with gold (or at least repair its crumbing
sidewalks
)? Or would the POTUS scoop up property around UTC's Mormon temple to develop a Romneyland-style theme park?
Though calls and e-mails to the Romney campaign went unanswered, La Jollan Renata Turquand said she feels having a president residing even part-time in La Jolla would bring great exposure to San Diego's "Jewel."
"The national press is now going to talk about La Jolla as a vacation spot — what the community's about and how beautiful it is," she said. " It's going to obviously bring extra traffic, but I think it's going to be a positive thing because he's going to highlight how beautiful La Jolla is and why somebody with his taste would choose to live here."
La Jolla Village Merchants Association board President Phil Coller said he believes Romney's presence could only benefit local merchants.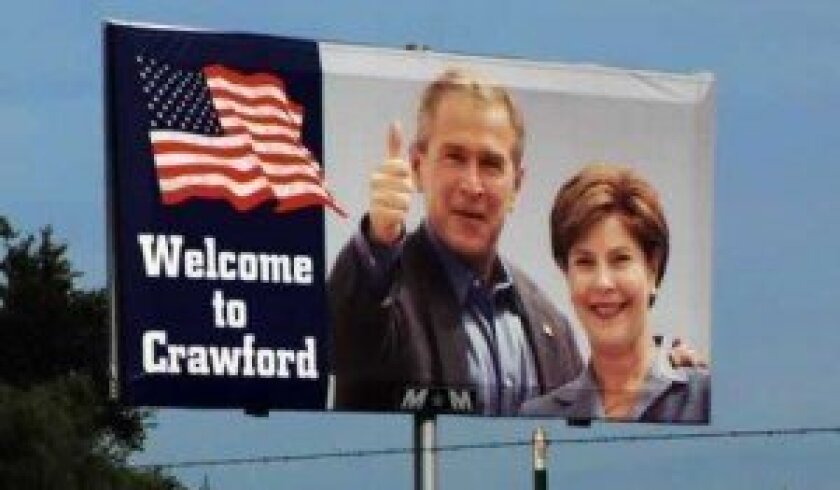 "Anything that brings people into La Jolla for any reason is good for business and one would imagine —if he spends any time here — there will a lot of people coming in just to keep an eye on things," Coller said. "Things will happen around him. The whole infrastructure of people develops around someone who is president."
Marilyn Judy, president of the chamber of commerce in Crawford, Texas said life changed dramatically in Crawford when George W. Bush purchased Prairie Chapel Ranch, just north of her rural farming town. Bush's frequent stays brought everything from international news crews and visiting foreign dignitaries to new businesses and people protesting the United States' presence in Iraq.
"You probably wouldn't know when extra people came to La Jolla," Judy said, "but they stick out like a sore thumb in a little bitty town of 700 people. We would have cars with all different kinds of license plates. If they were tourists they were asking, 'How do you get to the president's ranch?' Whether he was there or not, they wanted to go."
Judy said a highlight of Bush's years in office included the time he and Russian President Vladimir Putin spoke to students in the auditorium of Crawford High School.
"We had the whole world there watching that conference," she said. "We told our kids, 'You will read about this in your history books, and you're a part of it.'"
Judy said the only problem Crawford experienced was the protestors (which included former San Diego news anchor Bree Walker).
"When you have thousands of people come to a little town, that's overwhelming," she said. "But the businesses loved them. We had about four little gift shops that opened — and those were Crawford people who opened those up."
But as Bush left office and his political stardom began to wane, business dried up, Judy said.
"We still have the restaurant, but the gift shops have all closed but one, because the tourists are gone," she said. "We didn't have a chamber of commerce before he came and now we really don't have one because there's nothing going on."
Ken Raynor, the head golf professional at Cape Arundel Golf Club near Kennebunkport, Maine said tourists and lookie-loos hoping to get a glimpse of the Bush compound at Walker's Point have also been good for business. Bush's Walker's Point estate is the summer home of 41st President George H. W. Bush and was visited occasionally by his son, when he served as the 43rd president.
During the past two decades, businesses near Kennebunkport have cashed in on the clamor, producing T-shirts that rebranded the Atlantic seaside community as "KenneBUSHport" and "The Summer White House."
"There's only been 44 men ever in the history of our nation who have held that title," Raynor said. "To know that one of them roams your streets obviously brings a meaning to your town and to your structure. It is certainly an honor, a privilege and a life experience — especially when so many people get to meet him and shake hands in casual situations in your town."
Raynor, who has traveled extensively with the elder Bush as his personal golf pro (including trips to the White House and to Camp David), said media alone boosted the local economy.
"During the various activities that the president chooses to participate in — whether it be a walk on the beach in in zero-degree weather or a round of golf on a beautiful hot day — the press is going to be somewhere present," Raynor said. "The press brings in waves of people who obviously need to eat and they become tourists when they're off duty. They all create an opportunity for the local merchants to be successful. … At Cape Arundel, we carried a presidential seal golf shirt, and it sold very, very well."
During their respective presidential tenures, both Bushes set up shop in their respective vacation homes, the younger Bush providing trailers on the ranch for White House staffers.
"Bush (considered) Kennebunkport his 'anchor to windward,'" Raynor said of the elder president. "It was his think tank to get away from the heat of Washington and to go out to watch the ocean waves breaking, but it was also an area for him to bring dignitaries to get to know each other and put them in a casual atmosphere, maybe (to develop) a little more trust between the two people and accomplish a more work.
"We've had lots of celebrities and movie stars come to Kennebunkport," Raynor said. "Obviously, a president travels in a fast circle and shares it with your town when they live there."
Managing the influx
Though opinion varies on what effect a 'President Romney' would have on La Jolla (see accompanying sidebar), most agree that traffic would increase substantially. With entrances to the village from the north, south and east already congested during tourist season, the scene in and around Romney's Beach-Barber neighborhood would likely be chaotic.
"I don't even know how you could be prepared for something like that — especially in a small community like ours," said Todd Lesser, president of the La Jolla Traffic and Transportation board.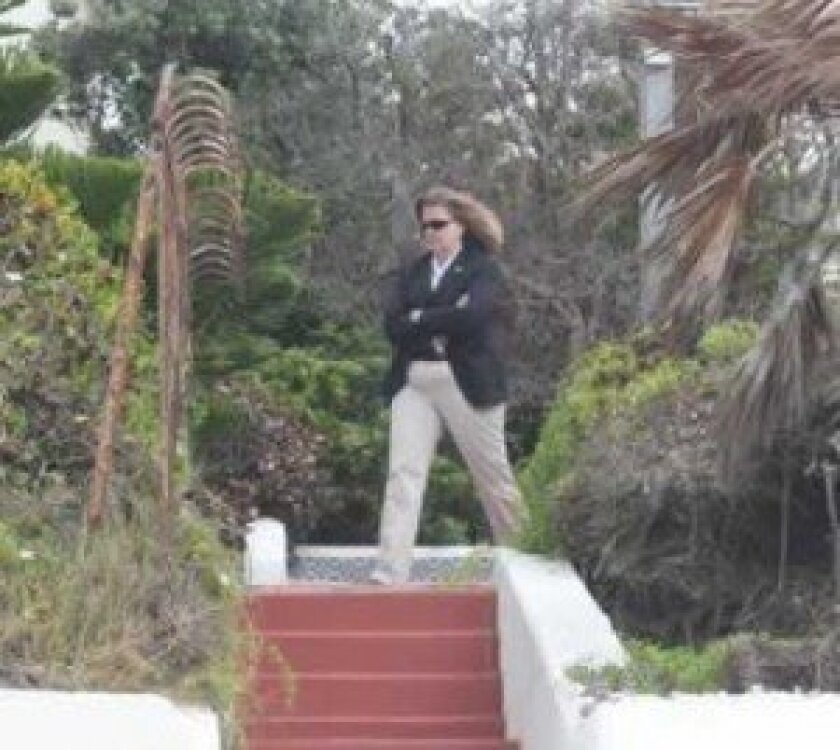 The Secret Service does a pretty good job, and I'm sure they'll find a route (in and out of town)," he said. "They worked it out when they had President Obama here for fundraisers a couple months ago."
Protecting the POTUS
Since February, Romney has received Secret Service protection — most visibly when he visited his La Jolla home Easter weekend. Restrictive street signs limited entry to his portion of Dunemere Drive to residents only, while Secret Service agents in SUVs were parked on the street surveying the situation. Other suited agents stood atop the steps leading up from the beach to Romney's home.
Presidential nominees are provided Secret Service protection when there are extenuating circumstances (see sidebar) — in Romney's case it was afforded due to the large, unwieldy crowds at his campaign appearances.
Greg Meyer, a special agent in charge of the Secret Service's San Diego field office, said agents take "reoccurring courses and training prior to any election."
Though there is little the agency can discuss about the tactics used to protect Romney, Meyer confirmed that Romney has been in La Jolla "on a couple of occasions where we've been involved with him."
"We work very closely with the immediate neighborhood," Meyer said. "We're very well aware of the impact that we can have on the neighborhood and on the immediate neighbors of anybody who we protect. We reach out to those neighbors and talk with them and try to work with them, because wherever we go, as far as protection, we do have an impact — if on nothing more than traffic or parking.
"That will continue to be a bigger problem, the longer it goes on," Meyer noted. "As we increase the size of protection and increase the assets that we use, it will obviously have a greater impact. We try to do everything we can to minimize our imprint, but it's difficult. It's just a very unique situation with him and the neighborhood.
"When we have vehicles and we have a motorcade, we're very cognizant about blocking neighbors in, and we work with them to try and make it so we don't affect their day-to-day lives too much. We advise the neighbors that if there's any issues they have, they can come and talk with us and we'll try and make any arrangements that we can to accommodate them. … The neighbors have been very good. We reached out to them before our first visit there."
Mark Quint, owner of Quint Contemporary Art gallery in the Village, lives a few houses down from Romney on Sea Lane. Quint said Secret Service agents haven't been by his house to speak with, though he said a police officer spoke to him as he was backing out of his driveway Easter weekend to ask whether he noticed any more marijuana smoking than usual on the beach. The officer said he had received complaints from a neighbor, pointing in the general direction of Romney's home.
"I'd hate to see them closing down part of the beach, I really would … (but) I guess you can't do anything about it," Quint said.
During George W. Bush's presidency, the Federal Aviation Administration established a full-time, no-fly zone of three nautical miles around his ranch — a restriction that was expanded to 10 nautical miles while Bush was visiting.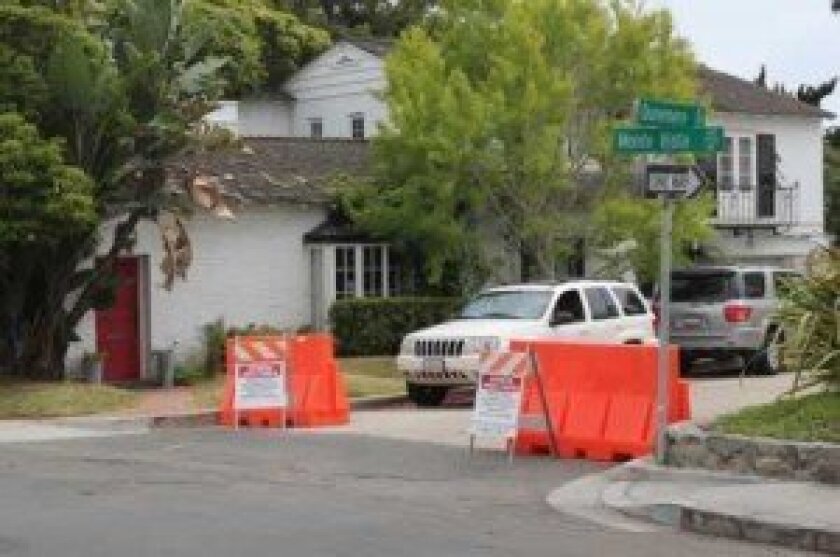 Though Meyer wouldn't say if similar restrictions would be established for Romeny's La Jolla home, he conceded, "It does make things a little bit more interesting and challenging."
San Diego Police Lt. Andra Brown said SDPD is currently working with the Secret Service "to discuss possible circumstances and contingencies that would surround the protection of the Romney family."
"We would look at each instance on a case by case basis, Brown said. "We will enforce the appropriate laws related to traffic, residential picketing, trespassing and other disturbances."
Asked whether the beach behind Romney's home would be closed to the public during his visits, Brown referred the La Jolla Light to the California Coastal Commission.
Coastal Commission district manager Deborah Lee said the commission would have to "look at the specifics of any such requests — the length of (closure), the distance and if (Romney) would ask for complete closure of the entire lateral access."
Brown said at this time such a request has not been brought before the Coastal Commission.
"We would hope that someone would ask us and the city about it well beforehand to try to come to some reasonable solution, but we haven't had to deal with this circumstance before," she said.
Secrete Service Protection 101
• Though President Lincoln established the Secret Service to combat counterfeiting on April 14, 1865 — the day before he was shot to death at Ford's Theatre in Washington, D.C. — it would take another 36 years and the assassination of two more Presidents (James A. Garfield and William McKinley) before the Congress added protecting the president to duties performed by the Secret Service.
• In 1917, threats against the President became a felony and Secret Service protection was expanded to include all members of the first family.
• In 1951, protection of the vice-president and the president-elect was added.
• Following the assassination of presidential candidate Robert Kennedy in 1968, President Lyndon Johnson authorized the Secret Service to provide protection to all presidential candidates. Federal law permits major-party presidential candidates that meet certain fundraising and polling criteria to request Secret Service protection.
• In 1997, Congressional legislation went into effect limiting Secret Service protection to former presidents for a period of not more than 10 years from the date the former president leaves office.
• Marilyn Judy of the Crawford Chamber of Commerce said George W. Bush still has three black secret service SUVs accompany him when he visits Crawford as an ex-president.
• The White House Communications Agency provides the Secret Service with code names for those under their protection. President Obama is known as "Renegade," while First Lady Michelle Obama is "Renaissance."
—Source: secretservice.gov
---