Poetry, art and people sustain Dennis Ellman of La Jolla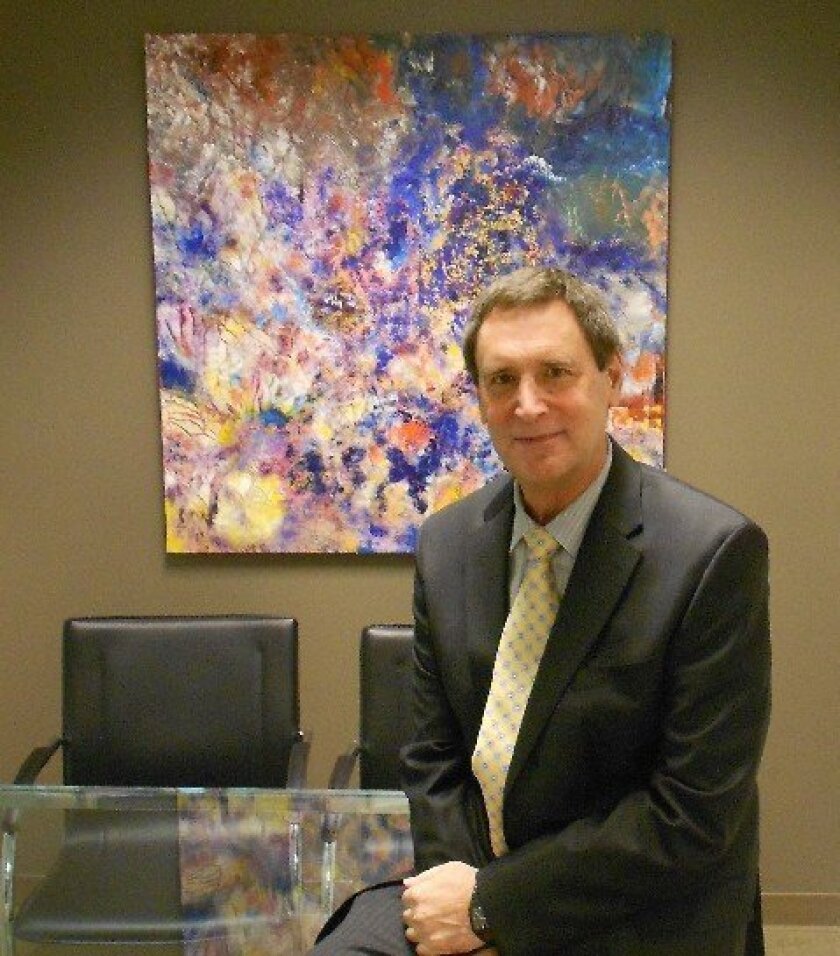 • 10 QUESTIONS:
Dennis Ellman runs a public relations company in La Jolla and makes time to give back to the community. He is on the board of McAlister Institute, San Diego's largest alcohol and other drug treatment center, which provides support to more than 2,500 adults and teens each month. Ellman said he saw the devastating consequences of substance abuse close to home and wanted to be a part of what McAlister Institute was doing to positively impact the community.
Also an artist, he has auctioned off his work at several McAlister events. On Nov. 23, he will serve a Thanksgiving Lunch at its long-term residential treatment program for women, Kiva. He is also involved with San Diego Rescue Mission's Thanksgiving meal that feeds some 2,000 homeless individuals.
Ellman is a widely published poet and spent 14 years as a professor of English and creative writing at UC, Irvine; Santa Monica College; Loyola Marymount University; Pepperdine University and San Diego State University. He has shown his artwork in galleries throughout San Diego and the United States.
What brought you to La Jolla?
Convenience: to be near home in a wonderful work environment.
If you could snap your fingers and have it done, what might you add, subtract or improve in the area?
I'd improve access into/out of the city! I'd also work to find a solution for homelessness and addiction. I'd add a great/quirky art supply store … an acoustic guitar center would be nice, too.
Who or what inspires you?
So many things. My wife and children. Friendships. Art museums: Impressionism and abstract art. Music.
If you hosted a dinner party for eight, whom (living or deceased) would you invite?
It's all about companionship for me, so I'd invite Jeanne McAlister; Herb Johnson; my wife and family, of course; the Frerkers; Vince, my business partner; oId friends. Others on the next tier would include poets Don Justice and Pablo Neruda; artists Jackson Pollack, Chagall, Picasso (we could doodle together!); Albert Einstein. How does one limit this?
What are your favorite movies of all time?
"Chinatown," "Tootsie," "North by Northwest" and "The Verdict."
What is it that you most dislike?
Complacency. Ego.
What is your most-prized possession?
I'm not terribly possession driven. I do love my guitars: Taylor 812 and Gibson EC 30. Sadly, nice guitars don't translate into a good musician.
What do you do for fun?
Draw incessantly. Paint. Play guitar. Write. Travel with my beautiful wife. Meet with friends. Play golf and basketball, when my old back allows me.
What is your motto or philosophy of life?
Give back. Do service. Learn more. Enjoy others. Laugh.
What would be your dream vacation?
If it weren't for the challenges of airlines, I'd head back to the British Isles. London. Dublin. Edinburgh.
---