Let's Review: 'The Royale' puts tough choice to boxing pro making history at The Old Globe Theatre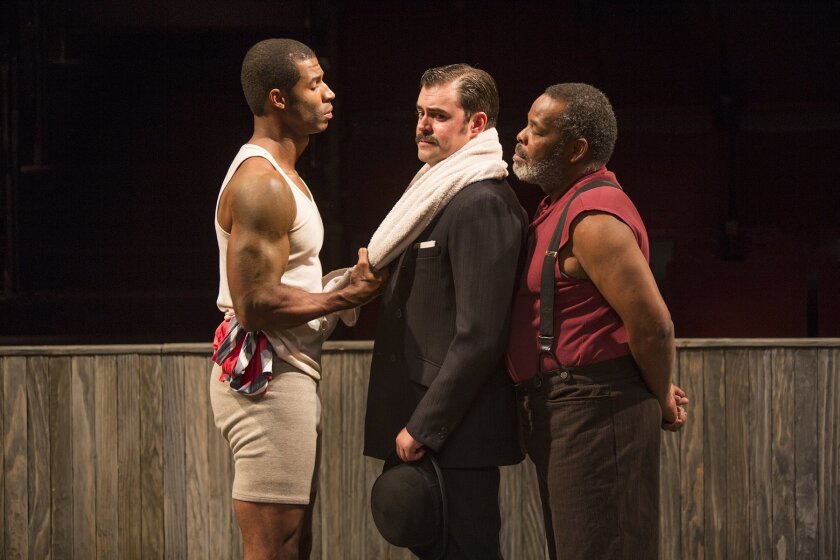 Before national sports teams welcomed players of different ethnicities, there was a time when African-Americans, and others, were shunned in baseball, football, boxing and other sports. The Old Globe tackles this subject in its production of Marco Ramirez's "The Royale," on stage through Nov. 2.
Some people in history stood against intolerance. Jack Johnson did when he worked his way up to boxing in the big leagues and became the first African American Heavyweight Champion of the World in 1908. "The Royale" is based on his life story.
We meet Jay (Robert Christopher Riley) in the ring as he's about to begin a boxing match, his first professional fight. Referee and promoter Max (John Lavelle), leaves little to guess about when he roars, "And now, the fight you came for!" Lavelle steals a lot of this show.
Jay does a decent job pounding on his opponent Fish (Okieriete Onaodowan) and ultimately wins the fight. As he builds his self-esteem in the next few fights, Jay's self- worth also grows. His trainer, Wynton (Ray Anthony Thomas), overlooks Jay's symbolic pat on the back, and reminds him that his struggles are just beginning. "I see those gloves go down; I swear to god, son, you're payin' for dinner," Wynton tells him.
Nicholas Vaughan's boxing ring set design on the Sheryl and Harvey White Theatre stage works well for different beats of the story and the juxtaposition of the characters — especially when threats become a stumbling block to Jay's journey.
Promoters don't want him to know (but Jay learns) that some white patrons have brought guns to the boxing matches — obviously with ill intent. His anger is more over the information withholding than the obvious danger these dangerous attendees present.
Still, Jay continues on until the big day when he will fight for the World Heavyweight Championship. Physically, he's in top shape, but as he's talking with his crew, his sister Nina (Montego Glover),
steps up on the stage, staring at them all. She begins to recite moments of history, reflections of what dangers Jay faces, and more importantly, how he might be enticing other young men to follow in his footsteps and create more situations where lives are in danger.
Jay moves about the stage sluggishly, stopping in surprise when he reads something Nina hands him. Riley does a good job all through the play, but here, especially here. His bravado lessens as he heeds Nina's advice, but his heart is set on this win and its future. "In Memphis, somebody's loading a pistol," Nina says.
Jay has only minutes to make up his mind — will he fight?
---