Stoked in Spirit: Young Christians bond over surfing and faith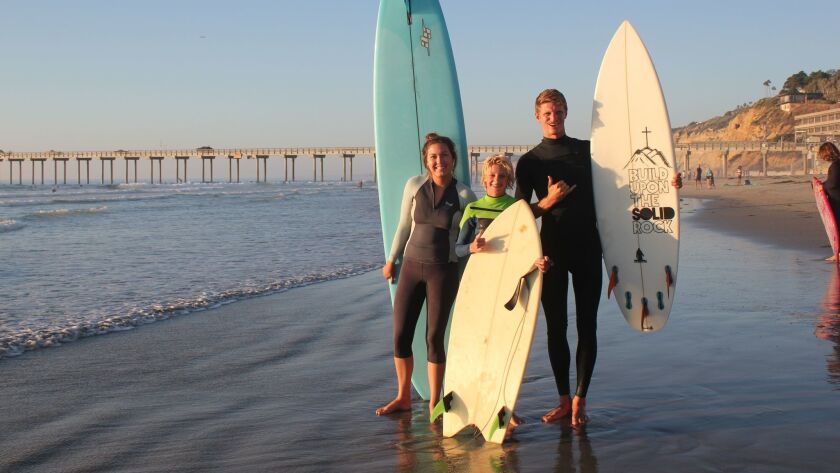 Every Thursday night a group of young surfers paddle out together at a La Jolla beach. They call themselves the "Surf Church," and afterwards meet at La Jolla Christian Fellowship (627 Genter St.) for pizza and prayer.
Their meetings began in January 2015, and as co-founder Alex Reynolds explained, "For the first six weeks, we had one 'grom' (young surfer) come, so it was four of us kind of leaders and just this kid, Matt, who still comes every week." Shortly after, the Surf Church organized its first surf contest and weekly attendance increased.
The Surf Church, as Reynolds put it, is for everyone "who likes surf or is interested in surfing, but our mission is to connect with people who find some of their identity in surfing, because that's who we want to connect with and share faith with."
"I love that there's older people, like Alex, who are really cool and we have the same values. We love surfing and Jesus."
Jacob Kelly, 14
Reynolds, a La Jolla High School graduate, came up with the Surf Church idea after returning from living in South Africa for two years, where he was involved in Christian surf groups. While at a La Jolla Christian Fellowship meeting, "I realized that this church is two blocks away from WindanSea and two blocks away from La Jolla High, and a lightbulb went off. This was a perfect place to pack full of groms!" he said.
At 5 p.m. on Thursdays, the group surfs at a designated beach for two hours. "We usually go to Bird Rock, WindanSea or Scripps," Reynolds said. After that, they meet again at La Jolla Christian Fellowship and have dinner. "Nine out of 10 times it's pizza," he joked. "We have a ping pong table and surf movies, and sometimes we play crazy games. Then we have a message, and someone shares a story about how God works in their lives."
A part of their meetings is the "Stoke Meter," where the groms "using a scale from 1 to 10 say how stoked they are. They can give as little or as much reasoning as they want, but it works to find out what's going on in their lives," Reynolds said. Lastly, the group has prayer time, when participants share about their lives or what they need prayer for. "Maybe their grandpa is sick or they have a test coming up," he explained.
The depth of their faith varies with every grom, Reynolds said. "All the kids really enjoy coming and connecting on different levels, not all of them take their faith that seriously or it's not so deep in their hearts ... some are just interested and still kind of checking it out and some for sure own it and believe."
Reynolds himself was not always a firm believer. "I had a phase when I put my faith more on the back burner trying to find satisfaction all over ... but I realized that real joy only comes from believing in Jesus, and I think God slowly works this process on everyone."
Fourteen-year-old Jacob Kelly has been a regular at the Surf Church for a year. "I love that there's older people, like Alex, who are really cool and we have the same values. We love surfing and Jesus," he said.
Another regular at the surf sessions is 21-year-old Rebecca Mueller. She also started surfing with the crew one year ago. "I learned about it through friends. I like the community aspect of it, it's a way of having good friends who are supportive. It's very positive that we are a group striving for better relationships with the Lord," she explained.
Earlier this month the group organized the first Jesus Fish festival where four 5-foot 7-inch identical surfboards were raffled off among the participants. Each surfboard was sponsored by a church in San Diego County that chose a quote from Bible scripture that was printed on each board.
IF YOU GO: Surf Church gathers Thursday nights at La Jolla Christian Fellowship Church, 627 Genter St. To learn more, call (858) 401-9204, visit churchatlajolla.org/surf-church or send an e-mail to surfchurchsd@gmail.com
Of Note: Chris O'Rourke and Christian surfers
In the 1970s, surf legend Chris O'Rourke converted a group of WindanSea surfers to the Christian faith before he died in 1981. The documentary "Changes-Chris O'Rourke" (1998) by La Jolla-resident Edward Feuer chronicles his story.
"I produced the documentary because I was so amazed about this guy's life and all the people touched by him," Feuer said.
O'Rourke was California's best surfer in 1976, according to Pipeline ace Gerry Lopez. At age 16, he was the top-rated surfer in the Western Surfing Association's elite division. Born in New Jersey, he moved to La Jolla as a child and began surfing at WindanSea. He was reportedly very active in the practice of "localism," a tendency among surfers of the 1970s to reject non-local beach-goers. "He was like a gangster beating people up and that kind of thing," Feuer said.
In the documentary, his friend Mark McCoy explains, "We were a pack of hyenas and we would threaten anybody who threatened the pack. And O'Rourke was very vocal in that. I can remember times where we would tip over a Volkswagen van and set it on fire, because the guys driving it were not from La Jolla."
At age 18, O'Rourke was diagnosed with cancer and in the process of his recovery found faith. As Feuer puts it in his documentary about the legendary surfer, "With death at his doorstep, O'Rourke prayed with his friend Brew Briggs, and asked God to forgive him and save his life."
After finding this new aspect of his life, O'Rourke dedicated himself to sharing the message he held dear. In the documentary, WindanSea surfer Peter King explains, "Chris was cool, and we wanted to be cool. Whatever he was into, we wanted to be into."
— The documentary "Changes-Chris O'Rourke" is available at vimeo.com/4617038
---