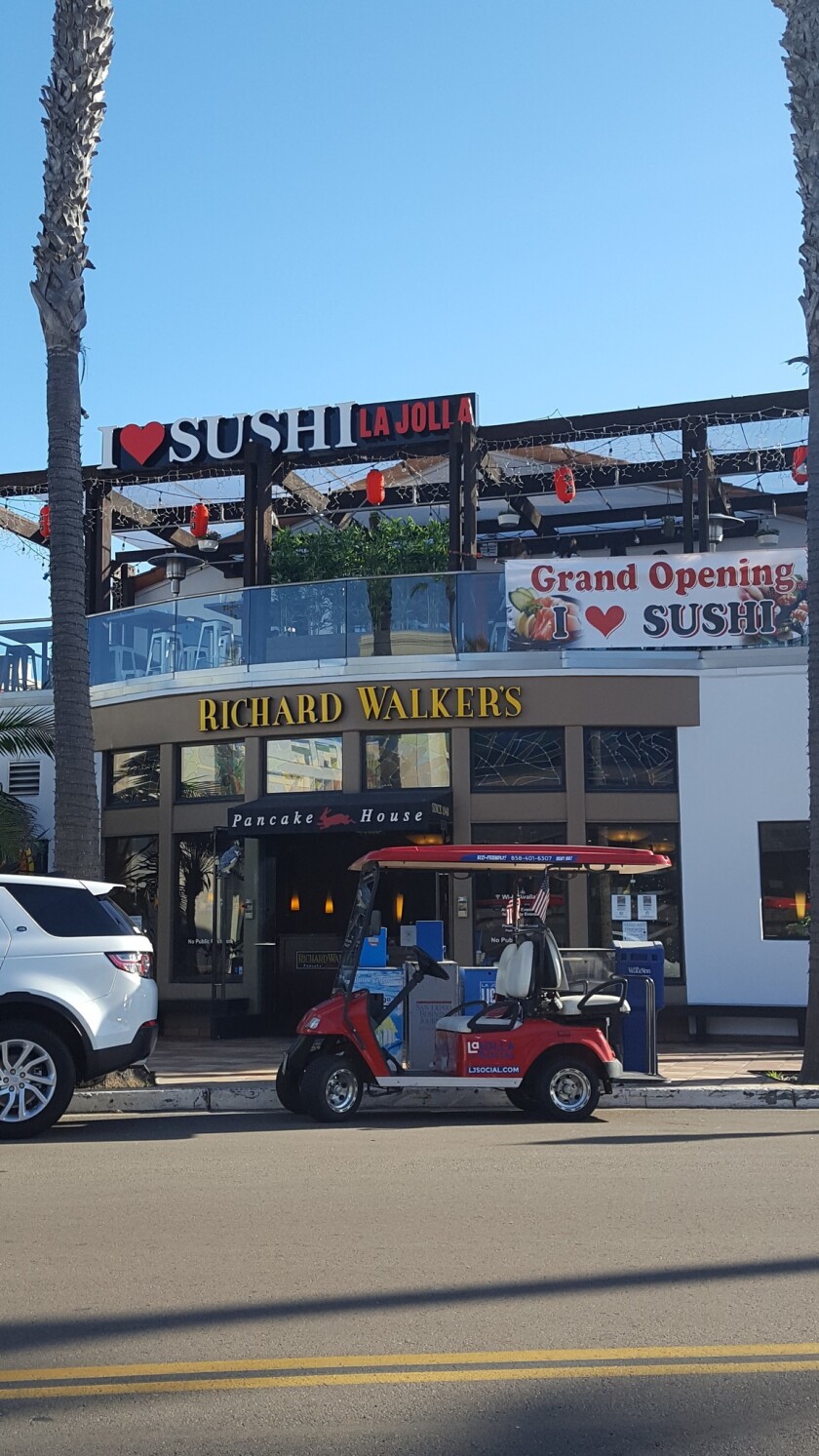 Here is a look at some new enterprises in The Village, The Shores and UTC:
The Village
I Love Sushi La Jolla restaurant: Having quietly opened Dec. 15, I Love Sushi La Jolla occupies the space formerly occupied by Lena Craft Mexican cuisine at 909 Prospect St., above Richard Walker's Pancake House. Helmed by chef Phillip Snoda, the Japanese and Korean restaurant ships in fresh fish daily from Hawaii, Scotland, Canada, Japan, New Zealand, and lobster from Boston. There are also chef-inspired creations and a "salad" bar with Asian-fusion side dishes that changes regularly.
Menu fixtures include a variety of noodle dishes, Korean barbecue, bibimbap (a dish of rice, vegetable toppings, and usually meat and/or egg that is mixed together) stone pot bibimbap, sushi platters, fried rice, soups, stews and fresh seafood preparations, along with sushi staples, deep friend rolls, specialty rolls, lunch specials and bento boxes.
Hours are 11:30 a.m. to 3 p.m. for lunch, 5-9:30 p.m. Monday-Saturday for dinner, with Sunday hours being finalized. (858) 247-7051 or (858) 247-7031.
Lotus Blooming Ayurveda spa: When Lotus Blooming Ayurveda owner Heidi Abreu saw The Village, with its plentiful yoga studios and juice bars, she said she knew it would be the perfect place for her wellness and healing spa, which opened in August at 7757 Herschel Ave.
"I feel like it's a good community to come into and share this information with," she said. "People's eyes are open to new healing options." The word "Ayurveda," which Abreu acknowledges most people are unfamiliar with, is defined as the traditional Hindu system of medicine, based on the idea of balance in bodily systems. Practitioners use diet, herbal treatment and yogic breathing for wellness.
Abreu's specialty is to add spa treatments, such as massage and Shirodhara (another word people are likely not familiar with) to treat ailments such as anxiety or fatigue.
"Shirodhara is my favorite treatment and involves pouring warm oil over the third eye/forehead area for 20 to 25 minutes. But each person is different, so I might use a different herbal oil based on their needs or incorporate a massage to the neck and shoulders or feet and legs," she explained. "My specialty and passion is helping women bring balance and thrive in their lives. I provide them with spa treatments and consultations as to diet and herbs they can incorporate into their lives."
Lotus Blooming Ayurveda takes patients by appointment only, 10 a.m. to 7 p.m. Tuesday-Saturday. (209) 485-8144. lotusbloominghheidi.com
La Jolla Shores
Scoops La Jolla Shores: Known for its unique flavor selections, Scoops ice cream store is set to open at 2179 Avenida De La Playa in La Jolla Shores around February.
"We serve a premium artisan ice cream with a range of traditional flavors to more inventive combinations, as well as a vast array of traditional and unique vegan flavors. All using natural and organic ingredients that are sourced both domestically and around the globe," said Scoops La Jolla owner Nader Abu Hamdan.
Examples of "inventive combinations" include: Chocolate Banana Cream Pie, Honeycomb, Lemon Meringue Yogurt Tart and Passion Fruit Layer Cake. scoopslajolla.com
Mini Events: Although it's has been operating in The Shores for a while, and not technically a new business, Mini Events provided treats to the La Jolla Shores Association for its November meeting. Run by Angela Cordoni (aka Miss Mini), Mini Events specializes in catering and producing small parties and concierge services.
"I got my start in event production 10 years ago, organizing national event tours for luxury brands like Aston Martin, Sea Ray Yachts, and Flexjet Aviation across the United States," she said. "In that time, I learned there was a major need for a small event caterer, something between a private chef and upscale large caterer that won't cost you more than $1500 for a 25-person event. It was hard to find that. When it came time to transition to a more stationary life in La Jolla, I wanted to tap into that niche and deliver that to San Diego." She also contracts with real estate agents for open house catering. (858) 707-5417. catering@minievents360.com
UTC
Raised By Wolves: A retail storefront/tasting room concept for all things pertaining to cocktails is set to open at 4545 La Jolla Village Drive, Suite 4301 (within the Westfield shopping complex) in January. Expect 1,500-square-feet of retail space for books and barware alongside a 2,000-square-foot cocktail bar and tasting room. Raised by Wolves joins the CH Projects line of bars and eateries, which includes Noble Experiment, Polite Provisions, False Idol, Craft & Commerce, Born & Raised, Ironside Fish & Oyster, and UnderBelly.
In press material, CH Projects' beverage director Anthony Schmidt writes: "Raised By Wolves will change the game as far as being able to provide that next level of service for cocktail enthusiasts. Our bartenders frequently notice that people come in, enjoy a particular cocktail, and then they want to be able to make that cocktail at home. However, traditional stores do not carry most of the specialty ingredients needed. At Raised By Wolves, you'll be able to get your spirits, modifiers, syrups, barware and hands-on education all in one physical place. We're creating a one-stop-shop for your at-home bartender needs, which is something that currently does not exist in today's marketplace." ch-projects.com
Sweetfin Poke restaurant: In a sea of poke restaurants, Sweetfin Poke looks to stand out with its chef-driven, California/Japanese-inspired concept. It's headed by a group that includes former La Jolla resident Alan Nathan and will be located at 4301 La Jolla Village Drive, Suite 2035. The tentative opening date is Jan. 13. Embracing a "pole to bowl" concept, Sweetfin uses seasonally caught and sustainably sourced fish.
"What makes Sweetfin different is the fact that it is so chef-driven with chef Dakota Weiss. Each of our locations has a chef in store that comes from a culinary background to create and perfect the sauces and find the right combinations of what goes well together," Nathan said.
As to why Westfield UTC was chosen for the San Diego location, Nathan added that having spent nine years in La Jolla and University City as a child, "I knew it is as a small mall growing up, now there are all these new developments and with the trolley that is coming in, I think UTC will be the mecca for shopping in San Diego and it's great to be a part of that growth." He said they would like to open a Sweetfin in Del Mar next year and possibly Little Italy after that.
Hours will be: 11 a.m. to 9 p.m. daily. sweetfinpoke.com
IEP special education assistance: Leo Marchena, "The IEP Guy" (Individualized Education Programs), has opened an office in La Jolla to meet with parents of children with learning disabilities who feel their schools are not providing appropriate instruction to meet their child's needs. The office is at 4275 Executive Square, Suite 200. Marchena specializes in IEPs for K-12 students with specific learning disabilities, such as dyslexia, processing disorders, autism spectrum disorder, ADD and ADHD.
"The IEP meeting is the process by which a special education program is developed at the school site. For eight years, I worked with the special education department of the Grossmont Union High School District in developing IEPs for students. This allowed me the opportunity to gain invaluable experience in the special education field," he told the Light. "I would attend two to three IEP meetings on a daily basis." Marchena's rate is $150 an hour, but he offers flat fee arrangements.
Business hours are 9 a.m. to 5 p.m. Monday-Friday, with consultations by appointment. (858) 345-6536. theiepguy.com
---