Nice slice of life: La Jollan opens Roast meatery in Liberty Station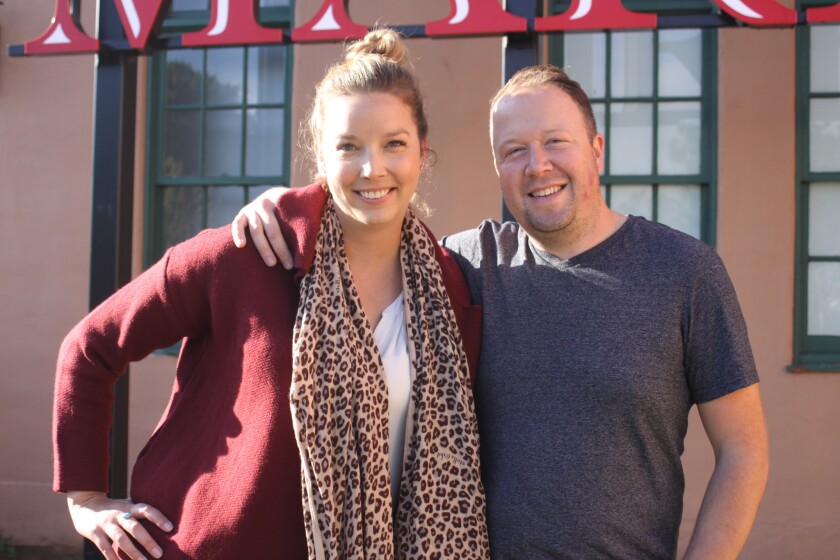 Longtime food purveyor and new La Jolla resident Maryanne Carmack recently opened her latest culinary venture in Point Loma's Liberty Station Public Market: Roast. Specializing in large, slow-cooked hunks of meat, the small stand (only big enough for an oven, counter, one or two carvers and a cash register) opened in November and has been busy ever since.
"It goes back to the old way of cooking," said co-owner Carmack. "We're not reinventing anything. It reminds me when I would go to my grandmother's house on Sundays and she would always make a big roast. It used to be part of our culture to do things like that, but we lost it a little bit because we're all so busy.
"Plus people can get really overwhelmed when they have that big piece of meat in front of them, they don't want to screw it up. We take the cautioning out of that because we know what we're doing."
Roast serves up sandwiches, bowls, meatballs and meat by weight, specifically chicken, beef and porchetta.
"Porchetta is not a big thing in San Diego yet, so we feel like we're ahead of the curve a little bit. They freak out when they see it for the first time," she said. "To make it, we get a whole side of pig – loin and belly attached with the skin – and we put fennel fronds, lemon zest, pork spice, salt and pepper on it, roll it up all together. When you put it in the oven, it all cooks together, so when you get a slice, you get a little bit of belly and loin. But most important, you get the crispy skin. People freak out about that."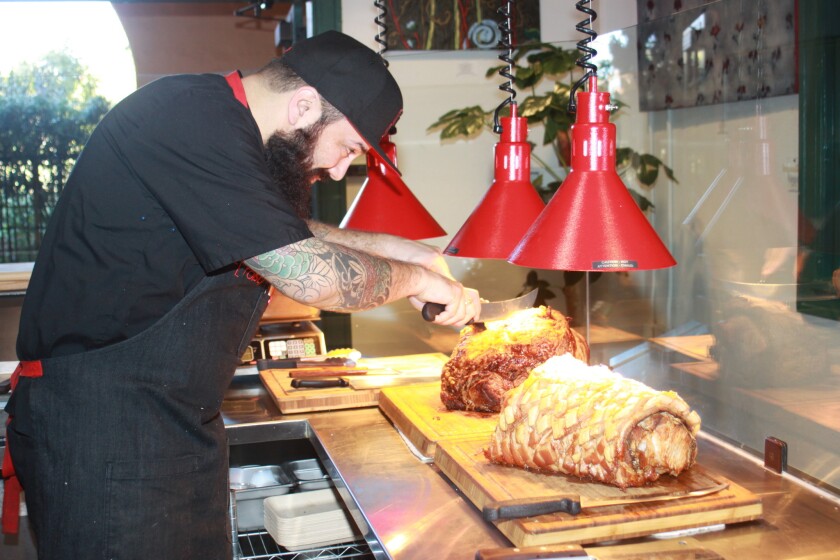 Every day, someone arrives at the one-oven stand at 7 a.m. to prepare and cook the meat, so it's ready when the doors open at 11 a.m. There are no seats, and all meals are taken to go. The smaller, quick-service concept is a growing trend in the food business.
"With the rising labor costs and cost of food that's going up, it's becoming more attractive to those in the food industry to have smaller, fast-casual concept," Carmack said. Further, the British Columbia native said she has always been drawn to public markets.
"I've been in the food and beverage business my whole life and we opened our first Roast in a public market in Victoria three years ago. We love a public market setting because you have local business owners as your neighbors and there is a lot of cross promotion, and the energy is really fun," she said.
After some time in San Francisco, Carmack and her husband, Ryan McGregor, felt the calling of Southern California. Having visited San Diego and La Jolla, and loving the "causal beachy way that it is," the two moved to The Village a year ago. Their daughter Florence goes to La Jolla Elementary School.
"We chose La Jolla for obvious reasons; it has everything when trying to live the SoCal lifestyle. The proximity to beautiful beaches, the many hiking trails and biking opportunities, the highly rated schools both private and public, community center and library — everything for us is within walking distance and we just love it," she said. "The fact that I have citrus trees and an avocado tree in my yard is the icing on the cake!"
— Roast is located at 2820 Historic Decatur Road in Point Loma's Liberty Station Public Market. (619) 795-0055. roastsandwichshop.com
---