La Jolla planners vote to squash stanchions on Playa del Norte
The ballad of the bollards continued at the La Jolla Community Planning Association (LJCPA) meeting Dec. 7, when the controversial installation of stanchions (aka bollards) at the foot of Playa del Norte in WindanSea was addressed and effectively revoked. The board voted to remove the stanchions where they run parallel to Playa del Norte along with the striping on the street that prohibits parking, and install two 15-minute parking spaces instead.
The stanchions were introduced in March 2017 in response to people parking and congregating there at night, reportedly engaging in illegal activities including drug use and vandalism. The concept was presented to and approved by La Jolla's Traffic & Transportation advisory group (a LJCPA sub-committee) in June, but before the approval could be ratified by LJCPA, the City installed the bollards.
Seeking an alternative, LJCPA trustee Glen Rasmussen reached out to the City, which responded with proposals for limited parking, and no parking permitted after 9 p.m.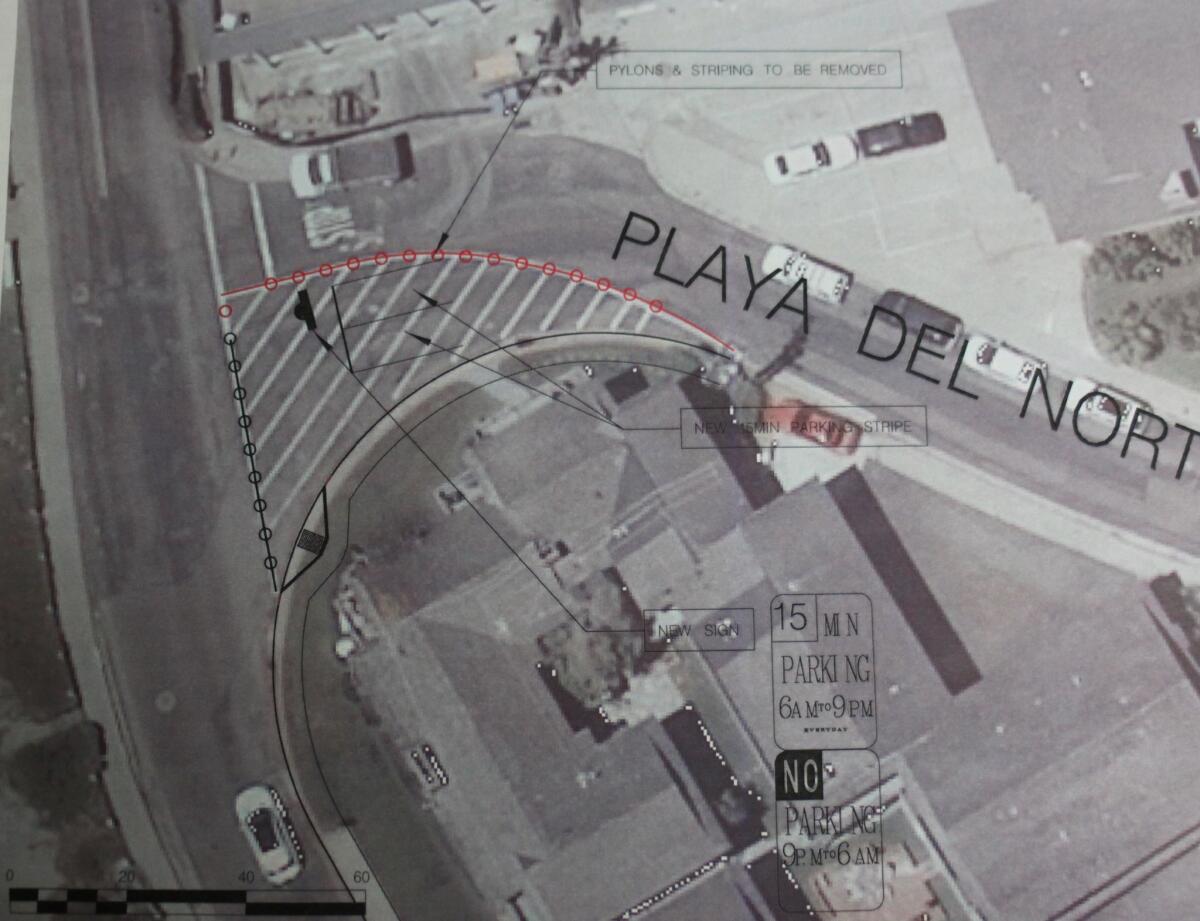 "This is an area used by surfers to view the WindanSea breaks," Rasmussen said. "The bollards along Playa Del Norte would be removed so people can pull up there, but the ones parallel to Neptune Place would stay to delineate a crosswalk and keep people from driving up the wrong way." He also presented a petition with 129 signatures from residents across La Jolla.
Among the signers, WindanSea Surf Club president Bill Fitzmaurice said it can take up to 20 minutes to thoroughly view a wave set, depending on conditions, and that if the bollards were removed, surfers would help police the area and tell people to leave if they are engaging in illegal activity or are parking when it is prohibited.
Beach access advocate Melinda Merryweather added, "That area is like sacred ground. The surfing community desperately wants that back."
Other arguments for the parking change were that 15 minutes would give people time to unload their beach-going equipment before they find long-term parking.
LJCPA trustee Patrick Ahern called the proposal a win-win because it only gives enough room for two legal spaces instead of several illegal ones, and prohibits parking entirely after 9 p.m., when most of the criminal activity was taking place.
Agreeing, trustee Brian Will said: "The no parking at night means a police officer needs to show up once and say move along, with any other time limitation, the officer would need to come back and they aren't going to do that."
Gail Forbes, the only voice in opposition, said the reason the stanchions were put in so speedily was "there is a tremendous crime and vandalism problem in this area, much of which involved drugs. Since the bollards have been put in and there is no congregating area there, the number of incidents has gone down."
There was no other public comment opposing the change.
A motion to approve the City's recommendation to remove the bollards and install the two spaces passed 13-0-2. The change will be evaluated after nine months, unless there are complaints or reports from police, in which case the board would review it sooner. It is not known when the 15-minute parking spaces will be put in place.
In other LJCPA news:
Ricardo project denied: After it was rejected 5-1-1 at the La Jolla Development Permit Review Committee (also a LJCPA sub-committee), a full presentation about a project at 314 Ricardo Place was heard. The project requires a Coastal Development Permit for an 807-square-foot second story addition with deck and roof deck to an existing 2,802-square-foot residence.
LJCPA also voted the project down, largely due to a portion of the second-story addition that projects over the first story, and the fear it would block neighbors' ocean views.
Although not connected to the project, La Jolla architect Paul Benton assisted in the presentation. "If you look at the relationship between the houses on this street, they are all rotated so each resident gets a corner view. The architect incorporated that in the design," he said, adding the project conforms to all the standards in terms of height, Floor Area Ratio, setbacks and more. The second-story element, he said, is "absolutely consistent with and takes advantage of the beach environment. It's a neat place to go up and look at the view."
Nearby resident Ali Simon spoke out against the project. He quoted the La Jolla Community Plan where it states: "Structures with front- and side-yard facades that exceed one story should slope or step back additional stories." He added, "Not project forward."
When asked why the questionable second-story projection was there, rather than set back, architect Bill Metz said, "it's two-fold; one is for composition and design, the other is because there are better views from that position."
A motion to ratify the findings of the La Jolla Development Permit Review Committee and reject the project passed 10-4-1.
Greatrex sworn in: LJCPA trustee Cindy Greatrex (who in the coming months is set to stand trial for an alleged theft of more than $67,000 from La Jolla Rec Center funds) was finally sworn in after being elected in September. Greatrex was unable to attend the immediate two meetings after she was elected, so she took her oath at the December meeting.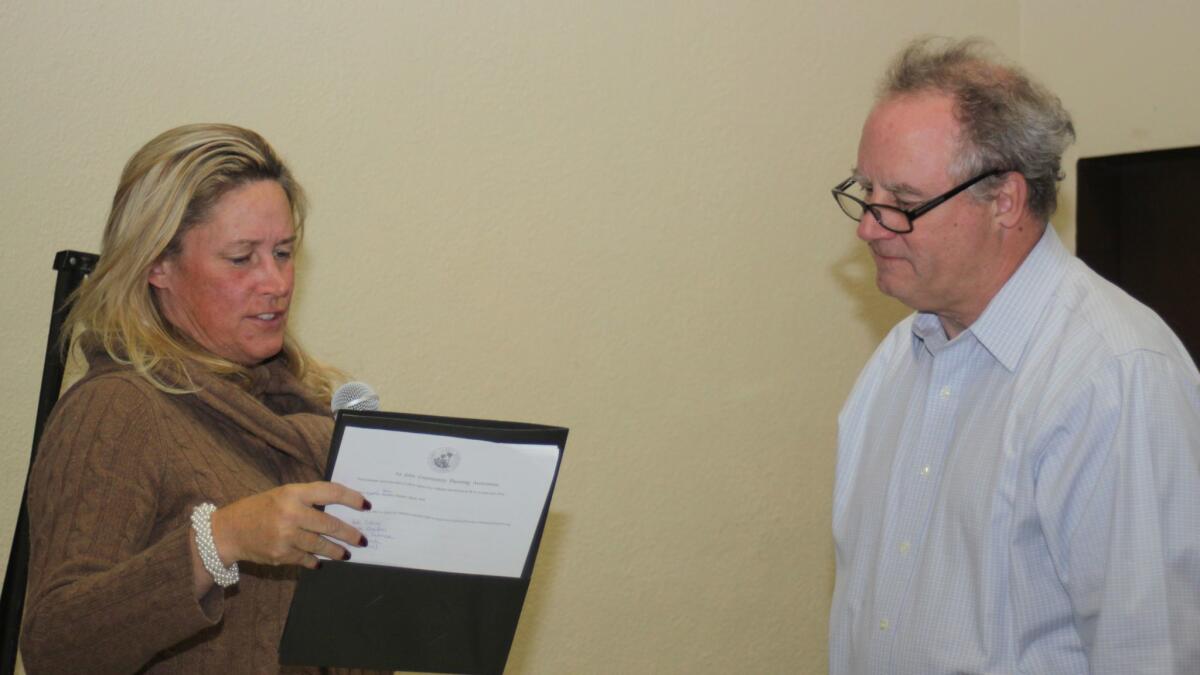 Coming election: LJCPA will host its annual election in March 2018, with six seats up for grabs. Anyone who has attended three planning association meetings in the past year is eligible for a seat on the board, and there are two more meetings between now and the election.
Trustees up for re-election if they wish to run include: Patrick Ahern, Tom Brady, Janie Emerson, Dolores Donovan, David Little and John Shannon. Emerson declared she would not be running again, leaving at least one open seat. The others did not state their plans.
County candidate speaks: San Diego County Assessor/Recorder/Clerk candidate Matt Strabone announced his candidacy and plans for more community involvement: "Public outreach would be a linchpin to my plan to improve the office. I'll be having public workshops in every community, including La Jolla, to keep you up-to-date on property tax breaks you may qualify for or show you how to appeal your property assessment if you think it's unfair or how to access public records.
"It's so important we make this office more transparent, accountable and accessible."
— La Jolla Community Planning Association next meets 6 p.m. Thursday, Jan. 4 at the Rec Center, 615 Prospect St. lajollacpa.org