Japanese Beetle traps placed at La Jolla Recreation Center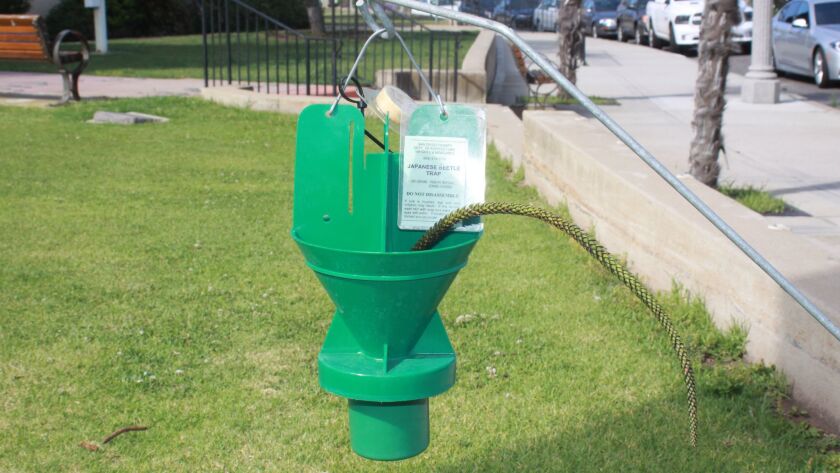 Insect traps have been placed at the Rec Center and other La Jolla locations to determine if Japanese Beetles, considered "ravenous eaters" and a threat to local agriculture, are present in the 92037 ZIP code. Stasi Redding, coordinator of the San Diego County Pest Detection Program, said the traps will remain up until the fall. The beetles pose no known threat to humans.
"Every County within the State of California gets checked for exotic fruit flies and along with that, there is a season when we look for the Japanese Beetle, specifically," she said.
"They are considered an exotic pest. They have them a lot on the East Coast, but we don't have many in San Diego County and we don't want them. They are destructive to all kinds of agricultural commodities and San Diego has a high agricultural community."
Redding added that the beetle can be found in park areas and spots where there are roses and fruit trees.
"They are ravenous eaters and while they target fruit trees and eat the fruit to the point that you can't harvest it, they can also ruin turf, landscaping and ornamental plants. So we place out traps in areas where that is found."
The County checks the traps every two weeks throughout the summer and starts taking them down in September. The checks happen on a fairly regular basis, as the beetles can make their way to the West Coast any time.
"They are hitchhikers," Redding explained. "They have little barbs on their feet and can cling to luggage, and so when people come here for the summer, and fruit trees are in season, we want to check for those hitchhikers."
---