People in Your Neighborhood: Meet retiring La Jolla Symphony & Chorus choral director David Chase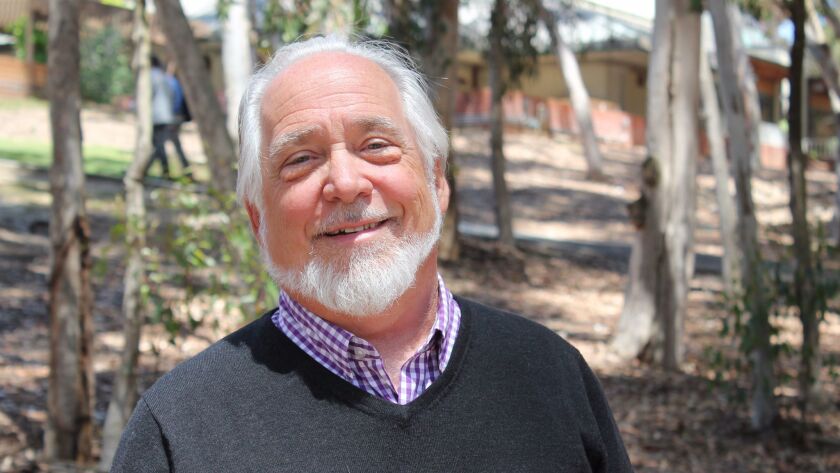 The retiring La Jolla Symphony & Chorus (LJS&C) choral director speaks, walks and breathes music. His unique baritone voice wanders up and down while he talks about the last concert he will do with the organization June 10-11 at Mandeville Auditorium on the UCSD campus. His warm and sincere speech is accompanied by deep, green eyes framed by his white hair and beard.
Where are you from?
"I'm from Columbus, Ohio. My wife (Ann Chase) is from Cleveland. We met at Ohio State — we covered Cincinnati and that was all of Ohio, so we split for the West Coast. There was an opportunity to do some grad work here at what was really quite a new university at that time, UC San Diego. I really came here to get a job doing some conducting, and there were a couple choruses that needed a conductor on campus, and when a year later I got a job at Palomar College, which was a full-time teaching position, I kept the one-evening choir, and that turned out to be the La Jolla Symphony & Chorus. It was almost by accident, a fortunate accident."
How long have you worked for LJS&C?
"I have been with the La Jolla Symphony & Chorus for 44 years, and this is it. I have one more concert and then Ann and I are going to Rome for four months next fall to get away and erase everything, to start over when we get back. That's the plan. The La Jolla Symphony & Chorus has been the one constant in my life all these years. We call it our family."
What are some of your duties?
"With Music Director Steven Schick, we decide the repertoire, which is really important to us, we've built our reputation on programing, so that's part of it. And then we have weekly rehearsals with the chorus. There are big concerts and pieces that we do, so you just chew away at them one bite at a time, and there is interacting with our director Diane Salisbury and the office, and the board."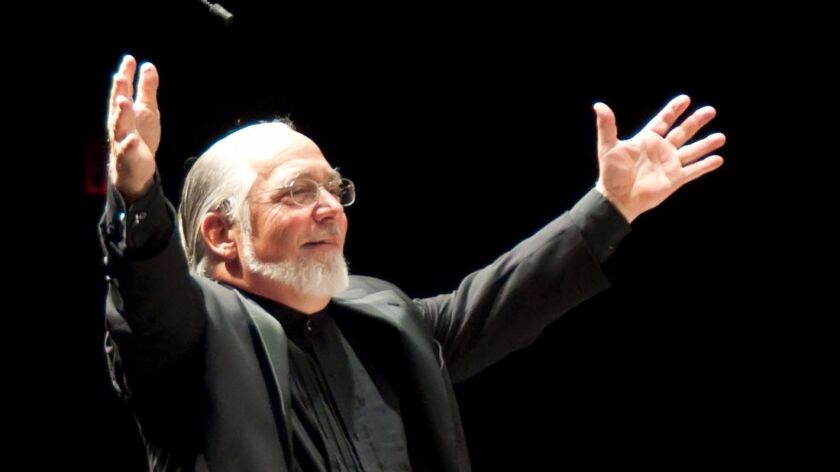 What's been the biggest challenge?
"The biggest challenge was always trying to build culture here. When I first came here, it really was The Wild West! There were a handful of people in La Jolla and at UC San Diego who had great desire to have music and art, but it was a pretty small bunch. My wife and I always thought we would just wait a little while and culture would grow up around us, and we would have a great time here. The fact of the matter is that it took a lot longer than we thought. But I have a feeling that it's finally found its center, and San Diego now has the critical mass of arts and culture — just when I'm retiring (laughs)."
What do you do for fun?
"I like to swim. Ann and I like to walk on the beach, but we're not real big for hobbies. I really enjoy our small house and big garden that we have in Leucadia. It's a wonderful place to just hide away."
Can you name some of your favorite performances over the years?
"The first one that comes to mind is the first time I did Bach's 'St Matthew Passion,' it's an unbelievable thrill. It's a great piece and I wasn't sure I'd ever be able to do it, but the chorus and I grew up together until the point where we could do that. It was pretty exciting. Other than that, the ones I cared the most about were the new music ones. We've done a lot of things that were very challenging to put together and that was a lot of fun. There was a piece called 'Boojum!' which is actually an opera, and we did a semi-staged version of it. It's based on 'Alice in Wonderland.' At that particular time, my son, Darren, was singing in the chorus, my daughter, Claire, was 10 or 12 years old, and my daughter sang little Alice, and my wife sang grown-up Alice. And it was an amazing experience. It was the U.S. premiere of this piece. Those are things that only come once in a lifetime."
Do you listen to music when you get home?
"Mostly I don't like to have music around the house. We feel like if you're going to have music around, you better be listening to it, and if you've been doing it all day you probably don't want to when you get home. So we often have no music in our house, and the one thing that allows me to relax a little bit is jazz. I've played jazz all my life but not very well, so … it makes it a safe thing to have around the house."
What instrument(s) do you play?
"I played piano and drums as a kid. Playing was very important to my education. Until this day, I think of what it feels to play the piano with somebody else and interact with them, which is like interacting with the players in the orchestra."
How old were you when you became interested in music?
"I just always was. My family isn't particularly musical, but everybody did music at one point or another, and it meant something to them. I was lucky enough to live in a community where a lot of kids were learning instruments early on, so it came pretty naturally to fall in with some musician friends. When you're a kid, being around a group of musicians is a great way to get through adolescence, which is not easy for anybody to do."
How is it to perform for this community?
"La Jolla is a great community, and we've had this relationship where things that go on up here in the university, and down at the peninsula are not always together. I often wished they were more connected, but it's been hard to figure that out. I feel this is very much my community, and we've done a lot of things when we've gone down to do holiday music in La Jolla proper, and that didn't necessarily lead to anything. In that sense, it's been some frustration, but on the other hand, it's a great place to be doing what we're doing. The whole thing about the La Jolla Symphony & Chorus (is that) it's always tried to keep its connection to the community, the university, and be itself at the same time."
Is your family a musical one?
"We have two children, and they're both professional musicians, and my wife is a wonderful soprano who's sung in all the groups (in the community). She's been a singer and voice teacher all these years. She's also an amazing mother, so the kids both fell in love with music. They resisted as much as they could, because they didn't want to be like their parents, and then they ended up like us. My daughter is a very successful flutist, and my son teaches public school in Manhattan but does a lot of concerts around New York and elsewhere. It's the family business, but it wasn't planned that way. We just made sure that they got the musical experience they deserved. It took a lot of driving!
When people say, how did you bring up these good kids, such wonderful children, who never got into drugs ... Our answer is, 'We just drove constantly!' One or the other was always on the freeway taking a kid to a rehearsal that was way too far away."
What's the secret to being married 48 years?
"The secret is just the passion for music, we've always had that. You go through good times and bad times, but there's always a performance to get ready for; there's no time for other problems. The first years are really hard. When we were first married, we didn't have a cent. But we saw ourselves as starving artists, and there was nobility in that. Young folks today don't get that. They think the word 'artist' refers to someone who has hits on the radio, so they don't have the same image of themselves as we did."
Are you a romantic?
"I guess I am. I've always been."
What's your relationship with technology?
"Like most people my age, I get really frustrated trying to get my phone and my computer to do what I want them to do. I think I kept up with technology very well until a few years ago."
What do you take away from your LJS&C career?
"The beauty of working in the choral world is the connection in a human way, because the voice is an amazing connection in that sense. What you have is real beauty made through a lot of sweat, but with a real community, and that's what makes it worth it."
What's your hope for the future?
"I hope the La Jolla Symphony & Chorus will continue to grow the same way it has in the past 10 years. I've wanted to take this step out at about this point in time — not only because I wanted to leave at the top of the game before they asked me to leave — but also because there's somebody coming along who's younger. The guy we hired to take my place, Patrick Walders, is terribly talented and the sky's the limit with him. Schick and I just want to see that growth, that would be the best reward for what I've done in the past."
— David Chase conducts his last concert with La Jolla Symphony & Chorus 7:30 p.m. Saturday, June 10 and 2 p.m. Sunday, June 11 at Mandeville Auditorium at UC San Diego, 9500 Gilman Drive. The concert will feature Hector Berlioz's "Overture to Beatrice and Benedict"; Arnold Schoenberg's "Verklärte Nacht"; and Samuel Barber's "The Lovers." Tickets from $15 at (858) 534-4637 or lajollasymphony.com
---