'SANDY' WARHOL: Recalling the pop-art icon's La Jolla days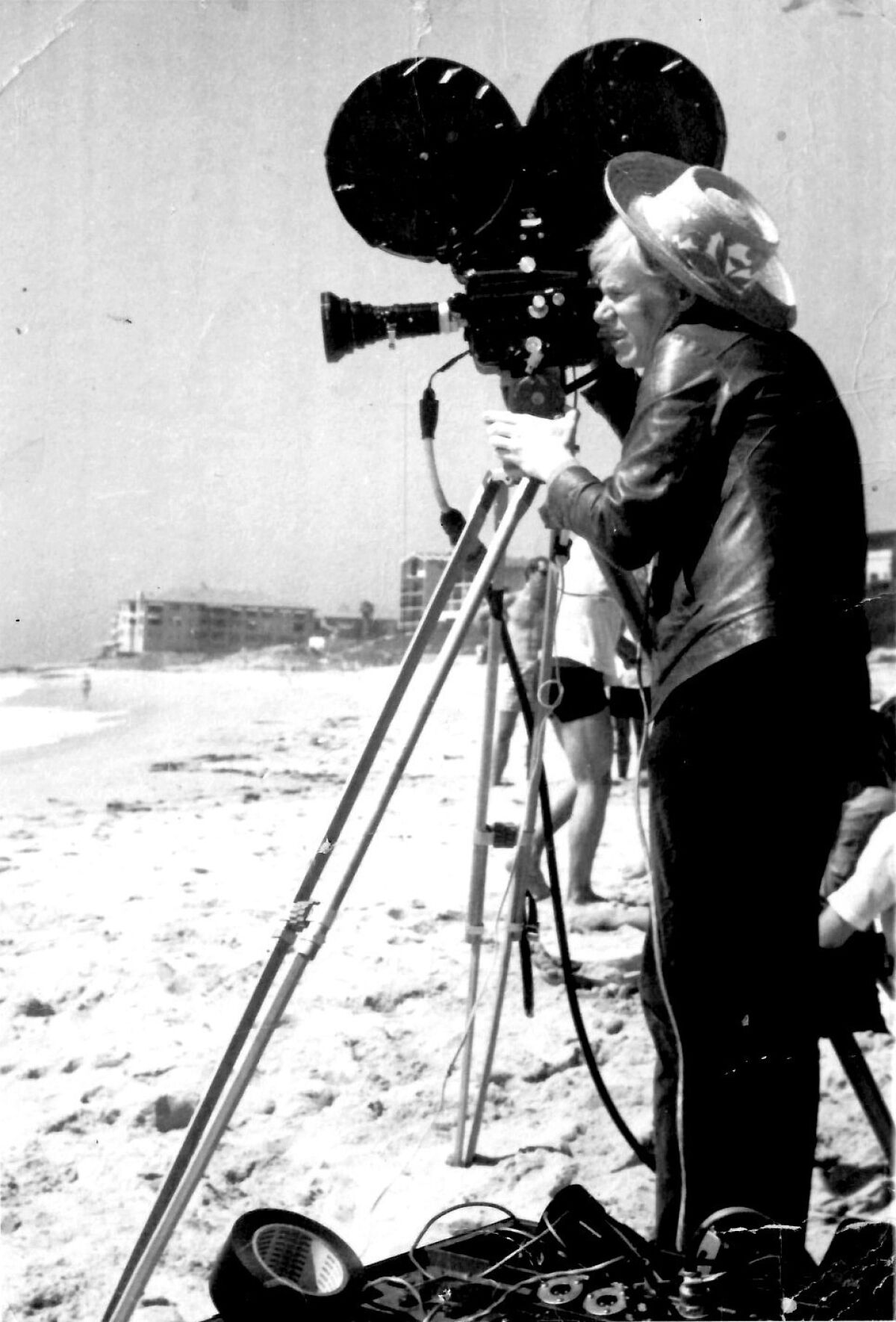 La Jolla isn't the first thing that springs to mind when you think Andy Warhol, but the pasty pop-art superstar actually combed the sunny beaches of WindanSea and La Jolla Shores in May 1968. He and a group of about a dozen actors, artists, filmmakers and fabulous hangers-on came here to shoot a surf film, San Diego Surf, during one of the most idyllic periods of Warhol's career.
In his autobiography, Popism: The Andy Warhol Sixties, Warhol called La Jolla "one of the most beautiful places I'd ever seen." He wrote: "Everybody was so happy being in La Jolla that the New York problems we usually made our movies about went away — the edge came right off everybody. We'd lounge around listening to our transistors on the beach. ... From time to time, I'd try to provoke a few fights so I could film them, but everybody was too relaxed even to fight."
San Diego Surf was a follow-up to another 1968 Warhol art film, Lonesome Cowboys, featuring almost the same cast: Viva, Joe Dallesandro, Eric Emerson, Louis Waldon and Tom Hompertz, the real-life surfer who convinced Warhol that he should make a surf movie. The plot — if it can be called that — followed an unhappily married straight couple who rented their house to some kinky surfers.
Originally, the City tried to reject Warhol's application for a film permit. "They didn't like his reputation," said Tony Ruffin, whose father, Superior Court Judge Roger Ruffin, stepped in. "He said, 'No, that's illegal, I'm going to sue to City.'" And that's how Warhol got to film here.
Ruffin actually appeared in the film, as an infant, since his mom got to know the artist from what he calls "these wild parties" she attended in New York. In one scene, Ruffin is grabbed by Viva, following some dramatic speech given by the actress, and flung into the air for Dellasandro and Hompertz to catch.
"Yeah, she wasn't winning any mother-of-the-year awards," Ruffin said, smiling.
So what was La Jolla's reaction at that conservative and homophobic time, just short of 50 years ago, to a crew of bizarrely dressed East Coast freaks appearing out of nowhere, holding movie cameras and acting silly?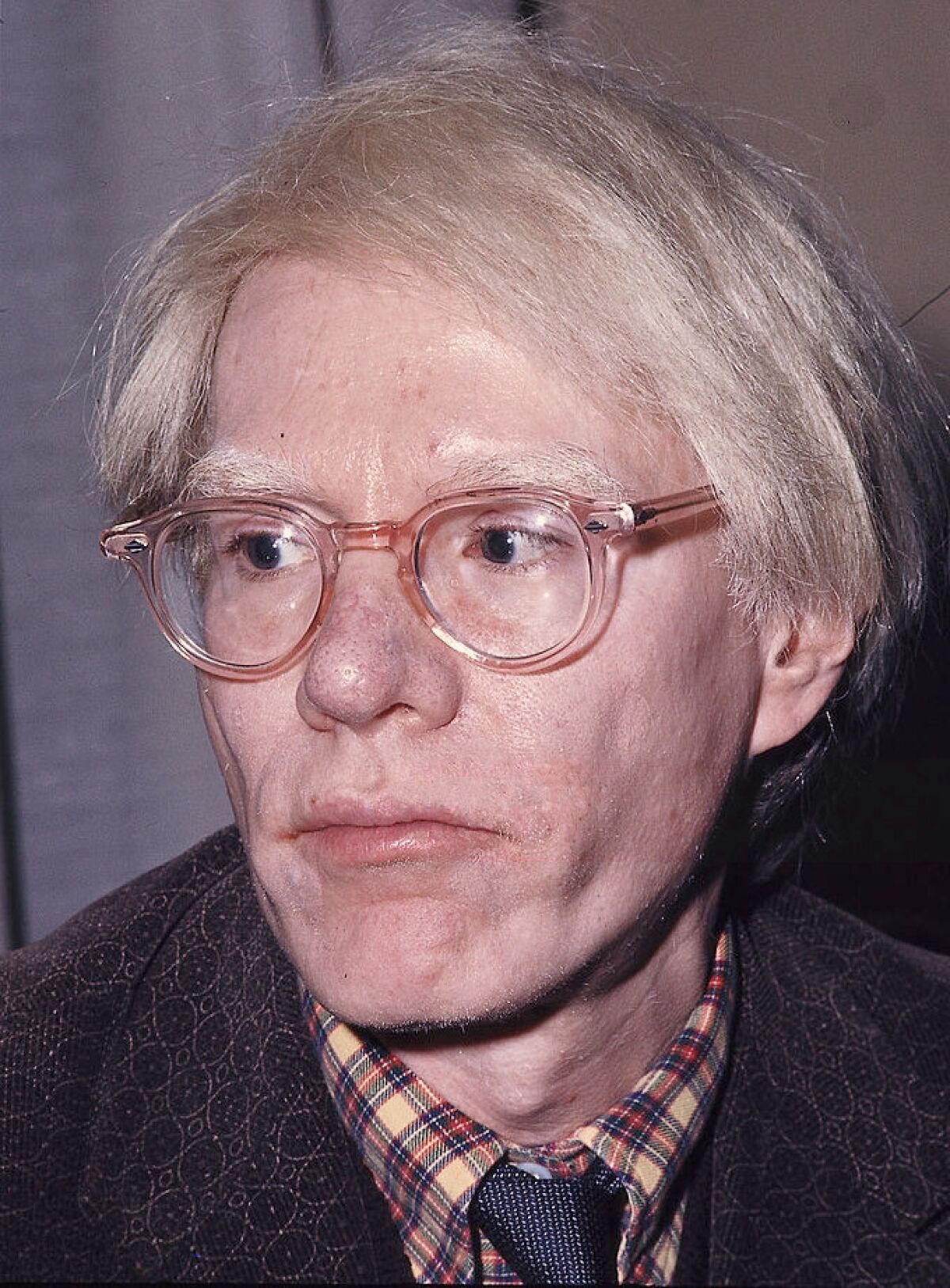 Carl Ekstrom, the former surfboard designer who sold Warhol two of the surfboards featured in San Diego Surf, said the surfer kids were interested but not that impressed. "That was right in the beginning," Ekstrom said. "Andy wasn't as well-known as he became. Besides, we had our own freaks."
Ekstrom operated a surf shop in La Jolla Shores where Warhol and his co-director, Paul Morrissey, bought a 9-foot grey-and-white long board with a black fin and an 8-foot, transitional short board with a green layup for $300 and change. (Ekstrom cashed the check, but made sure to keep a copy before.) The shop was close to one of the houses Warhol rented, which Ekstrom said was on Calle de la Plata.
When they came in to order the boards, Ekstrom remembers, a police car stopped outside and an officer stared, long and hard, inside his shop. "I don't think they were confronted, but they were noticed," Ekstrom said. "Andy wore patent leather shorts and shoes, Day Glo socks and a starburst wig. That was part of their image, they had to keep that going."
Later that month, Ekstrom visited another house Warhol rented, on Marine Street Beach, to deliver the boards. "He was a really nice guy to talk to," Ekstrom said. "He wasn't a radical guy. He looked radical but he wasn't." Ekstrom said he and his cast and crew "were kind of staying to themselves. They weren't coming to WindanSea to mix it up with people. It seemed like it was a private scene. That was the feeling I got and in the film, it kind of shows it. There weren't a lot of people around, and the waves were awful."
In his autobiography, Warhol wrote that he rented "a mansion by the sea and a couple of other houses for people who were going to be in the movie." This is apparently why most accounts place one of the locations at Cliff Robertson's palatial estate at 325 Dunemere Drive (which currently belongs to meat mogul John Miller and his wife). But both Ekstrom and another La Jollan contacted by the Light suggest otherwise.
Brooke Fleet, a Bishop's School grad who currently resides in Maui, said via Facebook that her family leased the Robertson house that spring. "I was 10 years old but I absolutely remember," Fleet said. "On the left side of 325 was a driveway, a shared easement through the property, that started at the 325 gates and went down to the entrance of the house (that Andy rented)." Fleet said "they were a wild bunch and used to drive up and down that driveway to get to the beach house. They had cool cars like Corvettes with bubbles on them and there was quite a lot of coming and going."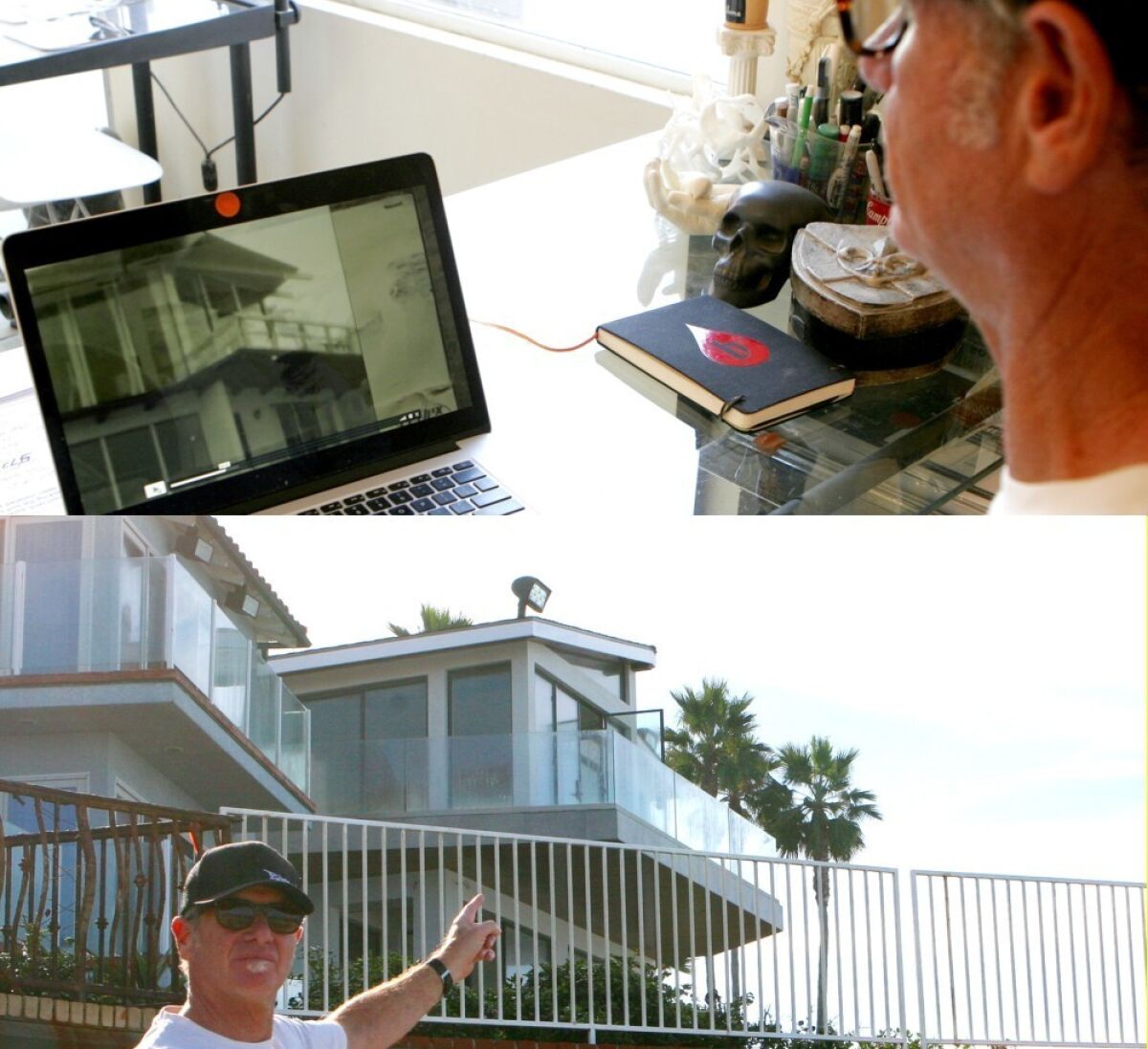 Footage from Andy Makes a Movie, an unreleased 1968 documentary about the making of San Diego Surf, shows Warhol filming from a house that looks exactly like 303 Vista de la Playa and nothing like 325 Dunemere. Fleet said Andy embellished by calling his beach house a "mansion," although it might have seemed that way to Manhattanites.
Fleet also takes issue with Warhol claiming to feel relaxed. "That's a little weird, too, because he was quite uptight mostly," she said. According to Fleet, she tagged along on the beach with them once and her mom had the bunch over the house "several times."
"Well I guess compared to New York, he thought he was relaxed, but he never took his shoes off at the beach," Fleet said. "Andy, by La Jolla terms, was quite uptight."
San Diego Surf remained unreleased (and unfinished) while Warhol was alive. But being a bad movie — at least by conventional standards — is not the primary reason. Right after he jetted back to New York from San Diego, Warhol was shot nearly dead by crazed Factory reject Valerie Solanas, and lost all interest in making another movie. He died at age 58 in 1986, essentially of complications from that gunshot wound.
The Andy Warhol Foundation commissioned Paul Morrissey to finish the film in 1996, based on Warhol's existing notes. It has only been screened at special events since — including in 2013 in La Jolla at The Museum of Contemporary Art.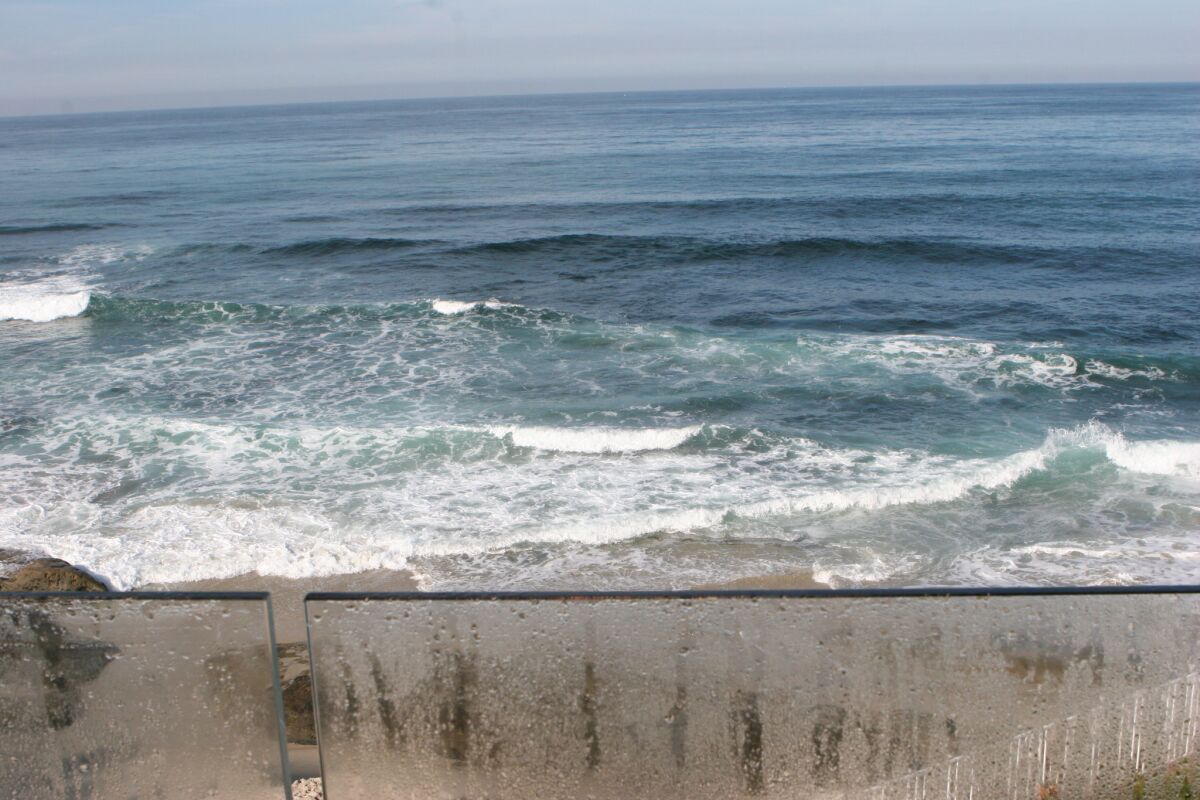 Today, 303 Vista de la Playa is owned by Joe Limber, chief executive of Genoptix, a medical company. The Light was taken to the house by Tim Bessell, a La Jolla artist who makes surfboards emblazoned with Warhol images. (His website's home page features a documentary with footage from Andy Makes a Movie.) Limber happened to be outside, supervising a remodel, when we stopped by, and was kind enough to invite us inside for a look. Bessell immediately recognized the house and beelined for the balcony.
"So this is where it happened," he said to himself.
The only historical connection Limber said he knew about the house, which he purchased in 2012, is that it was built by Loch Crane, a Frank Lloyd Wright disciple, in 1964. "Well, what do you know about that?" Limber said, laughing.
---